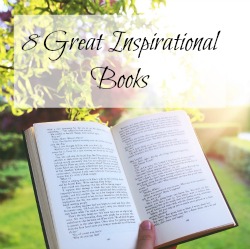 These 8 books are some of the most inspirational books around. Not only are they my favorites, but they are favorites of many a successful man and woman.
*Affiliate links included. I may make a small commission on any purchases you make through the links.
When I first started this post…oh about 6 months ago….I wanted to share my top 5 favorites. But I struggled to narrow it down to 5. There are just soooo many inspiring books out there that have completely changed the way I view my interactions with other people, finances, my own internal struggles, my goals in life and much, much more. So we're going with 8 books instead.
Now to be fair, I haven't read every single inspirational book out there. These are just my favorites from the ones I've read. And this list does not include all the books I've read. I've found a lot of lists out there with the 20 most inspiring books of all time, or whatever. And some of the books on those lists I didn't actually enjoy. Everyone is different and enjoys their own type of book for inspiration.
The books in this list cover a variety of topics but all have inspired me in some way. So whatever suits your fancy, pick a few to read. They are all so great!
The Compound Effect
, Darren Hardy. This is the book that has been the most life changing for me. It's completely changed the way I think and view my day to day life. It's all about how small, deliberate changes can compound over time to drastically change your life. Thus, the compound effect. This is the first book that got me into reading other personal development books.
The 4-Hour Workweek
, Timothy Ferriss. LIFE CHANGING! Seriously. Even if you're a stay at home mom, this book has some amazing principals on how to reduce the amount of "stuff" in our lives (stuff being time spent on email, clutter, non-needed activities, etc.) and simplify our lives, so that we can actually enjoy life. What a concept right?! Why wait until you retire at 70 to take that trip to Europe. Tim shares his philosophy of "mini retirements" and how we shouldn't wait until our golden years to live our dreams. We should be living them every day.
There's a lot of business information in this book as well (how to be more efficient at work, get a virtual schedule, stop sitting at the computer waiting for email to come in, etc.) but there are a lot of great takeaways for life in general. Very inspiring book!
The Millionaire Next Door
, Thomas J. Stanley & William D. Danko. We all tend to think that millionaires live lavish lives. It's all "Lifestyles of the Rich and Famous." But in reality, your next door neighbor could be a millionaire and you would never know. This book shares how real, everyday millionaires live, what they spend their money on and how they save. Really great practical knowledge on wealth accumulation.
How to Win Friends & Influence People
, Dale Carnegie. I love Dale Carnegie. I even took a Dale Carnegie class when I first started working in corporate America. This book has stood the test of time for sure (first published in 1936). If you ever have to interact with people (ha!), read this book.
How Successful People Think
, John C. Maxwell. Maxwell tells us to spend time just thinking. Act on your thoughts. Turn thinking into a lifetime habit. Question popular thinking. It's a quick read as well, which I always love.
[Tweet "Looking for a new book to read? Consider one of these 8 inspirational books."]
13 Things Mentally Strong People Don't Do
, Amy Morin. You guys, this book. Like right from the beginning it spoke to me. You want to talk about someone who's gone through some sh*t in their life, listen to Amy's story. I know a few people who, right off the back, could use this book. I want to send it to so many people and just say "Drop everything and read this book!" Even myself. I found myself really thinking about my character traits/flaws and how I do certain things that I didn't even realize. 5 stars from this girl right here.
The Alchemist
, Paulo Coelho. I've mentioned this one before and was so excited to hear that many of you have read this book, or know someone who has. It is probably one of my favorite fiction books of all time because it has such an inspiring message. Follow your dreams and you never know what may happen.
Rich Dad Poor Dad
, Robert Kiyosaki. This book challenges the way we think about money as a society. He talks about how to get your money to make money and work for you, instead of you working for your money. It's good stuff and has really taught K and I how to limit our financial exposure and build wealth.
I could go on and on with more great inspirational and personal development books that both K and I have read. I love pleasure reading, but reading to better oneself is great as well.
What are some of your favorite inspirational books?