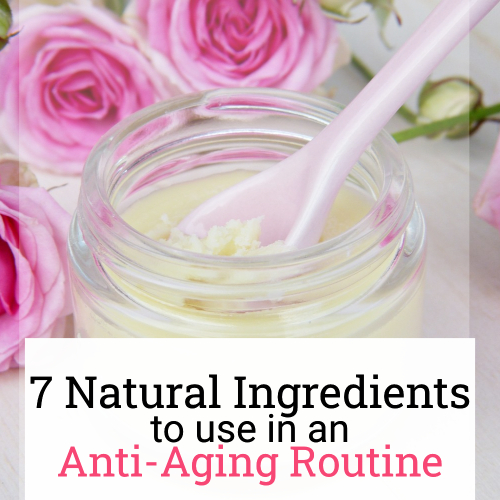 7 of the best natural ingredients to use as part of an anti-aging skin care routine.
We all want to look youthful, am I right? "I don't have enough wrinkles," said no one ever. Especially women. In fact, I'd say women make up 98% of the people who look for anti-aging products. Society's standards really have done a number on us as women, haven't they?
Nevertheless, I personally don't want to age any faster than I have to. Luckily there are some wonderful, natural ingredients we can use to help us age gracefully.
Finding natural ingredients to use in an anti-aging skin care routine is key. Many anti-aging products on the market can be harsh on our skin. Especially for those of us with sensitive skin. Understanding how natural ingredients plays a part in helping keep our skin healthy and youthful is important for overall health.
Here are 7 natural ingredients to use as part of an anti-aging skin care routine that you may want to look for and why.
Antioxidants
Antioxidants protect against free radicals, which are a big contributor to premature aging. They tone skin and reduce the appearance of lines, wrinkles, scars, and sun damage. Antioxidants are found in tea extracts, goji berries, acai, and many kinds of seeds used in skin care products.
Caffeine
Just like in your morning coffee, caffeine is a stimulant. In topical applications, it aids collagen production and contains antioxidants that slow aging. It also draws out excess moisture from cells, giving skin a toned look. Coffee ingredients in a product indicate the presence of caffeine.
Botanical Extracts
Botanical extracts come from many different plants and offer a wide variety of skin care benefits. For instance, pomegranate extract promotes collagen production, white tea extract can protect skin cells from skin damage, and cucumber extract has soothing and toning properties.
Essential Oils
Essential oils are found in many natural skincare products. Some of most well known are Frankincense for fine lines, age spots and glowing skin, Geranium for dry skin and overall skin health, and Tea Tree for blemishes.
Natural oils
Natural oils soothe and soften. They are derived from the seeds and kernels of plants, and contain lipids and fatty acids as well as antioxidants and vitamins that nourish and moisturize dry skin. Some of the most common oils found in anti-aging products are argan oil, jojoba oil, and safflower oil.
Retinol
Retinol is a form of Vitamin A that contains antioxidants and stimulates collagen production, which preserves skin's elasticity. It's great for smoothing wrinkles. Rosehip seed oil is high in retinol and very popular in anti-aging products.
Vitamins
Of course, vitamins are always good for you, but some are especially great for skin. Vitamin E is a classic for many skin care products. It's chock full of antioxidants and promotes the production of natural skin oils. Vitamin C aids in collagen production and vitamin K is believed to help reduce dark spots and circles under your eyes.
These 7 natural ingredients to use as part of an anti-aging skin care routine are widely available in many products. My favorites to use are essential oils, vitamins, and other natural oils. Essential oils have been around for thousands of years and have been used in everything from medicine to skin care.
Finding natural products is as easy as reading a label. You can also search natural skincare online and find a company who's products you trust. I get all of my natural skincare products from Young Living (except I get my jojoba oil I use in my homemade serums from Amazon) because I know and trust where they source their ingredients from. They have a variety of skincare, including products for anti-aging. I also make my own glow and anti-aging serums and under eye rollers. That way I know all the ingredients are truly natural.
I hope you found this helpful and you are able to find natural ingredients to use as part of an anti-aging skin care routine.