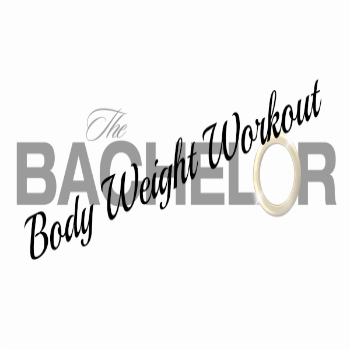 You guys. I am SO EXCITED about today's post!
Huebie and I came up with this workout last Monday just as The Bachelor was starting. Yes, I watch The Bachelor and yes my sweet hubby sometimes watches it with me. He's just that great of a husband. When the preview for that night's show started, I was amazed by how many things were sounding just like seasons past. And then it hit me: You could totally set a workout by different comments that are repeated during the show!
Thus, The Bachelor Body Weight Workout was born!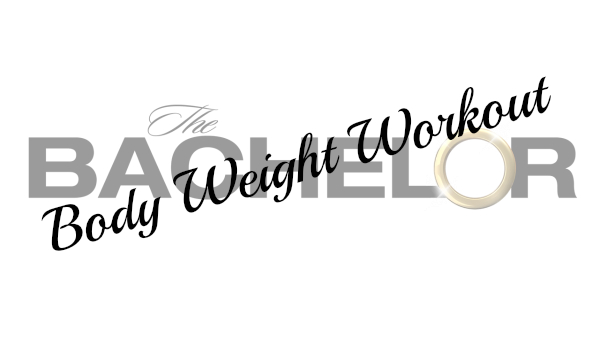 So if you watch The Bachelor I hope you join me in this challenge. And if you don't, well, maybe you should give it a shot this season and get a good workout in at the same time.
Here's how it works (it's pretty simple):
– Anytime you hear one of the girls or the bachelor say one of the things on the list below, you have to do the exercise I have listed.
– If things happen quickly and you haven't finished one exercise before you need to start another one (trust me, this will happen), you finish the exercise you're doing and immediately start the next one.
Huebie and I actually had to pause the show a few times to make sure we completed everything. I've since switched things a bit so you should have plenty of time to complete an exercise (I hope. Things can get kind of crazy on this show).
– On commercial breaks (If you watch them. We watch on the DVR so we usually fast forward through the commercials) you can have a water break or do some body weight squats.
Ready to get started?! Here's the breakdown:
– When a girl talks about how hot/sexy/attractive the bachelor is: 10 pushups
– When a girl talks about how she has strong feelings for the bachelor: 15 crunches
– When a girl says she wants to let her guard down or let the bachelor in: 20 jumping jacks
– When a girl talks about a past relationship: 10 lunges per leg
– When the bachelor says the girl is hot/good looking/attractive: 30 second plank
– When a girl has a sob story: 10 pushups
– When the girls start obsessing over the rose: 30 crunches
– Cat fight or girl drama: 10 burpees
– Kissing session: 10 lunges per leg
– When a girl says she thinks she's falling in love with the bachelor: 10 pushups
I'll just give you a little example from Juan Pablo's season of The Bachelor: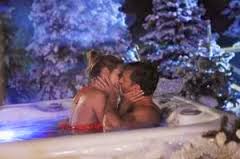 Kissing scene ensued: 10 lunges per leg. Which I believe was then followed by JP mis-translating something in his interview: 10 push ups. It's that simple. Then you get a break until the next thing on the list happens (cat fight, obsessing over the rose which happens a lot, girls falling in love, etc.).
WILD CARD!!!!
That's right. I added a wild card to the mix. Any time you find yourself saying "Are you kidding me?! WTF?! Oh Lord! Seriously?! Wow! That girl is cray cray!" Or any comment of a similar nature to describe an extreme event that just happened on the show: 50 jumping jacks
I think we had to do this at least 2 or 3 times last week. Because really, some of these girls really are cray cray.
And that's how it works! I will be doing this every time I watch The Bachelor now.
If any of you decide to do this with me leave a comment below. As we get further into the season I may implement some other things you can do during the commercial breaks to keep your heart rate up, and make a few adjustments to the routine.
Good luck and have fun!