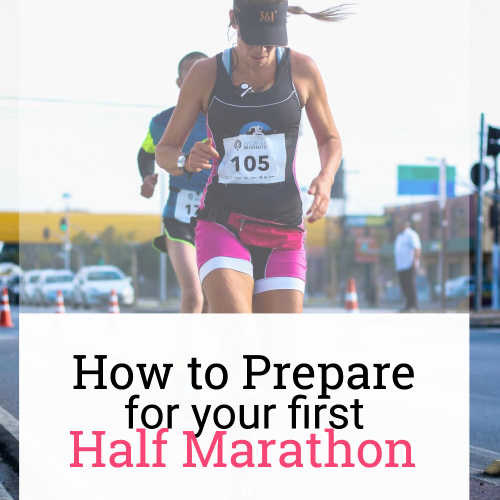 If you're new to distance running these tips for how to prepare for your first half marathon will get you started on your running journey!
If any of you have ever thought about running for more than just exercise, it can be overwhelming. Getting started can be scary and a little intimidating. For me, I had thought about doing a half marathon for years. I used to run cross country in high school, but really didn't enjoy it very much. It wasn't until my hubby was traveling like a mad man last year, and I wasn't able to get to the gym very often, that I started running again, and really loving it! And that's really what it's all about. Doing something you love.
I thought it would be good to share with you how I prepared; the steps I took, changes I made in my fitness and diet, etc, in case anyone out there has thought about running a 5k, a 10k, a half or full marathon. Because getting started can be the hardest (and scariest) part.
FIND A TRAINING PLAN
I can't stress to you how important this is. Having a training plan that you can follow and is tailored to your running level and ability is key to being successful. It holds you accountable, gives you something to put a check mark next to (and who doesn't love checking something off the old to do list!) and gives you guidance and goals that are visual. I printed my training plan off so I could cross the days off as I went. I was able to see how far I was into my training, and at the end, how far I'd come.
For me, Hal Higdon was my go to resource. He is an expert in the sport of distance running and his website has training plans for all levels and distances. I dare say I haven't found a better resource than Hal Higdon. I followed the Novice Two Program since I have running experience and had been running a bit prior to starting my training.
I also tailored my gym workouts. The training plans include cross training, which for me is circuit workouts and weight lifting. I definitely cut back a bit on this while training for the half, but mostly because it was my first one and I wanted to focus all of my attention on the program.
*This post may contain affiliate links.
GET FITTED FOR RUNNING SHOES
Another very important point I can't stress enough. For so long I wore whatever shoes I thought looked cute and were comfortable. Of course comfort is important, but knowing how your feet act when you run is also super important. Do you pronate at all or are you a neutral runner? I'd never thought about this before. I used Road Runner's Shoe Dog first to get a feel for what I thought my feet did, but then I went into the store and had them fit me in person. They put you on a treadmill and video tape you running to get a good look at what your feet, ankles, legs, etc. do when you run. It was an eye opener.
Once you complete the assessment online, it gives you some shoe options based on the outcome. If that's as far as you want to go it will give you a good idea of what to look for in a running shoe. But going into the store was really helpful for me as well.
I wear the Mizuno Wave Rider 19s right now, but will be getting the Wave Rider 20s soon. Mizuno's are a great neutral shoe and super light weight. If you aren't sure about shoes, I highly recommend you check them out.
Some running stores (like Road Runner Sports) can also make you custom insoles. I wasn't a huge fan of them, but my hubby loves his and they've really helped him during his runs.

EAT MORE
I'm so not kidding about this one either. When you start putting more mileage in during the week, you'll start to feel hungry more often. I was eating more frequently during the day to keep my energy up and prepare for my afternoon runs. Now, I don't mean for this to be a free for all, eat whatever you want deal. You still need to maintain a healthy diet, you'll just notice you will probably be more hungry than you were before.
GET YOUR BREATHING IN CHECK
This was actually the thing that propelled me into longer distance running last year. I've never been a good breather when it comes to exercise. I always hold my breath when I'm lifting (terrible) and I was a total hot mess running; just huffing and puffing away. Once I figured out my breathing my running game totally changed.
I follow this cadence: 3 breaths in, three steps. 3 breaths out, three steps. When I'm going up a good size hill it's a 2×2 cadence (2 breaths in, 2 steps. 2 breaths out, 2 steps.) or a 2×3 when I'm recovering (2 breaths in, 2 steps. 3 breaths out, 3 steps).
I'm telling you, once I figured the breathing out I could run further and longer without feeling completely exhausted.
GET YOURSELF SOME NEW GEAR
Now, this one obviously isn't a must do. But it helped motivate me to get some new attire for my training. It was almost like "I invested in this gear I better stick with the program." Or "I look cute, now let's get running!" Either way, taking the time to find some new clothes really motivated me to continue on my training path.
New tops, new shorts, new shoes, new compression socks. If you plan on doing some really long distances (half, full, ultra marathons) I highly recommend getting yourself some compression socks. My favorite are
Pro Compression
. They have lots of cool colors and multiple length options, as well as arm and leg sleeves. Plus, they are always having deals and usually have a 40% off code every month. Can't beat that!
Oh! And if you'll be running in the dark, reflective gear is super important. There are many options out there for shirts, jackets, pants. All with reflective material.
A DEVICE TO TRACK YOUR TIME AND DISTANCE
Now, this doesn't have to be a new $400 Garmin watch. I could be as simple as an app on your phone or what I have, a device that I wear on my shoe and it syncs to my iPod I wear like a watch on my wrist. I can't remember what it's called but my hubby got it for me. Super handy. Either way, if you're going to be training for a race it's good to have something to keep track of you're pace, time, and distance at the least.
LIKE IT?! PIN IT!
There you have it! A few of the things that helped me get started on my distance running journey. I was SO nervous when I first started. I was worried I was going to be terrible. But I ended up really enjoying myself and the time I spent running.
Any other long distance runners have good tips you can add?