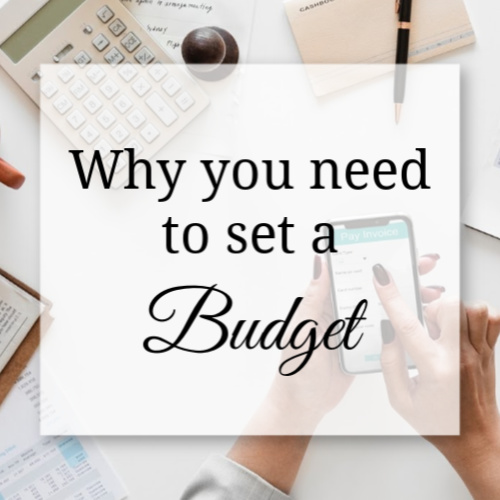 Budgets. You either love them, hate them, or you don't understand them. But setting a budget is key when it comes to money management. There are many reasons why you need to set a budget.
A common misconception is that budgeting is for those who are just scraping by, when in truth, budgeting can help people at every stage of life and every income level. Setting a budget is a discipline that most wealthy people do on a daily basis. Self-made millionaires didn't get that way out of luck.
A 2016 statistic shows that the average American household has over $134,000 in debt. The average credit card interest rate is almost 19%, which is costing many over $1,300 a year in interest! That's just money being tossed down the drain.
I started setting a budget when I graduated from college and bought my first house. Finances were a little tight, so I knew I needed to be diligent and track my spending. I didn't have any debt besides my mortgage, and I wanted to keep it that way. Budgeting has become more important in recent years as I transitioned out of the workforce to stay at home with my children. We cut our income in half as a family, so keeping a diligent budget as we continue to build wealth and plan for our future is important to us.
But I'm always surprised when I hear people say they don't have a budget. To me, a budget is part of being a conscious consumer and understanding where your money goes.
Most households have a tendency to consume cash flow; living pay check to pay check and not even realizing it sometimes (hello credit cards!). Setting a budget can be an eye opening experience!
Here are five reasons why you need to set a budget.
1. To understand where your money goes.
It's really as simple as that. Every penny has a purpose, and it's amazing to see when you finally take a look at your finances how much money you spend on certain unnecessary purchases. I promise you, when you break your purchases into categories, and look at how much you spend on things like eating out, coffee and even clothes, it's eye opening. Kellen and I couldn't believe how much we spent on eating out before we set a family budget. And if you're a once a day Starbucks junkie, you're likely spending upwards of $200 a month on coffee, or more! That's $2,400 a year! Think about how much money that would be in 10 years if you invested it instead of drinking it only to pee it out later (you know that's the truth).
Take the time to sit down and review the last 6 months of spending to get an idea of where your money is going.
2. To save for retirement.
Did you know that many baby boomers rely solely on social security for their retirement? That's their only source of income. By the time I am of retirement age, I don't know what social security will look like, or if it will even exist. It's not something I want to rely on having when I'm old.
I know there are people out there who are of the mentality, "I want to enjoy it now. I'll take care of it later." And I totally get that. I want to enjoy this time of my life as well! But do you really want to be working when you're 80 years old because you didn't save a penny when you were younger?
I've seen people struggle in their 50s, 60s and even 70s because they didn't save when they were younger. If your company has a 401k matching, take advantage of it! That's free money! Divert more of your income to a Roth IRA if you can. These are just a few wealth building strategies that will set you up for a comfortable retirement.
3. To save for kids' college.
Since 2003, college tuition has risen by 26%. Student loan debt has increased by a whopping 186% in the past decade! How sad is it that so many young people are coming out of college not able to find a job and in debt up to their eyeballs? I, for one, want to give my kids a great start to adulthood, which includes helping them pay for their college. I was fortunate enough to have my parents pay for my undergraduate degree, and for that I am eternally grateful.
While things have started to level off a bit over the last 2 years, the cost of tuition is still astronomical. Saving to help our kids foot the bill is more important than ever.
4. To allow for major purchases.
In 2014, 47% of Americans between the ages of 18 and 34 were planning to take a vacation in the next 5 years. (source) And of that 47%, 32% said they would finance that vacation with a credit card. In addition to vacations, that same study found that over half of those that planned to make a major purchase in the next 5 years would do so using a credit card.
Obviously there are benefits to using credit cards to pay for major purchases (travel protection, rewards, convenience), but you should have a plan to pay that card off in a timely manner before you make the purchase. Otherwise, instead of paying $5000 for that trip to Hawaii, you end up paying $7,000.
Don't have a budget? You should. Here are 5 important reasons to set a budget.
Click To Tweet
5. Because it's smart.
Here's the thing: Setting a budget is just part of smart money management. The richest people in the world set budgets. If you don't think Warren Buffet has a budget you are sorely mistaken (he also still lives in the house he bought in 1958 in Omaha, Nebraska for $31,500). Setting a budget and understanding where your money goes is something we should all be doing.
If you are in need of tips on how to set a budget, make sure you read this post on setting a successful budget.
Remember, most wealthy people don't get that way because they turn a blind eye and just hope they understand where their money goes. They plan, budget and invest wisely. Budgeting is part of smart money management.
Are you feeling ready to set a budget?