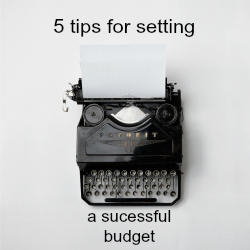 Everyone should have a budget. These tips make setting a budget so simple you'd be silly not to.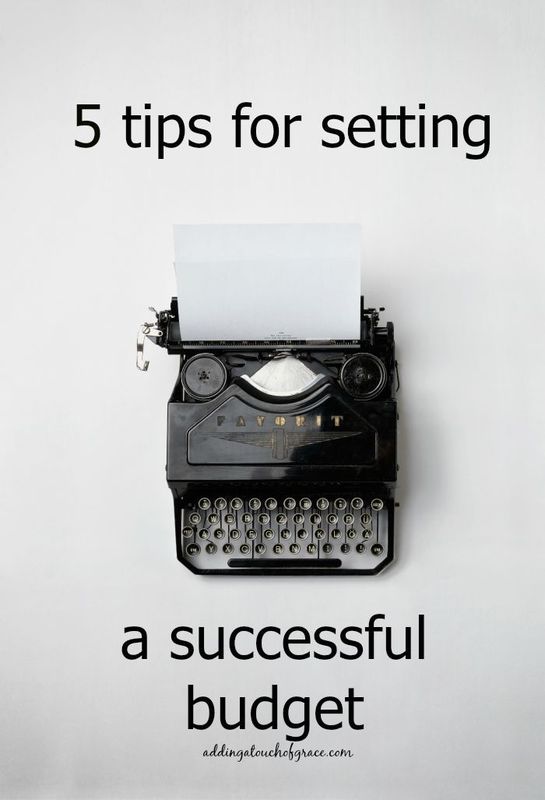 I've shared with y'all previously about mine and K's debt free journey. Yes, we're still on the journey. And yes, it's a slow one (especially now that I'm staying home with Little A) but we are making progress and it feels so good to see those bills go away! At this point, the only debt we have left (not including our home mortgage) is K's student loans. No car payments and no credit card debt. Man that feels good to say. We're so close I can taste it!
My sweet and darling husband has worked so hard to get our monthly expenses reduced so that 1) I could stay home with Little A and 2) we can continue to see benefits from paying down our debt. The man is a genius with numbers. He's found savings where I would never think to look.
Setting a monthly budget for all non-bills (like electricity, cable, internet & phone, etc.) was one of the first things we did when we started our debt free journey. And I believe it to be key to keeping track of where your money is going and to keep spending under control. The process of setting a budget was an eye opener for us and I'm sure would be for anyone who doesn't live by one on a day to day basis. But we find budgeting to be imperative to financial success.
Here are our 5 tips for setting a successful budget.
1 // Use the 70/20/10 rule: 10% of your money should go straight into savings or investments and 20% of your money should go to debt (if you don't have debt that 20% should go to retirement investments). The remaining 70% is what you live off on a monthly basis. This includes everything that isn't debt (food, gas, clothing, mortgage or rent, entertainment, etc.).
2 // Review your prior spending habits: Prior to setting the budget that we've been using for the last almost 2 years, we reviewed what we spent over the last 12 months. Yes, this took a lot of time but it gave us a good look at what we spent our money on and where we could cut back. If you don't want to go back a full 12 months, try to review the last 3-4 months so you have a decent idea of where your money typically goes. We looked at everything from groceries, clothes and coffee, to gas, items for the home, eating out and more. And like I said, it was definitely an eye opener! We then took a hard look at where we thought spending was excessive (hello coffee and eating out!) and reduced it to what we thought was doable, and averaged the rest of our expenses, like food and gas, out.
3 // Set major categories: We then divided our expenses into 4 major categories: Groceries (which includes personal care and household products like paper towels), gas, eating out and house/miscellaneous. Our house/misc. category is used for all purchases for our home, clothing, activities and anything that doesn't fit into one of the other 3 categories. Coffee would fall into the eating out category. 🙂 If you want to set a specific budget for clothing or for date nights, that's totally fine! Wherever you want to be mindful of your spending, set a specific budget (I used to have a budget just for coffee, seriously).
5 tips for setting a successful budget. #finance
Click To Tweet
4 // Use the envelope system or an app to track your spending: This is a tough one for some people. When we first started using our budget, we did the envelope system. If you aren't familiar with the envelope system, basically we took all of our budgeted money out of the bank, divided it into separate "envelopes" and used only that cash for our expenses. I highly recommend this when you're first starting your debt free journey. It's so easy to just say "Oh it's only a few extra dollars" when you're using a debit or credit card. But that few extra dollars here, and few extra dollars there add up and before you know it you've spent an extra $100 over what you budgeted for the week or month. Not good people!
K and I now use an app called Goodbudget to track our spending. We got to a place where our budget was second nature and we never spent beyond it, so we decided to try the app to see if we could still keep within our budget and it's been great. The hardest thing about the envelope system (we actually used a wallet with 4 sections and I labeled each section with my label maker) is if I was out and forgot the wallet I'd have to turn around to get it. Or if K went to work and took it with him I wouldn't have any money to go grocery shopping until he got home. If you can be strict with yourself, the app is a great tracking tool.
5 // Review every 6 months: We review our budget every 6 months or so to see if we're still happy with what we budgeted, if things have changed and if there are areas where we may need to increase our spending, or reallocate money. For example, I'm no longer commuting to work 3 days a week, which is saving us about $200 a month in gas, so we adjusted our gas budget to reflect this savings and reallocated that $200 to debt payments.
The common perception is that people who have a lot of money don't need to have a budget. But the reality is that over 80% of millionaires adhere to a very strict budget. Unfortunately personal finance isn't taught in school so unless your parents taught you the ins and outs of how to spend and save, most people don't understand how to budget or that it should be done. Creating a budget you can live by not only saves you so much money in the long run, it just feels plain good to know that you can. We've learned to live with so much less and find creative ways to save, which has brought us closer together and made us a better team.