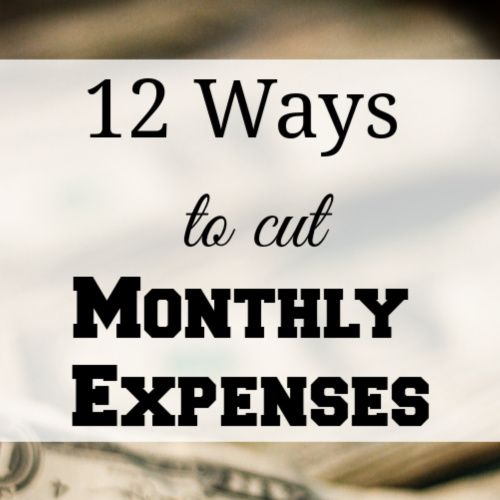 Looking for ways to make your money go a little further? Here are 12 ways to cut monthly expenses, and get a little extra cash in your wallet.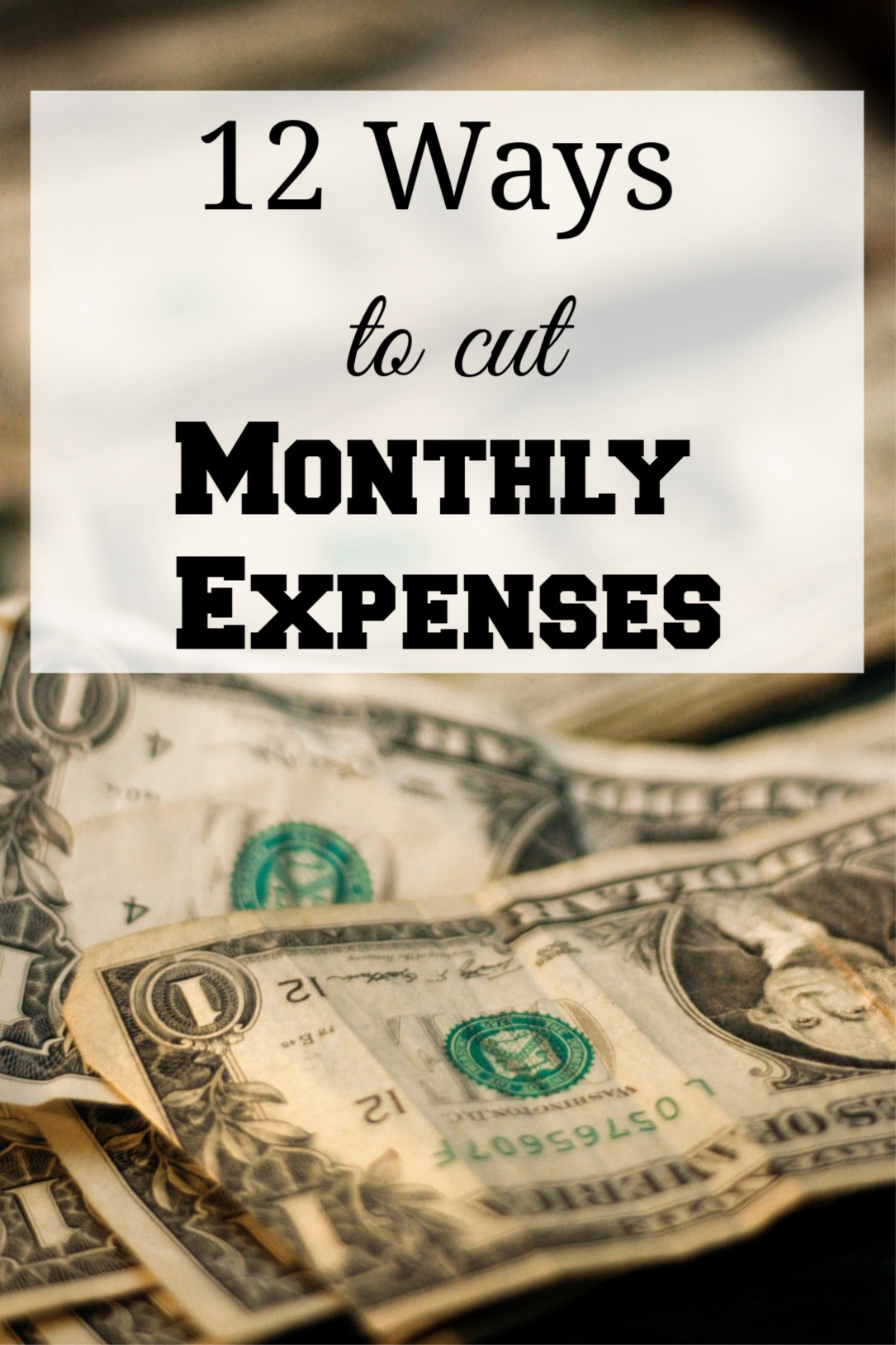 Years ago, Kellen and I set a fairly strict budget for our family. We had made the decision for me to leave my job and stay home with our growing family, which meant cutting our income in half. That was a scary thought! We knew we wanted to continue to save at the rate we had been, which meant we needed to cut our monthly expenses.
When we sat down to really see where we could cut costs, we decided to make some bold moves to reduce our monthly bills.
Here are a few of the ways we have cut monthly expenses.
We cut our cable
This isn't a novel idea, and more people have done it over the last few years, but cutting traditional cable has saved us thousands of dollars over the last few years. Depending on the cable package you have, it can run you anywhere from $80-$300 a month for television! So we cut our cable now use Hulu, Amazon Prime and Netflix. If your television isn't internet compatible, you can purchase a Roku or Amazon Fire Stick to stream these services through.
Hulu is $8 a month, Netflix is $8-$14 a month, depending on the plan you want, and Amazon Prime is included in your Prime membership. In total we spend no more than $22 a month on television, saving us over $100 a month from our old cable plan.
We bought used cars for cash
This was one of the biggest decisions we made. In 2011 we had bought a brand new truck. And we LOVED that truck so much. But when we were trying to find ways to save and reduce our monthly expenses, the truck payment was a big expense. Luckily, we had gotten such a good deal on the truck, (thanks to my stellar negotiating skills) that we were able to sell it for profit and use the money from that sale to pay cash for our SUV.
Our other car I had bought new (with a sizable down payment), but it had been paid off for years, so we went from spending $411 a month on car payments to $0. I know the thought of buying an older car isn't appealing for many. But some families spend well over $1000 or more on car payments each month. And really, it's just a car.
Even if you aren't able to pay cash for a used car, getting your monthly payment down by financing a less expensive car will help you in the long run.
We refinanced our mortgage
We spent time getting quotes from different mortgage companies to find the best rate and lowest fees. If you decide this is something you want to do, make sure you understand your goals going in. You should know whether you want to reduce your rate or free up cash with a reduced monthly payment (which may mean extending your mortgage period).
We negotiate every bill
And then renegotiate, and then renegotiate again. My husband is amazing at getting us deals on things like internet, the few months a year we have HBO (for Game of Thrones, of course) and our cell phones. Each time our promo ends, he calls and renegotiates a new deal for us. Yes this takes time, but if you are serious about reducing your monthly expenses it's a great way to go about it.
We cut our daily coffee
I just read that the average American spends over $3,000 a year on coffee. That's $250 a month….on COFFEE! Y'all I lived for my coffee runs back in the day. It was part of my routine when I worked in the corporate world. It was a needed break that I cherished. But holy cow! I don't even want to try to remember what I was spending because I know it was just too much.
Yes, I get that Starbucks and coffee stands are convenient. But in the amount of time it takes you to wait in line, order your drink, pay and get out, you could have had a nice French press coffee made and been on your way….for less a quarter of the cost!
If you are bit of a coffee snob like myself, there are coffee companies that will ship coffee to your house. Driftaway Coffee is my favorite coffee subscription and you can try new varieties each month.
We cut back on eating out (and set a monthly budget)
When we looked back at 6 months worth of spending, one of our largest luxury expenses was eating out. I really enjoy eating out, but it's not something I'm willing to spend $500+ a month on. We set goal of eating out 3-4 times a month as a family, totaling $160. Eating at home will save you so much money.
One other thing we try to do is split meals. Many restaurants server huge portions, so by sharing a meal and maybe a small appetizer sometimes, we're cutting our dinner bill by a quarter.
We shop our insurance
Every few years my hubby spends a week getting quotes for home and car insurance from different companies to find us the best bang for our buck. Shopping your insurance is something you should be doing every few years. Companies change and increase rates, and you could be getting a better rate for the same coverage from a different provider. Depending on what type of coverage you want/need, you can save over $100 a month on home and car insurance, each!
We changed our withholding
If you get a large refund each year, it's likely that you're withholding too much. Some people enjoy the large return come tax time, but if you're getting more than $3,000 back on your taxes, you could change your withholding a bit and get more money in your pocket each month.
We did (and still do) weekly meal plans and prep
This one was HUGE for us. I was never great at meal prep until I needed to be. But by planning out our weekly lunches and dinners, we were able to cut our monthly grocery bill significantly.
Go to the store with a list of ingredients you need for your meals. Impulse buying is what tends to drive up grocery bills, and planning really helps reduce that. You also reduce food spoilage by meal planning. A USDA study found that Americans waste about a pound of food each day! That is money being thrown in the garbage (or in our case the compost bin). Meal planning and prepping will reduce the amount of wasted food you have.
We transferred student loans
When Kellen had student loans, he was able to consolidate them and transfer them to a company that charged a much lower interest rate. If you have more than one student loan, consolidating them is a great way to reduce your monthly payment and the amount of interest you will pay.
Transfer credit balances
When we had an unforeseen large expense on our car, we had to put part of it on a credit card. I hate not paying off our credit card each month. So instead of paying interest on that charge, we did a balance transfer to a card that was offering 0% for balance transfers.
Many credit card companies will offer 0% for a set period of time (say 6 months) when you transfer to their card. It's then up to you to get the balance paid off in that set period of time.
We reduced our power bill
The first thing we did is switch over to a level payment plan. If your power company offers this, I highly recommend it. It makes budgeting your monthly expenses much easier because you know what your power bill will be each month. Most utility companies reevaluate at the 6 month mark and adjust your bill according to your usage (can be up or down), so be aware of that.
The next thing we did is make sure we're being smart with our electricity usage. Many electronics still draw power even when they're not in use. I unplug items, turn lights off, turn the celling fans off when not in the room.
During the day open your blinds and use the natural light. In the evenings turn on only the lights you need to use. Every little bit helps.
In addition to cutting our monthly expenses, we also found some easy ways to bring a little extra cash into our pockets.
We sell items online
Offer Up, Craigslist, Ebay and even Facebook marketplace are all great places to sell items that still have value, but you no longer need or want. I've sold tons of furniture, duplicate cooking appliances, clothing, shoes, baby items, an old mattress set, even our old hot tub!
There are also Facebook groups for selling items. I belong to 2 dance resale Facebook groups for selling my daughter's dance clothing she has outgrown (those items are really expensive!).
We consigned clothes and other baby items
Now I will say, I don't do this anymore. But, when we were looking to save when I first left work, I consigned a ton of baby clothes and toys. Consignment shops are all over cities, and they are a great way to get a little extra cash back from your previous purchases.
We donate items and itemize our taxes
People throw away a ton of money each year by not itemizing their taxes and not taking advantage of donation write-offs. If I feel like something isn't worth selling (or I don't want to take the time to), I will donate it and use it as a write-off.
We also write of every detail of our business expenses. This may not apply to everyone, but if you own your own business you should be taking advantage of all the write-offs!
Each time I have to go to the post office, buy business cards, paper, or anything for our businesses, I use it as a write-off. We are also able to write-off our home office, phone bill, and internet as business expenses. This won't benefit you on a monthly basis, but when tax time comes, you'll be glad you did all of these things. Even if they seem insignificant at the time, they add up fast.
With some careful planning and a little extra effort, there are many creative ways to cut monthly expenses. A little time up front can save you hundreds of dollars a month.