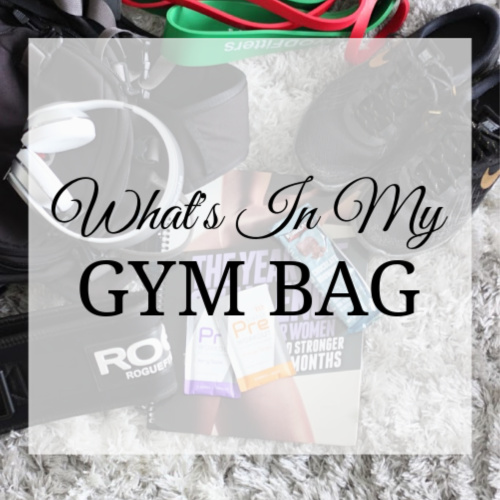 I never used to carry a bag to the gym. Well, that's not 100% true. When I worked away from the home I had a gym bag for my workout clothes and shoes that I would bring with me to hit the gym after work. But when I started staying home, I didn't need a bag any longer.
That was until I started carrying more items to use during my workouts. Now a gym bag is a must.
*This post contains affiliate links. See my full disclosure policy HERE.
It all started in January when I began my new fitness program. I started carrying around an 8 1/2×11 book and pen. Then in March I added some mini bands to the mix (if you're wondering these are my go to bands). In July I decided to switch my program up just a bit and add a lot heavier weight to my deadlifts and squats, so that meant I needed my weight belt.
You can see where I'm going with this right?
Needless to say, it became necessary for me to start carrying a gym bag again.
Here is what I am carrying in my gym bag these days.
My fitness notebook
I'm doing the Year One Challenge for Women program. I highly recommend it, and the book Thinner Leaner Stronger that goes with it. Both are by Michael Matthews. I write down the weight I'm lifting, number of reps, and any notes I need to make for every workout I do. I love seeing the progress I've made over this year!
Training shoes
I lift 4 days a week and do cardio 1-2 days, so I always have my shoes with me. I wear Nike Metcons for training, and Mizuno Wave Riders for cardio. (If you're wondering why I have more than one pair, check out my post on choosing the right shoes for your workout).
Exercise bands
Mini bands are my jam! The Fit Simplicity bands are my absolute favorites because the set comes with a variety of resistances, so I can use them for a lot of exercises.
I also carry a set of longer resistance bands that I use for assisted pull-ups, squats and ab work. The hubs also uses them for powerlifting. We have the WODFitters set of bands. Really durable bands!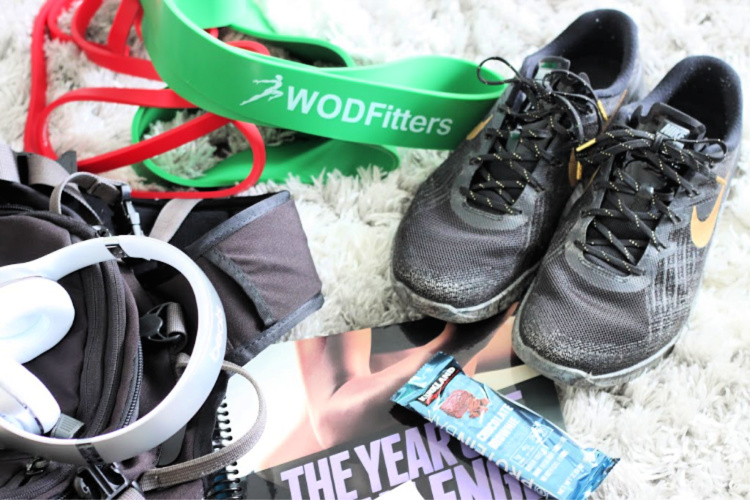 2 sets of headphones
Yes, I carry two sets of headphones. I love my Powerbeats that Kellen got us over a year ago. But for my birthday he also got me the Beats Solo3 Wireless over the ear headphones, so I carry both to use…depending on my mood. 🙂
Water bottle
A necessity. I always bring my Hydro Flask with me to the gym. I can't stress the importance of drinking water while you workout, so a good water bottle is a must!
Pre Workout
I am a massive fan of TruLabs Pre Workout. I get their variety pack and love that it is natural and not full of artificial ingredients.
Now I'll be honest with you, my current gym bag is not fancy. It's an old skiing backpack that we've had for years. And technically the hubs and I share a bag.
But oh let me tell you that will be changing very soon.
Now that I carry my bag to the gym almost daily, I need something to house my own things, especially because I'm considering starting to shower at the gym to save time at home.
I've been eyeing the adidas women's bags and love the selection they have! I'm a fan of the yoga bag, designed by Stella McCartney (it holds a yoga mat as well!), and the Daybreak 2 Backpack (it has lots of pockets!). They really have a variety of options so check them out.
And that's what I have in my gym bag. What is one of your must have gym bag items?