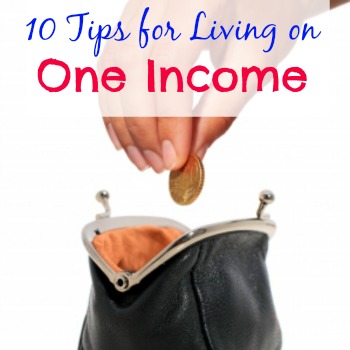 10 tips our family swears by for living on one income.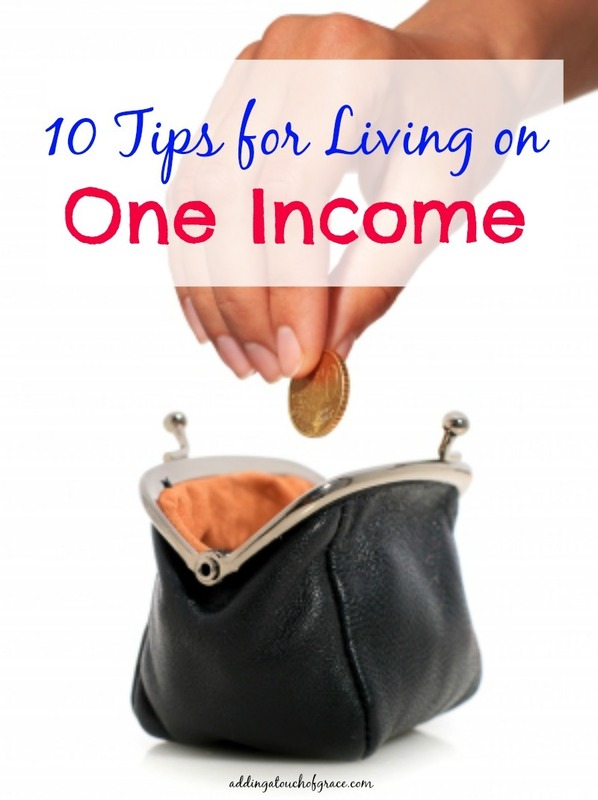 Image courtesy of fantasista at FreeDigitalPhotos.net
It's been almost 6 months since I left my job in corporate America to be a stay at home mom (SAHM/entrepreneur I like to say). While it was an easy decision to make, the transition financially required a lot of thought and careful planning. We basically cut our income in half, which is a huge hit to any family's finances. Luckily we'd been taking steps financially for me to stay home for months before I actually ended up quitting my job. It's not a decision you can make overnight, especially when you're on a debt free journey like we are, but it is doable.
There are some key things we do to make it possible to live on one income. It started with our debt free journey almost 2 years ago, and now continues with our journey as a one income family.
Track your spending. The first thing we did was start tracking our spending. We looked back on our spending for the last 6-12 months and where money was going. Tracking how we spent our money was eye opening and gave us a really good look at our spending habits and how we could change them.
Set a budget. I gave you 5 tips for setting a successful budget, and we still review our budget and spending every so often to make sure it is still working for us, and that we're still on track. For example, we know when baby comes in March we'll have the added expense of diapers and wipes, so we are planning to add that into our monthly budget (we use Honest Company's diaper delivery service so the cost is the same each month). Also, our daughter's preschool cost will be going up by quite a bit come September, so we've made a plan of how we're going to include that in our budget.
Set up bills as auto-pay, including your retirement contributions. Setting up all of our bills as auto pay ensures we never miss a bill. Also, our 401k contributions come out before we ever even see them, so we don't have to worry about making sure we're saving for our future.
Don't go into debt to pay for frivolous items. You really, really want that $3,000 designer handbag. It would look so amazing this spring flung over your shoulder as you saunter in to drop your kiddo off at preschool, the envy of all your fashionista friends. But if they knew you had to take out a new credit card to pay for it; not so appealing. Just don't do it. There's not much in this life that's worth going into credit card debt for. Especially when you're paying 16%+ interest on those cards. Just save for what you want. There's something to be said for delayed gratification, and knowing that you can pay cash for what you desire, especially after you saved for it, makes it that much sweeter.
See what luxuries you can live without, or reduce. I used to get coffee every single day. Like really, every. single. day. Y'all, that adds up fast! I was spending in the thousands of dollars a year on freaking coffee! Now I get it as a treat and make coffee at home and use creamer for flavor. I also used to shop every week. I went to the mall at least once a week. What was I thinking?! Now I rarely buy new clothes for myself because I don't need them and if I do the money comes out of our budget.
Negotiate your bills. All of them. Check your data plan on your cell phone. Are you using all the data you pay for? Can you move to a lower data option? One thing our power provider offers is a level payment plan. They averaged out our power bill for the last 6 months and that became our monthly payment. It makes it so our monthly bill is predictable and we can better budget without an unexpectedly large power bill.
Get rid of car payments. Sell your car to pay cash for a used one. This was one of the first things we did when we started our debt free journey. We had a less than 2 year old truck that we got a great deal on. We were able to sell the truck for almost what we paid for it, and use the cash we made to pay cash for an older SUV.
This isn't necessarily something everyone can do, but if you have a newer car with a high monthly payment, consider looking for a car with a lower payment.
Meal plan. We used to go to the store with no idea of what we wanted to eat each week. We would walk up and down the aisles and get things that sounded good at the time, but when we'd get home we wouldn't even have a week's worth of meals. Meal planning is easy to do and can save you a lot of wasted money on food.
Set up an emergency fund. If you don't already have one, set up a separate bank account for emergencies. That way if a big expense comes up like your refrigerator goes out or you need major work done on your car, you won't go into debt to pay for it. It can be hard to save for an emergency fund, but I recommend having $3,000-$5,000 easily accessible for emergencies. I know some people recommend $1,000, but I've found that that just isn't enough to cover a major emergency happening (or back to back emergencies).
Explore lower cost activities. We love to hike, go to the beach, sled and snowshoe. We also rent movies from Redbox and you can usually get discounts or free movies through them. We do family game nights at home as well. You don't have to spend a lot of money to have fun as a family.
If there is something you like to do as a family that costs a bit more, include it in your budget.
How to live well on one income. It's damn easy too.
Click To Tweet
I was really worried about how we would be able to live on one income when the time came for me to leave my job. But by using these tips we were able to save and prepare and there are few things we miss now that we are a one income family.