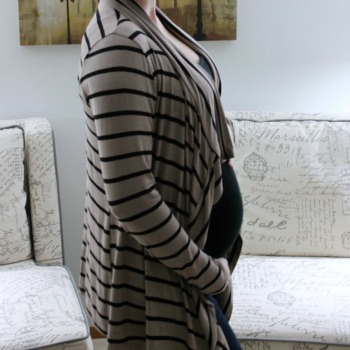 We're 10 weeks or less away from meeting our little guy! This last month has flown by and I'm finding myself a little bit stressed with all we need to do to get ready for baby, but taking in all those little kicks and stretches I'm getting these days.
I finally saw my OB on Monday after not seeing him during my last appointment. I missed him. He's really just the best. His wife just had their third child in mid-December so it was great to chat with him about it. And skiing because ya know, priorities.
How far along: Almost 31 weeks!
Baby: He's around 17 inches and over 3 pounds now. Eek! My doc said he's pretty sure baby has moved to head down now so that was great news to get! We'll still do another ultrasound around 35 weeks to make sure all is looking good.
Mood & how I'm feeling: Freaking congested! Like pregnancy congestion is no joke you guys. I am waking up 3 or 4 times a night because I can't breathe and need to blow my nose. I kept thinking I was sick but then read that it's fairly common to be congested during this time. Needless to say I'm not getting a lot of sleep because I'm getting up so much and then it takes forever for me to get back to sleep.
I'm still having the pain in my pelvic region, but I've really slowed down my workouts so it's not as bad. There were a few times on our ski trip last week that it acted up, but I took it pretty easy on the hills so it wasn't too bad. I'm also still pretty emotional. Just thinking about certain things makes me want to bawl. There's a lot going on right now that I just need to get over and I'm having a hard time doing it, so I find myself on the verge of tears a lot these days. Time to suck it up sister and move on!
Exercise: Like I said, the pain in my pelvic region hasn't gotten any better so I've decreased my workouts again. I'm mostly doing leg exercises, push-ups, walking and some yoga. Stretching has felt really good as well so I'm stretching a few times a day. I did get to ski last week which was awesome. Skiing is such a great workout, even when you're taking it easy.
Cravings & aversions: This is the first time I can say that I feel like I've had a real craving. I could drink a gallon of orange juice in like 4 days. This last trip we got a gallon at each of our 3 houses and none of it went to waste. Just typing this is making me want to go downstairs and get a glass.
Still having some aversions to plain chicken, but I had a bit last week with some seasoning and it was tolerable. Oh, and I can eat a bag of spinach salad a day. At least I'm wanting healthy foods.
Big sister: Little A seems more and more interested in baby coming each week. On Monday we went to the dollar store to find her a bath toy. We had no such luck, so she asked if we could get bunnies for her and the baby; a pink one for her and blue one for baby. It was so sweet. She named his bunny Football, obviously. I'm really excited to see her with him.
Overall health: Still feeling good. I've had a few Braxton Hick contractions (one while on the ski hill so that was interesting) but nothing consistent. I'm glad to be home after being gone for 10 days. Sleeping in a new place is tough enough, but 3 new places in 10 days while being this pregnant just sucked.
We're going to finish cleaning out the office this weekend, then painting next weekend so we're finally making some progress on baby's room. I feel so behind on it all! Little A decided she wants to stay in her room, so baby will be in the new room, which I think will work out just fine.
Have a great day love bugs!