Sharing a few pregnancy style tips for looking fashionable without breaking the bank.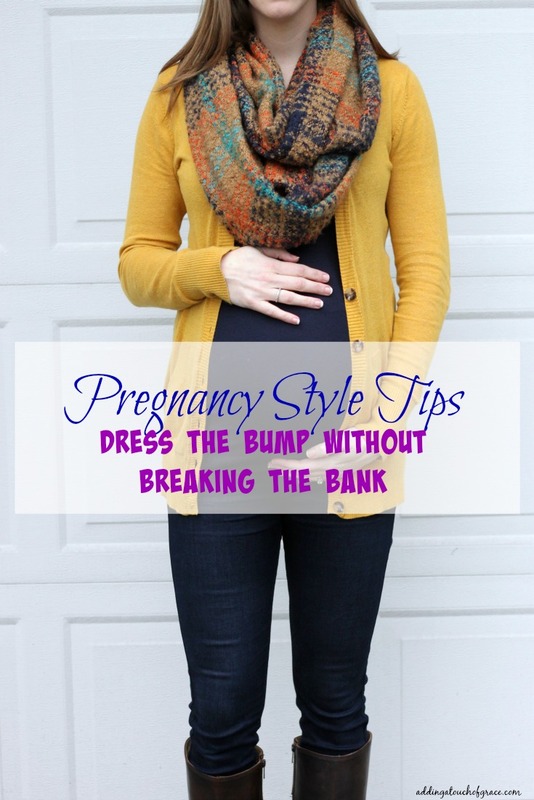 Being pregnant is such an amazing time in a woman's life. You're connected to your body, you're planning and decorating a nursery for your new little one, and you're feeling all those wonderful pregnancy feelings (well, some women are). But there's always that part of pregnancy that some women struggle with: dressing the bump.
During my last pregnancy, I was a hot mess y'all. I didn't want to spend any money on clothes I would only wear for a few months, I had no idea what worked for me and I just struggled to look good most of the time. I definitely learned the hard way that it is possible to still be stylish, expanding belly and all.
Luckily I've learned a few things that I didn't know 4 1/2 years ago, first being how to not look frumpy and how to accentuate my growing bump.
One thing that a lot of women neglect to think about is that your existing wardrobe can go a lot further than you think. During my last pregnancy I thought I could only wear maternity clothes. I think I was so worried about stretching my normal clothes out that I didn't even try wearing them. What the heck was I thinking?! It's likely that most things you own will keep their form, and you'll be able to wear them again after baby is born. I still wear a large percentage of my non-maternity tops and they fit just fine (think longer tanks, tunics and sweaters).
Take for example the outfit in the photo. Everything I have on is from my non-maternity wardrobe (except the jeans). It all fits great and I'm utilizing what I had on hand. It's easy to find things in your closet that will continue to work for the next few months as your belly grows.
Here are a few other things I've found that work well during pregnancy.
Cardigans and kimonos are your best friend. You don't have to go out and buy 5 different maternity cardigans when you probably have a few in your closet already that you can still wear. Pair them with a form fitting tank or tee, a nice necklace or scarf (a la the photo above) and you have instant style. I am a big fan of cardigans and have only purchased one from a maternity shop because it was on a great sale and I really liked it. Otherwise I've been able to wear what was already in my wardrobe.
Tees and tanks go a long way. I wear a tank or tee under almost every top I wear; partly because it's cold outside and partly because layering looks good on a growing bump. Form fitting tees with ruching on the side look great and you can wear them your whole pregnancy. Which brings me to my next point.
Buy tops that accentuate your bump, not hide it. Big and baggy tops can make you look frumpy and bigger than you really are. Look for tops that are more form fitting and hug your bump. They can actually make you look smaller than you think and are just as comfortable as something big and baggy. Why I ever though over-sized tees would work throughout my last pregnancy I do not know. Someone really should have told me.
Buy pants that fit your body type. We all have our tried and true brands of jeans that fit us. It's likely that that brand's maternity jeans (assuming they have them) will fit you during pregnancy as well. Repeat after me: I will not wear baggy jeans that don't flatter my body. There are so many options for maternity jeans out there these days you have no reason to go for baggy and saggy. Don't be afraid to try maternity skinny jeans! They are much more flattering than boot cut or wide legged jeans on a pregnant lady. Invest in a few pairs of jeans if you wear them often; it's much better to be comfortable than trying to squeeze into your pre-pregnancy jeans when you're sporting a 7 month bump.
Also, don't forget about leggings. They are so comfortable and can easily be dressed up with long tunics and tops.
Accessorize. Necklaces, earrings and scarves are all a great way to add style to your maternity wardrobe, and require no special purchase. A nice necklace can really dress up a plain, long sleeved tee. Add a non-maternity puffy vest and you're adding dimension and interest to your look.
[Tweet "Pregnancy style tips that won't break the bank. "]
I will admit, some maternity shops can be a bit overpriced, but there are plenty of stores out there these days where you can find cute, maternity options at reasonable prices.
Here are a few of my favorites places to find great maternity clothing:
Gap: Great for sweaters, dresses and work pants, as well as maternity workout gear.
Old Navy: I've found some nice long sleeved tees here. Also a good selection of dresses, tees and tanks.
H&M: Large selection of jeans.
Target: Mainly for tees and tanks.
Nordstrom: Online only
Pea In The Pod: If you prefer designer maternity jeans & shopping at a true maternity store. They always have sales.
Pink Blush Maternity: Online only. Great selection and low prices. Most of my maternity tops are from here.
Also consider buying a size or two up on non-maternity tops, especially tanks and tees. I've seen that work for quite a few women, and it gives you a wider selection to choose from.
You don't have to sacrifice your personal style just because your mid section is expanding. Creating a nice wardrobe that you can wear throughout your pregnancy doesn't require a lot of investment on your part. Shop your closet, see what you already have that you can utilize, and go from there.
Have a great Monday love bugs!