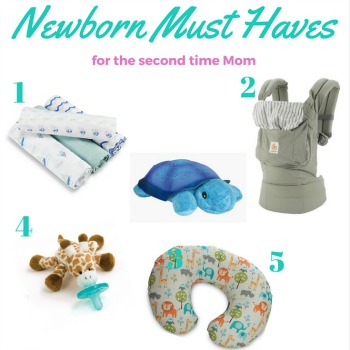 *A purchase made through affiliate links helps keep A Touch of Grace up and running. My full disclosure can be found here.
Raise your hand if you're ready for the weekend?! (waving hand in the air profusely). We have a full weekend ahead of us with painting the nursery and a baby shower for my cousin on Sunday who is due 6 days after me! I'm really glad we've finally gotten a move on with the nursery. I was honestly starting to get a bit worried that we'd never get all the office stuff out of there, but the desk sold last night and now it's just cleaning, painting and decorating. I'll be sharing my mood board for the nursery with you next week.
We're into the 8th month of this pregnancy and counting down the weeks until baby boy makes his debut! So I thought for this Friday favorites I'd share my top baby items for this second time mom. Even though it's been a while, this ain't my first rodeo. I know what I really need and don't need. I could probably get away with these items (not including diapers, wipes and some clothes of course) for the first 2 months and need nothing else.
1 / 2 / 3 / 4 / 5 / 6 / 7 / 8
Little A was a very high needs baby. She wasn't colicky, but just demanded a lot of time and attention. Having experienced life with her I feel like I know what a sensitive child needs, and these are for sure my must haves for a high needs infant, or any easy going infant for that matter. I never had Aden + Anais swaddle blankets with her, but I love the size and how soft they are. A front piggy pack, as my sweet husband likes to call it, is obviously a must as well. I love carrying baby around and it also helps when I need to get things done around the house and baby doesn't want to be put down. I had a Bjorn for Little A, but really want the ERGObaby for this little buckaroo. I also tried every wrap and sling with her, none of which she liked, so I'm hoping baby boy will like this carrier.
A night light is nice to have for those middle of the night feedings. Little A still uses her lady bug night light every night, so it's well worth the cost. I'm excited to have the little turtle for baby boy. Let's also be real here. Little A never took a pacifier. I tried them all and none worked. What she did take was my pinky, which I will never, ever give to baby boy. She would suck on that thing until I got a callus. It hurt, was inconvenient and just sucked. She still has an obsession with holding it to this day! Insane, I know. So if this baby likes to suck, he'll get a paci (like this adorable one), or nothing at all. Sorry kid, tough love.
I've been stock piling Gentle Baby essential oil for a few months now. I even use it on Little A and myself sometimes. It really works to calm both mom and baby when emotions are running high and baby is upset and struggling to calm down. The smell is amazing and I cannot wait to see how it works on our little guy.
A boppy is 100% on my list of must haves. I used it all. the. time when A was a baby. It just makes it so much more comfortable to nurse baby so you can relax and don't feel like you need to support all of baby's weight while feeding. I still have my boppy, but need a new cover. This one is adorable!
I feel like a monitor is a given. Even though baby will be in our room for the first little bit, I'm going to try to get him to nap in his crib (fingers crossed!). I wasn't good about this with Little A and wish I'd done things a bit differently. I like this one from vtech (our last monitor kicked the bucket before A was even a year and a half).
Last but not at all least, a sound machine. We travel a lot and have found that a sound machine helps the kiddo sleep when we're in a new place, we're sharing a hotel room and even here at home. She just likes to have some background noise to help her sleep.
[Tweet "Must have baby items for the second (or third or fourth) time mom."]
All moms and all babies are different. What one mom prefers another may loathe. That's the joy of parenthood; we all do things in our own way and that is a-okay! For me, these are the items that will keep me sane these first few months with baby, and well into his infancy.
Linking up with Amanda today.
Now tell me, what is your #1 must have baby item?
Have a great weekend love bugs!