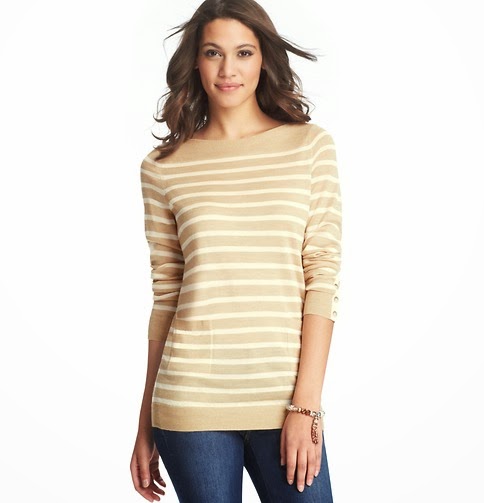 I thought I'd share a few of my favorite random finds that I'm loving right now.
I love to find new bloggers to follow and Alison from Get Your Pretty On is one of my new faves. She's a mom of 3 (1 of which is about to go to college!) who's blog is about easy, affordable style. That's right up my alley! Not to mention she's adorable and looks like she's about 25 years old! Pop over and check out her blog. She's definitely encouraged me to take a fresh look at my closet to mix and match new things.
I picked this striped tunic up after seeing Alison in it in gray and burgandy.
It's from Loft and it is definitely one of my new favorite pieces. It's on super sale right now and they only have this color and dark green left. I got mine a size larger so it would be longer and it still fits really well.
Huebie got me a few of these henleys from Gap the other week and I'm loving them. I have the gray and pink (no longer available) and they are super soft and perfect with skinny jeans and boots or flats. I have mediums but I think I may need to return them for smalls since they run a little big. They are the perfect transition shirt for spring.
Huebie also got me some new slippers:
These Minnetonka slippers are sooooo cozy and have a rubber sole so you don't slip and the faux fur linking keeps my feet super warm. Love them!
Melanie (aka Big Mama) is absolutely hilarious! You will find yourself nodding and saying "Yes! Exactly!" throughout the book. Melanie blogs over at Big Mama and has previously written the book Sparkly Green Earrings about motherhood. After I'm finished with The Antelope in the Living Room I will be picking up Sparkly Green Earrings.
We've been getting pounded with snow here (finally!) over the last week so we're heading up to go sledding on Saturday and hopefully ski on Sunday.
You're turn! Any big plans for the weekend? Have you read any good books recently? Don't forget to give me your skinny jeans suggestions!
Have a great weekend y'all!