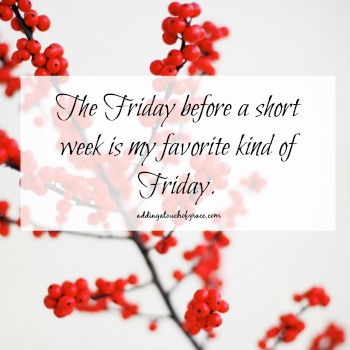 Well happy Friday! It has been a long week around here and I am so glad to see the weekend. We're heading east of the mountains to our condo for the weekend and I couldn't be more excited. Except it's wine country, and wine tasting is a bit out of the question for me, obviously. Oh well, they have cheese tasting too!
Lots has happened lately so I thought I'd do a good old fashioned life lately update for my Friday post.
1 // I cut my hair again! I cut 8 inches off in September, but the weight of it was still driving me crazy. Your hair really does get so much thicker in pregnancy! So I cut another 3 or 4 inches off. It feels so light and I'm still getting used to it. My hair hasn't been this short since I was pregnant with Little A 4+ years ago. I would show you a pic but I have zero good ones to share. But it's about shoulder length and I have some wispy bangs now, so just trust that it looks good.
2 // We put up our tree and Christmas decorations this week. I know I'm not the only one who did, and I also know some of you probably think it's too early, but here's my reasoning. We are gone for about a large part of the month of December. K is gone a week for work, we're in Whistler for 4 days and we're also heading to Aspen for a week. So we are barely home to enjoy the tree this year. I wanted to make sure we got in some good holiday cheer this year even though there will be a lot of traveling taking place.
3 // I shared this photo on Instagram yesterday, but I think that was my last run with baby #2 in utero. The last few times I've run I have ended up with some unpleasant pain in my groin region (TMI?). I'm not sure if it's ligament pain or pressure from the baby because I'm carrying so low, but it lasts a few days (and sometimes up to a week). I've only gotten the pain when running so I figured it's about time to slow the pace and just go to walking, while continuing my weight program. I'm really bummed because cold weather running is my favorite (check out my list of must have cold weather running gear) and I was really looking forward to it after the hot summer we had where I didn't run much at all. But, cold weather walks will be good as well. And I did get approval from my OB to ski this year so I'll still be enjoying at least one of my favorite winter sports.
4 // I finally joined Snapchat a few weeks ago! I know I'm late to the party, but I really did not need any more social media in my life. But I actually really like it and besides Instagram would say it's top of my list for favorite social media platform. I'm still learning how to find people, so come follow me at atouchofgrace2.
5 // I mentioned above, but the hubs leaves for Ireland the Sunday after Thanksgiving. The first part of November was Germany, now Ireland. He also got to spend a day in Zurich (where they flew into) because their meetings in Germany got done a day early. Where the heck is my invite husband?! This would be the perfect babymoon, hello! He thinks I'll just be bored the whole time because he'll be in meetings every day. What I really think the deal is, is he will be bored sitting in meetings all day every day while I would be out exploring the glorious country and having a great time, and he would be jealous. I think that's the real reason he doesn't want me to go. All I have to say to that is that he better have another idea up his sleeve for a babymoon because this mama deserves it. Can I get an amen!
He did bring me back these delish Swiss chocolates, so that's something I guess.
Linking up with Amanda, April and Karli today. I hope everyone has a fabulous weekend and you are able to relax before next weekend's chaos of holiday shopping begins.