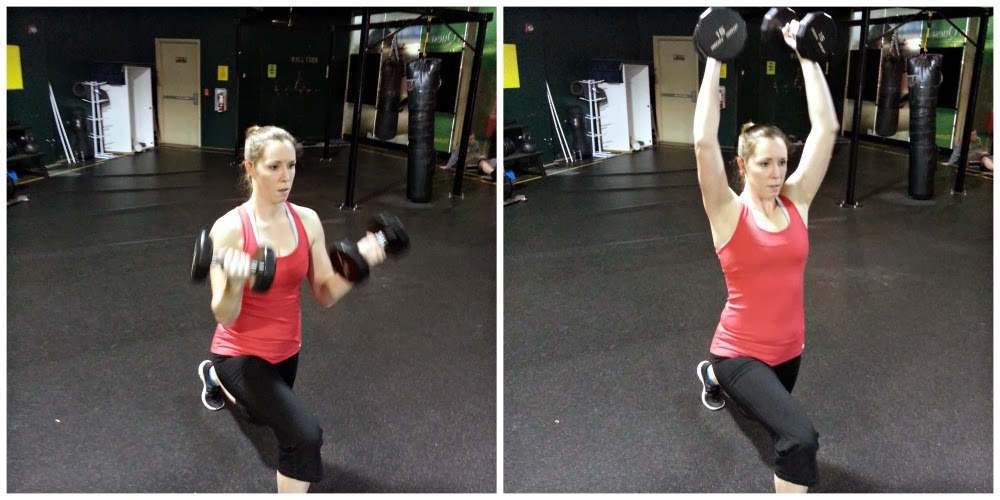 One of my goals for 2014 was to do a new routine every month. We've finally been able to get to the gym on a more frequent basis, so I wanted to start a new workout series to share some of the things I do at the gym, and at home, that will hopefully guide you during your own gym time.
First, I have to report that Little A actually played in the gym daycare area last night!!! HUGE step for her, and for us. That meant Huebie and I were able to workout together and not have to spend 2 hours at the gym while we took turns watching her. Such a huge time saver for us!
I gave you a quick 45 minute routine a few weeks ago, and after that I thought doing a series would be not only beneficial for you (hopefully), but also a motivator for me to continue to put my best foot forward in the gym and when exercising at home.
Here's this week's workout!
* 5 minute warm up on treadmill at 4 mph.
* 3 rounds of the following:
– Walking lunges w/dumbbell curl and press x5 per leg
– KB Deadlifts x10
– TRX rows x10
2 minute break
* 3 rounds of the following:
– Tire flip/pushup/tire jump x6
– L sit-ups x5 per leg
2 minute break
* 3 rounds of the following:
– Bent over barbell rows x10
– 30 second plank
I thought it would be a good idea to give you some photos of a few of the exercises in case you aren't 100% sure how to do them. And please excuse the awesome faces I'm making; I get really focused when I workout. 🙂
Lunge with dumbbell curl and press: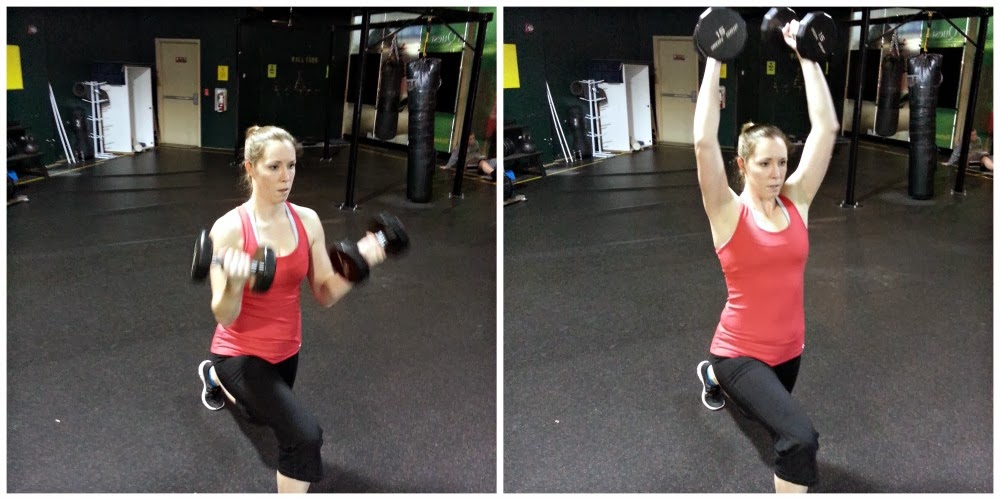 Hold dumbbells at your sides. Lunge forward, bringing the dumbbells into a curl, then right up into an overhead press. Bring dumbbells down into curl position, then down to your side as you stand feet together. Repeat.
Tire flip with pushup and tire jump:

This is probably the hardest of all the exercises. Make sure when you pick up the tire you keep your back straight and lift with your legs. Hook your hands underneath the tire. Drive your body up and into the tire, keeping your forearms pressed into the tire and straight as you accelerate up and forward (in the 2nd photo above I should probably be further over the tire). As the tire is rotating up and your body is moving up through the tire, use your knee to drive the tire to a standing position, then push it over. Jump down into a pushup on the tire, then jump up and onto the tire. Repeat.
**I may have to make a video for this one.**
Barbell bent over rows:
Bend over at the waist, back flat. Bring the barbell up to your chest and squeeze your shoulder blades together. Lower slowly back to starting position. Repeat.
Your turn. What would you like to see as part of this workout series? Are there any specific exercises you want me to incorporate into this series?