Good morning friends! I completely forgot to mention that yesterday's post was my 300th published post! I can't believe I've published 300 posts in the last year and a half. And I can't believe I actually had that much to say, ha! So once again, I'll just say thank you to everyone for your continued support of this little blog. I've had so much fun writing and getting to know so many new friends. It has been a wonderful, life changing experience. Thank you all.
Now, onto today's workout!!!
You guys are going to love this workout. You may hate me when you're done because it's not easy, but it's good. I did it last night and it's definitely not a walk in the park. It will get you sweating and working multiple muscle groups throughout the workout. All you'll need is 5 or 10 pound dumbbells.
And I made a nice little image you can pin! Do this circuit 2-3 times through.
Here is a breakdown of the moves:
PLANK KICKS
Get into plank position and holding your core tight, slowly lift one leg up off the ground (keeping it straight) until your butt feels tight, squeezing your butt at the top. Then slowly lower your leg back down. Do 10 total.
You can do this on your elbows:
Or your hands, if you're a rock star and all:
SQUATTING REVERSE FLIES
Grab your dumbbells and get into a half squat position, arms in front of you, holding your core tight. Lift arms up to parallel and squeeze your shoulders. Do 10 reverse flies.
Below is a good example, but try to squat down a bit lower than she is.
DUMBBELL ROW AND KICKBACK
Hitch at the waist a bit, with dumbbells in hands, abs tight. Row the dumbbells to your armpits, then kick your arms back, straightening your elbows. You can use a chair or bench for support if you need to. Do 10 per arm.
STRAIGHT LEG BICYCLES
I think we all know what bicycles are. For this exercise you'll do bicycles but keep your legs straight. You don't have to go as high as the picture below, but it gives you an idea.
Do 10 per side, 20 total.
AROUND THE WORLD LUNGES
For around the world lunges, you are going to lunge forward with one leg, to the side with the same leg, then back with that same leg. Then switch legs lunging back, to the side and forward with that leg, then repeat. So you're basically making a circle. I hope that makes sense. Do 10 total.
PLANK TO SIDE PLANK
You are going to start in plank position, dumbbells in your hands. Rotate onto one hand, into a side plank, lifting your arm (dumbbell in hand) over your head. This one can be difficult, so go slowly to keep good form.
Like the picture below, minus the leg lift. If it's too difficult with the dumbbells you can do this move without them. Do 10 total.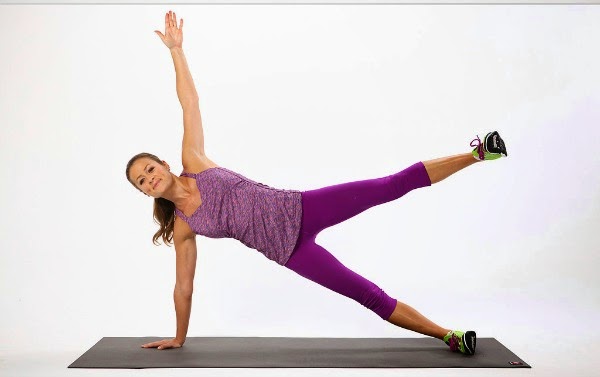 CROSS OVER FLUTTER KICKS
Lie on your back, hands underneath your bum. Lift your legs off the ground 6 inches and scissor kick one leg over the other. To make it a little more challenging, lift your shoulders off the floor slightly.
Do 20 kicks total.
Have a great Tuesday!