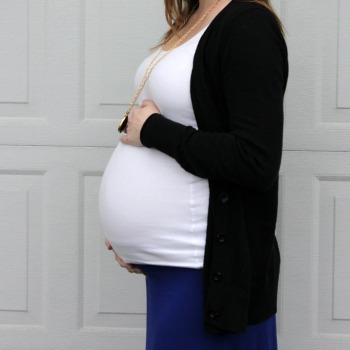 We're in the home stretch folks! I am honestly hoping this guy comes in the next few weeks because mama is DONE. Like just done. I'm ready to snuggle my little guy and be done with being out of breath. Over the weekend we celebrated baby with family and friends at a shower my aunt threw for me. She is just the best at throwing parties. I'll have some photos of the party later this week.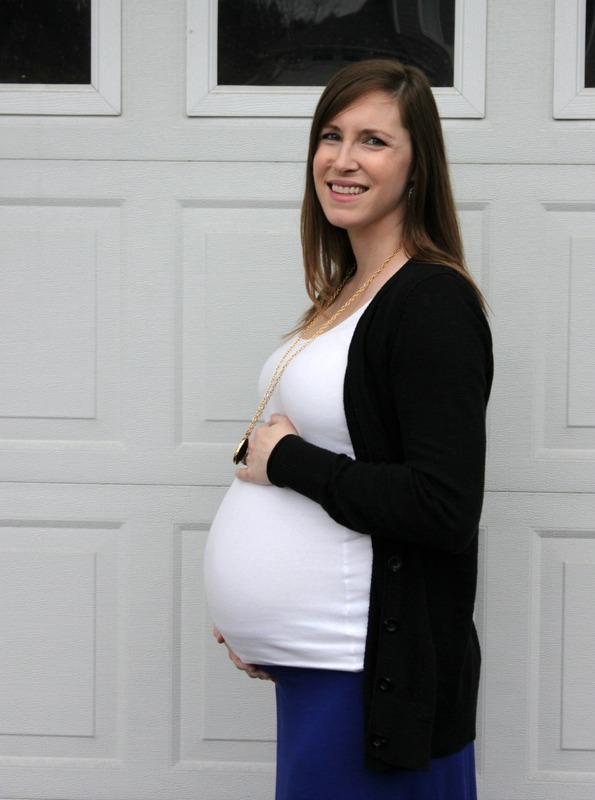 These last few weeks have been so uncomfortable. My maternity clothes are fitting tighter, I only have 1 pair of jeans that are working for me, and sleeping is just non-existent.
Here's the latest.
How far along: 36 weeks.
Baby: He's about 20 inches and 6 or so pounds, according to sources, but we'll find out on Thursday at our ultrasound how big he really is. At my last appointment my OB said he's pretty sure baby is head down now (after they thought he was previously, then wasn't), but that will also be confirmed on Thursday. Fingers crossed he is because having the doc try to move baby is not pleasant.
Mood & how I'm feeling: I'm actually feeling less emotional these last 2 weeks or so, which I'm sure my husband is thankful for. And nesting is in full swing. We have baby's room set up now, so that was a huge relief for me. Even though he'll be in our room for the first little bit, it's nice to have the nursery mostly complete. I'm sure I'll be sharing a peak with you all once I have curtains and art work hung. Those are the last details I'm waiting on.
I got all his clothes washed and put away in his dresser, purchased some diapers (we had no diapers until like 3 days ago) and have been organizing his larger clothes to put in storage. We also had a cleaning lady come last week which made this mama so happy.
Exercise: I'm mainly just stretching, walking and doing my Kegels, ha! I'll also periodically do some leg work in the house. The weather was gorgeous last week so we did some walks around the neighborhood and played at the park.
Cravings & Aversions: No aversions right now, but strawberries have been #1 on my list of choice foods the last few weeks. I'm going through a Costco sized tub of them a week. Just so good! I've also kicked my OJ habit to the curb for an apple juice one. I've been making spinach and fruit smoothies a few days a week and they are delicious! Baby is so big these days that I can't eat very much during meal time, so I've been snacking a bit more and having very small meals during lunch and dinner.
Big sister: One of my best friends just had a baby on Valentine's day, so Little A got to meet the new baby for the first time last week. She hadn't held a new baby in a year or longer, so I was curious to see how she'd do. She's been saying she wants baby to play with her, and we've told her that he won't be able to do much at first, so I think seeing the new baby was helpful for her to see that babies really just move their arms and legs and that's about it. She said she'll just play peek-a-boo with him, which I thought was so darn sweet. She's been such a big helper getting the baby's nursery ready. We've been reading "I'm A Big Sister" every few days, she's been playing with her babies and we've been practicing how to hold baby and support it's neck. I think she's ready to be a big sister!
Overall health: I'm tired. Like I'm literally worn out by about 3:00 each day. I'm not sleeping much these days, which I know isn't helping. I've accepted that I won't be getting a full night's sleep for quite some time. And getting out of bed. I forgot about this part y'all. I do this hike my leg thing like a WWE wrestler to get up out of bed, or roll out. It's just ridiculous.
And peeing. You guys. I think I'm peeing every 20-30 minutes now. When we visited my friend and her new baby last week it was a 45 minute drive and I swear I was going to have to pull over somewhere to pee. And it just gets worse when baby punches me in the bladder. Not only does it hurt (like sharp pain), but I'm afraid I'm going to pee myself. I've resorted to wearing a panty liner all the time just in case. #cantbetoosafe. I've had some Braxton Hicks contractions as well recently so that's super fun.
And the weight gain is just blah. I'm doing fine with my weight, but just carrying that extra weight is exhausting. I honestly don't know how overweight people do it. I can barely bend over and when I do too much it hurts for a while after. I literally almost couldn't pump my gas the other day because my belly was getting in the way of me getting to the pump, so that was super embarrassing. When you get this big it's just not fun anymore.
And I'm feeling scared.
Yes, this isn't my first labor and delivery rodeo, but it's been quite some time. And to be honest, I'm nervous. I keeping freaking out that my water is going to break when I'm dropping Little A off at school, or when I'm somewhere totally unprepared for it. It didn't break with my first pregnancy, so I don't know why I'm freaked out that it will this time, I just am.
And my all time biggest fear: Pooping. Yep, my biggest fear during my entire first pregnancy was that I would poop while pushing. Of course the hubs doesn't help and totally gives me a hard time saying I did (even though I'm pretty sure I didn't because I hadn't eaten in 3 days and had nothing left in me) but once again that fear is starting to show up again and I'm just praying my body acts like it did last time and gets rid of everything before I go into labor.
I've also been a little nervous that I won't connect with baby. I know everyone says your heart just expands even more, but not having experienced it yet I'm just scared that it won't. Also, with all the emotions I've had during the third trimester I'm a bit worried about postpartum depression. I know it's an irrational fear, but it's definitely been on my mind.
On a lesser scale, I'm a bit worried about Little A getting jealous of the baby. I don't think she will, but I really don't want her to feel like she's second best now, or that she's no longer my baby. I want to make sure that she still feels special and important. I really hope I'm able to make time for just her and I to connect. I know it will be tough, but she has such a tender heart and is such a little lover that I know making her a priority will be super important.
I'm sure this will be my last bump date since baby will be here any time. Thanks to everyone who's been so supportive through the last 9 months! I can't wait to meet our little man and introduce y'all to him!