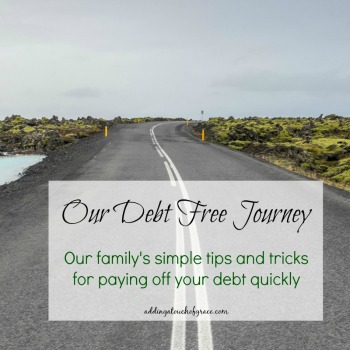 I hope everyone had a great Memorial Day weekend. It's important for us to take time to remember those who gave their lives for our freedom and the freedom of others. We had a fantastic weekend as a family. I appreciate the time we got to spend together.
Money is something I don't like to talk about much. Honestly, I've never really had to worry about money in my life, until recently. My parents always provided more than enough for me and my brother growing up, and I was able to buy my first house right out of college and save for a hefty down payment on a new car a few years after that. Although I never did a "budget" per se, I always knew in my head how much I had and never spent over my limits.
Then Huebie and I got married. And along with him came a very large sum of student loan debt. Honestly, more than I realized he had. And then we bought a new home and the next day (literally, the day after we moved in) Little A came along.
A little back story for you…
My plan after my 5 month maternity leave was to go back part time. I'd agreed to 6 months with my boss, but was hoping that it would workout so well they'd let me just stay part time….indefinitely. Wishful thinking, I know. After a few months of work (and a new boss) they asked me to return to work full time, but I just wasn't ready. I knew that I wanted to be home more with my daughter and if I had it my way I would be staying at home with her full time. I didn't (and still don't) want to only see my child a few hours at night before she goes to bed. It breaks my heart thinking about that.
I was fortunate enough to find a part time opportunity at my current employer, and after over 7 years at Boeing, I quit. No one tried to stop me. To this day that still really irritates me. I put my heart and soul into that company and no one fought for me. I know if I'd had different managers things may have been different, but I guess it is what it is.
But I digress…
I do wish I could stay home with Little A. Unfortunately with Huebie's student loan debt, mortgage, car payment (more on the car in a bit), etc. we can't afford that.
We've done a lot of work to pare down our bills to a minimum (for us), and we've learned a lot over these last few years about budgeting and how we can quickly pay off our debt.
Here is what we did:
1) We cut our monthly bills where we could. We switched our internet to a lower cost provider, asked for a promotion on our cable, shopped for lower insurance rates and bundled everything to get a larger discount. I highly recommend shopping around for lower insurance. If you bundle your auto and homeowners insurance you usually get a discount.
2) We did Dave Ramsey's online Financial Peace University. This was probably the most helpful thing for us. We learned how to set budgets for everything in our lives. And I mean everything. Food, gas, home projects, eating out, entertainment, clothing, etc. Everything. The four areas we really focus on are food, gas, home and eating out. We have a specific bi-weekly budget for those 4 areas and follow the budget. Every month. If we know next month we want to buy clothes, we set a specific limit and stick to it.
I'll be honest here. We aren't always 100% compliant, especially when it comes to budgeting for extras like clothes (Little A outgrew most of her clothes and had nothing in the next size up, so we had an emergency shopping trip one evening to buy her a few things), but we do our best.
3) We set up an emergency fund.
Now. Here's where I tend to disagree with Dave. He says you should have a $1000 emergency fund. I know it's just a guideline, but he hammers it home pretty hard in his course. So that's what we did. But $1000 doesn't cover much when you need to fix your car ($500 bill), you owe almost $10k on your taxes and get over $1000 in medical bills all in a 3 month time period. When this happened to us I was SO MAD AT DAVE! I wanted (and still want to) call into his show, tell him our situation, and ask him how his $1000 emergency fund is going to pay for all of this. So, that said, my recommendation is for a $5000 emergency fund. Not everyone will need this large of an emergency fund, but for us, it's more realistic and what we're working toward. $1000 will cover you if you have to fix your car, or need a new refrigerator, or something small like that. Not if you are unfortunate enough to have every thing happen all at once, like it did to us.
4) We don't have a car payment.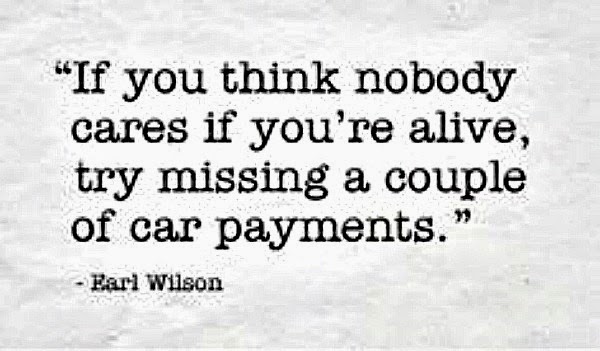 When I was pregnant with Little A we bought a brand new, beautiful Dodge Ram. It was Huebie's dream car. But with it came a decent car payment. When we started to really look hard at where our money was going, we decided to sell it. This was 100% Huebie's decision. It was his truck and something that he'd worked really hard for. But we didn't need the car payment. We were able to sell the truck and use the equity to pay cash for a used SUV. I was so proud of him for this decision. It really took a lot of pressure off us, and we love our SUV! We do miss the truck, and one day we'll get another one, but it was the right thing for us to do. Huebie's read a lot of books about how to build wealth and one common theme is that most millionaires don't drive brand new cars. No one ever got rich investing in a depreciating asset. There's no point when you can get a perfectly good 3 year old car (most cars lose significant value in the first 3 years) and pay cash. That is our future goal, pay 100% cash for any new car we buy.
5) We refinanced our home.
When we bought our house, we didn't have 20% to put down, so we had to pay private mortgage insurance (PMI). PMI is a lot of money! Money that goes to nothing! And even when you have an 80/20 value on your home, unless it's been 5 years, you still pay PMI. Thanks to the housing market last year the value of our home greatly increased. So we decided to refinance our house with a different lender that charged no closing costs. We were able to get rid of our PMI and save hundreds per month.
6) We don't spend beyond our means and we don't charge anything.
We have a specific monthly home fund. If we have a larger project we need to do, we save our home fund for a few months to accomplish that project. We don't charge it, then pay it off later. We need a new fence, which is going to be around $1000. So we will not be doing much else around here over the next few months in order to save for that. We simply don't use our credit card anymore. When we bought our house, we racked up quite a bit of money on our card. Once it's paid off, it will only be there in case of dire emergencies.
And with all these things we've been able to save hundreds of dollars a month and are well on our way to being debt free. Yes there are months I get frustrated with it. Want to give up and charge something on my credit card (usually clothes or stuff for the house). But we just talk about the future and how freeing it will be when we have no debt. Our next goal is to consolidate Huebie's student loans into one to try and save a bit more, and get them paid off as quickly as we can. We're well on our way to being debt free, and by making a few small (and some big) changes, we're getting there faster!
Is anyone else on a debt free journey? What steps have you taken to reduce your debt? Has anyone done Dave Ramsey's FPU course? I would love to hear your stories!