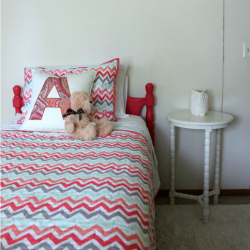 How was everyone's long weekend?! We enjoyed the cool weather with a walk to Starbucks Saturday morning, then a hike with some friends and their kiddos on Sunday. Yesterday we celebrated my birthday because today Little A has a jam packed schedule with dance and swim. Oh, did I mention today is my birthday? Yes, yes it is. Like I said a few weeks ago, not super excited about my birthday this year. I haven't been feeling well and at this point I just feel like I'm getting old. But age is just a number I suppose right? So I'm trying to embrace my age and go with it.
Back in June I shared my mood board for Little A's big girl room. You can see my ideas in this post. I'm excited to share with you where we took the room! I'd say we're about 90% done. There are still a few things I want to get (pouf and lamp being the 2 most important items), but I haven't found exactly what I'm looking for, for a price I'm willing to pay. I also need to spray paint her letters to hang her name over her bed again. Right now they are a purple-y pink color and match her nursery colors.
So here's where her room is now.
Like I mentioned in my design post, the bed she has was my first big girl bed, so it's very special to me. It was previously white, but Little A wanted a pink bed, so I let her choose the color and I have to say I was pleasantly surprised with the color she chose (Dragon Fruit by Behr). I was picturing cotton candy pink when she said she wanted a pink bed and I wanted nothing to do with a cotton candy pink bed. No, this color is a much better representation of her personality.
I'm not going to lie to you though, this bed was a labor of love. It took me a long time to paint. 1 coat of gray primer and 3 coats of paint. And getting into those little crevices ain't easy! She's lucky she's so cute and I love her so much.
The photos hanging over her bed now are her first 12 month photos. I made this little banner for her 1st birthday party and couldn't bear to part with it, so I hung it over her dresser (her bed is where her dresser used to be). I love going into her room and seeing a sweet reminder of my baby girl.
I had purchased the 'A' pillow about a year or so ago at Nordstrom. It doesn't exactly match the colors, but I love it and think it works well for now on her bed.
I thought I would have the hardest time finding art to go with the bed and bedding. But thanks to Hobby Lobby (my first stop on my art shopping trip!) these 2 came home with me for a steal! I had the pillow case with me for color matching and even a lady in line commented that she couldn't believe how well they went together. You and me both lady!
This room is a gathering of many generations of items. I collected a few different things as a kid that I've passed on to Little A. Porcelain dolls were one of them. These 2 dolls were gifts from my grandma when her and my mom went to Germany over 20 years ago after my grandpa died. My mom took my grandma to get her away and get her mind off things after my grandpa's sudden passing, so they spent almost a month in Germany and Italy. These dolls really hold a place in my heart.
Another collection I had was music boxes. The rocking horse was my very first music box from my grandma when I was born. And it still works perfectly!
The bookcase is from my grandma and had previously been in her home for decades. Little A has quite a collection of books. I'd say this isn't even a third of them. The girl loves to read. We also moved the Expedit case that held some of her toys from our family room into her bedroom. Her room is probably the smallest of all the bedrooms, so I wasn't sure if it would be too crowded in her room with it, but it fit perfectly under the window. Now we have all the toys out of our family room and into her play room and bedroom! Small victories people, small victories.
[Tweet "Bright and fun big girl bedroom reveal."]
The owl vase was an impulse buy at Michael's. I'd gone in for baking supplies and couldn't help but pass up this adorable owl for her room. I'd like to also get her a new nightstand. The table works fine for now, but I'd like something with drawers that she can put things in, and something a bit shorter.
I couldn't be happier with how bright and cheery her room is now. It 100% fits this little girl's spunky personality. And it's a room she can grow with, which I love because I'm not changing things every few years (amen!).
Next, onto finding that pouf and the perfect blue lamp to match her bedding!