So remember in my Part 1 post of this series that I was praying it would only be a 2 parter? Yeah…..that's not going to happen. At this rate it may turn into a 4 part mini series.
Do you remember what we started with?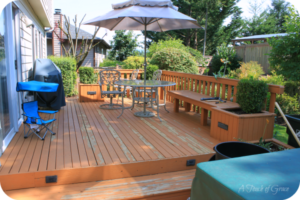 Well, we are now here: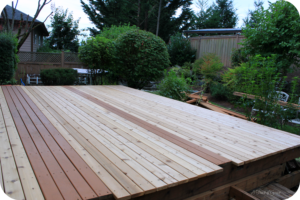 There's been some progress. And oh yes, we decided to take down the railing as well. It wasn't sturdy without the bench and planters securing it, and we have such a small yard it was really closing things off. So down it came!
We're about done with the installation of the upper part of the deck. Just a board or 2 left to go. Then demo begins on the lower part. We had just enough rain over the weekend to keep us from getting much work done on this. And now Huebie is sick, so the deck is once again taking a back seat. Maybe Mama needs to get out there and rip up some rotten boards!
I really do like how open it is now with the railing gone. That large bush on the corner will be removed as well to open up that back corner of the yard. We have a really nice waterfall and pond back there that you can't really see from the deck because of that bush. So down it will come.
The forecast calls for good weather this weekend so we're planning to paint this part of the deck, then start work on the lower portion.
Keep your fingers crossed for me that we are able to complete this project over the weekend (ha! wishful thinking I know)!