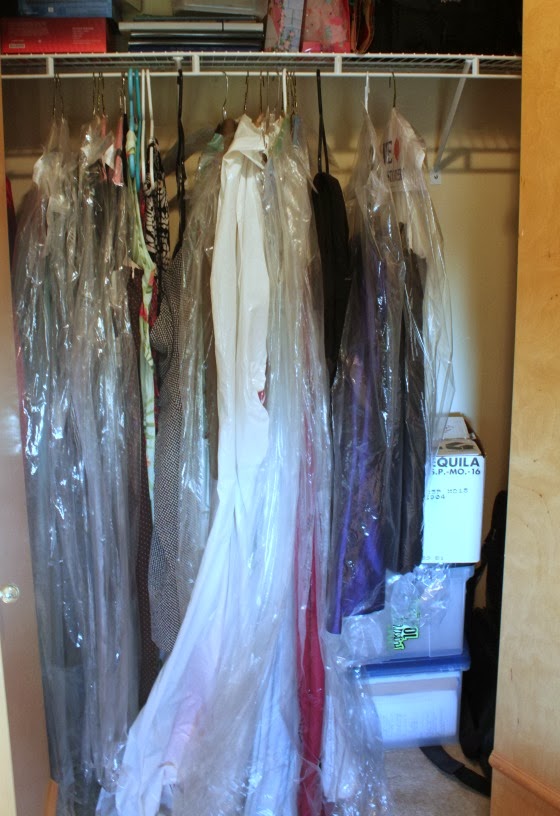 Ok, so I wouldn't say I'm a hoarder, I'm too much of a minimalist for that. But I have a few things I've kept over the years (20+years on some things…ahem) and don't know whether to keep them or get rid of them. A lot of these things are memories for me, or sentimental items from my childhood that I'd like to pass on to Baby A. I always wonder "Will she want this? It's worth money so should I keep it longer so it becomes more valuable?" Those are reasons I've held on to some of these things for so long. So I'm here to ask for your help in purging my office closet!
My goal is to do a 180 on our office and turn the closet into my little crafting area (at least that's the plan right now), which means everything either needs to find a new home in our house, or get out.
I can't believe I'm actually showing you this. I must now go crawl into a deep dark hole and never come out.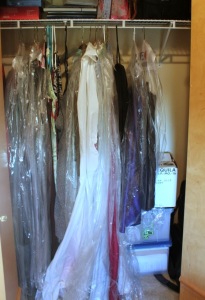 Obviously I have an obsession with keeping formal dresses. You guys, I have every.single.dress I wore to every dance in high school. I kid you not. I mean, that was like 12 years ago! Clearly I have an issue with letting go of formal gowns. There are also a few bridesmaid dresses thrown in there that I know I'll never wear again. I mean, honestly, do we ever wear a bridesmaid dress again? I can name 3 (of the like 10+) of the dresses I've worn more than once (meaning twice). And one was for a pageant.
There are a few places in the area that take old dresses for girls in high school that can't afford to get a dress for their prom. After much research I learned that every place will not accept dresses over 5 years old. I can't even give them away to charity! I guess Goodwill is my next option? Makes me so sad.
Now that stack of boxes to the right of the plethora of formal wear contains….well….not sure. I think there's some miscellaneous scrapbooking stuff in one, paperwork in another. Oh! And a few old notebooks from high school. Oh yes, yes there is. I took a creative writing class in high school and I was actually pretty darn good at it. I read through the notebooks a few months ago (I did, I swear) and I was pretty impressed with myself. Now, does that mean I should continue to hold on to them? Probably not. I guess. 🙁
You guys are going to think I really have a clothes hoarding issue because I also still have this….
Yep. That's my old cheerleading outfit. But not just the shell and skirt. I have the pants, the sweater, the jacket. I even have the freaking bloomers you guys! I know, just wrong. And of course I still have my letterman's jacket. That thing was expensive I ain't getting rid of it (besides what the heck do you do with a letterman's jacket anyway?)! I've kept the cheer stuff around thinking maybe some day Baby A would like to play dress up in it. Or lets be honest. I've worn it a few times post high school as a Halloween costume. I can count probably 3 or 4 times I've been a cheerleader for Halloween. Hey, it's easy and I'm not that creative with costumes alright.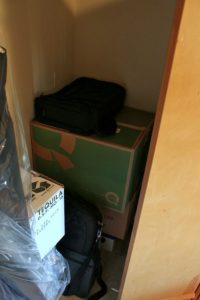 Now on the right side of the closet we have a few more boxes full of things. There are a few computer bags (between us we have 4 laptops, 2 of which don't even work any more, but I need to take in to get the pictures off, and a desktop computer). I know, I know. I think the bottom box has mine and my hubby's diplomas, medals, awards, etc. I really don't want to part with those of course, but what do I do with them?
The middle box is all the stuff I brought home from my last job. Which I left over a year ago. But I was there for over 7 years so I collected a lot of stuff during that time. I have just never gone through it and now there it sits. I could probably just toss that entire box and I'd never miss anything that's in there.
That green QVC box (courtesy of my grandma's love for home shopping networks) holds these little gems….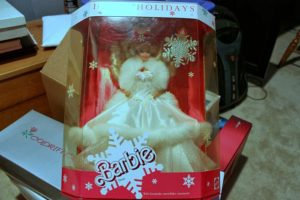 You got it! I have every single Holiday Barbie through like the year 2000 or something like that. I know, you're probably laughing at me right now aren't you? But every year my parents, or grandparents, got me a Holiday Barbie. And I have never taken a single one out of the box. Ever. Do you know how hard that is for an 8 year old?! To not take her beloved Barbie out of the box?! I aught to get a medal just for that. Now, I have kept these around for many reasons. #1) Because I just couldn't part with them and I wanted to pass them on to my daughter (thank the Lord I had a girl), and #2) These dolls are worth some bucks. Seriously you guys. The 1988 Holiday Barbie has gotten upwards of $700. Yep, you read that right. $700. I have like 12 of these dolls people.
Ha! Just noticed there's more Barbies in boxes up there. I think I have a Happy Birthday Barbie, some sort of princess Barbie and Czechoslovakian Barbie. That one HAS to be worth some money since Czechoslovakia is no longer a country right? (Side note: When I was little my Barbies-in-boxes lined my bedroom walls. I would spend hours just looking at them, and thinking about taking them out of the boxes and rearranging them. Clearly I had issues.)
Back to the top of the closet. That Rubbermaid is empty (why is it still here?) and all those other boxes are from our tablets, cameras, some furniture cleaning warranty my parents bought when they got us our living room sofa for Christmas a few years ago, CDs…. Oh and I see my yearbooks too! I do indeed have all my old yearbooks. Grades 6-12. My mom still has her high school yearbooks I swear. I feel like I need to keep them so 20 years from now I can show my daughter's friends what I was like in high school because I know they care a lot just like my friends did when my mom used to do that (love you Mom!).
You can't see it but on the right side of the top shelf there is another QVC sized box that holds the rest of the Holiday Barbies. 🙂
So……yeah. That's my office closet. Maybe I need to rethink my first statement of me not being a hoarder. Ok, now I'm starting to freak out and might be having a panic attack at the thought of having to part with some of these things. I obviously need help.
So just give it to me straight. What should I do you guys? What do I keep? What do I part with? Just lay it on me.