This white chicken chili is heart warming and so simple to make!
Confession: If I could I would only use my Crock Pot to cook most nights of the week. Is that bad? It's just so darn easy to throw everything in there, set the timer and go about your day. When it's done your meal is ready for you! Being as busy as we are we do use it often, and this white chicken chili is one of our favorite recipes to make.
The ingredients are simple, there's very little prep work that goes into it, and it tastes oh so good! Plus it has a ton of protein from the chicken and beans.
Ingredients:
* 3 chicken breasts
* 1/2 onion, diced
* 1 8 oz package light cream cheese
* 1 can black beans, drained and rinsed
* 1 can corn, not drained
* 1 can diced chilies
* 1 tbsp chili powder
* 1 tsp cumin
* 1 tsp onion powder
* 1/2 tsp garlic powder
* 1/4 tsp cayanne pepper
* 2 garlic cloved, minced
* 1 tbsp EVOO
Directions:
* Add all the ingredients (except the cream cheese) to a Crock Pot and stir.
* Add cream cheese but don't stir in.
* If you use frozen chicken: cook on high for ~6 hours.
* If you use fresh chicken: cook on high for ~4 hours.
* Shred chicken before serving and stir.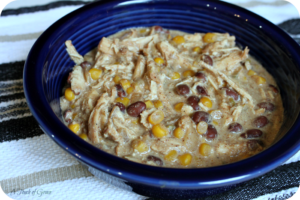 Enjoy!