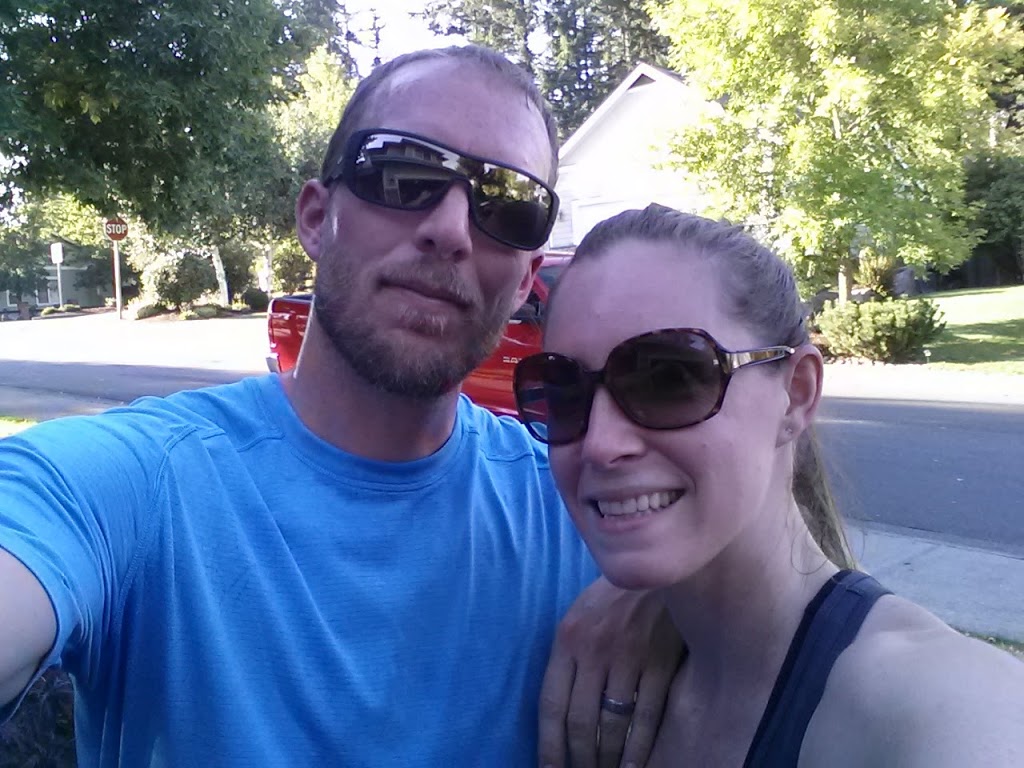 I did it! I made it a full week of training! Well, now let's be honest here, that ain't nothin' to write home about now is it? But I still did it, so I'm going to rejoyce for just a bit longer before I buckle down for week 2 of training. You can read about my decision to train for my first 1/2 marathon HERE.
I'm following Hal Higdon's Novice 2 Program for my weekly training. Like I said before, day 1 is a rest day, so day 2 was our first actual training run.
Not too bad. Feeling pretty good after our first day.
Now as you can see…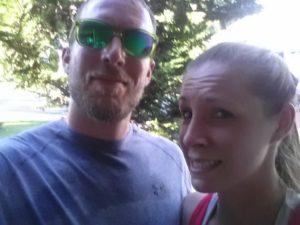 Day 3 didn't go so well. It was about 95 degrees outside when we decided to do our run. We didn't want to have to take Baby A out in the heat in her jogging stroller, so we decided to brave it our own. Bad idea. It was crazy hot! And you can tell by this picture that I was hurting. It was rough.
Day 4 run not as bad again.
I got some new duds to get me jazzed about this running thing. So far it's working. I can't wait to wear more of my new gear today!
So after week one I feel pretty good. There are a few things I need to work on, including stretching a little more before, and after as well. I've also noticed that I get distracted listening to music on my runs as well. I'm not able to focus on my breathing as much so I'm torn with whether to listen to music or the deafening sound of my breathing and footsteps (#runnerproblems). Hopefully that will change the longer I run.
Having my hubby do the training with me has been super great. He's a really good motivator and runs so much faster than I do. Nothing like watching him push the stroller and pass me at the same time to keep me going!
I've found a few fabulous running blogs you should totally check out if you're interested in running at all
(or just because they are awesome and the ladies behind them are fantastic).
Skinny Runner
is my favorite. She is SO funny and has done like a bazillion 1/2 and full marathons, and even multiple longer races. She is a true inspiration. I'd probably follow her whether I was training for a race or not I like her so much.
Hungry Runner Girl
is another great running blog. Her
10 Things I wish I knew as a NEW runner
post has some great tips for newbie runners. And she has an adorable baby girl that is just the sweetest. Knowing another mom can do this day in and day out makes me think I should have no excuse why I can't do this.
So tell me, what do you want to hear about my training? What I'm doing? My gear? The ups and downs?
Oh and TIPS! I mentioned in my first post that I found some tips on Pinterest that have helped me. Well in typical me fashion I thought, "Oh I'll remember this. I don't need to pin it." Duh Tiffany! That's what Pinterest is for! So you don't forget where you found the information! So I looked and looked and wasn't able to find the EXACT pin again, but here are a few of the tips I remember that have helped me out with my running technique:
1. Take smaller strides. Many of us think we need to stride out further and that will help us go faster. Except the opposite is true. Taking smaller strides will keep you going faster and further without feeling like you need to stop and walk.
2. Breathing. This is the #1 thing that has helped me with my running. Here is the breathing technique I use: I breathe in for a 3 count then out for a three count, which coencides with each step I take. So, take 3 steps (and breathe in for a 3 count) then 3 more steps (and out for a 3 count). HUGE difference! If I'm going up a steep hill, I'll do 2-2 breathing, or if I'm feeling winded a bit I'll do 2-3 breathing until I recover a bit to get back to my 3-3 breathing. Seriously you guys, try it and tell me if it helps you. It has changed my game completely.
3. Find the right shoes for you.
You would be amazed how long I've worn the wrong shoes. I mean, this seems like a no brainer right?! Well, I used to base my shoe purchases on #1) what others had and #2) how cute they were. Nope, never thought about how my feet worked (pronation) or anything like that. I recently found
Runner's World Shoe Advisor
that will help you find the right shoes for you. They have a step by step process based on your size, how your foot hits the ground when you run, type of running you'll be doing (trail, road), etc. to help you get the right shoe. And loosen them up a bit and you'll feel a world of difference. I always tied mine WAY too tight! They don't need to be cutting off your circulation.
4. Relax your shoulders and fists. Now this one I already knew, but it's good to remember to stay as relaxed as possible while you're running. Every now and then I'll shake my arms out to loosen things up a bit. Tensing up, especially your fists, will expend energy that you need to keep you going.
5. Don't heel strike when you run. This one is really hard for most of us. Try to land on the midsole of your foot when you run. This will help all your muscles balance the weight of your body and reduce the effects on your joints and bones.
And that's about all I can remember, but that's a good start for any newbie runner.
Have a great Tuesday and don't forget to tell me what you want to hear about in my training posts!