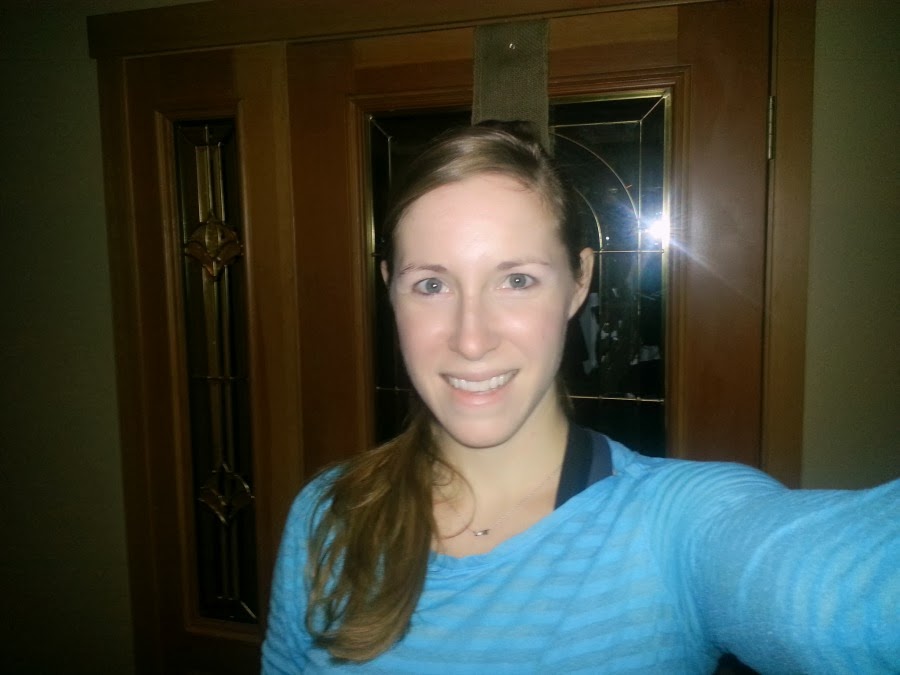 Holy cow! We are less than 2 weeks away from race day! Things just got real.
My runs were good this week, but I'll be honest. With Huebie out of town I only ran three times. I know, I know, bad Tiffany. But they were good so it's ok right?!
My mom said at the beginning of the week that she'd watch Little A on Friday (instead of Saturday) so I could do my long run. So I started my shorter runs on Monday instead of Tuesday like I usually do.
A good 3 mile run Monday afternoon. Nothing too exciting. I've stopped wearing my watch for my 3 mile runs. I usually run the same course and know about how long it takes me. At this point I'm just trying to push a little harder to get my time down.
Tuesday Little A and I did 5 miles. It has been a while since I've pushed her in the stroller (usually Huebie does the pushing) and man that is an arm workout. Especially up the hills!
I was trying to get a good picture of her. This is the series that insued.
Wednesday and Thursday I skipped my runs. Little A's been having a rough time with Huebie gone and she just wasn't feeling it. So I did a little mini-workout at home on Wednesday and we had snuggle time. I'd say that's a pretty good trade off. 😉
Friday was my 11 mile run. By the time I got out the door with all the crying baby girl was doing (she didn't want mama to leave) it was pouring down rain. I headed to my least favorite trail since it has the most hills. Remember last week I mentioned how hilly the race course is so I was going to try to do more hills? That started on Friday. Plus I thought the trail had a decent canopy cover from the rain. It wasn't until I got there I remembered that it's fall (duh) and the leaves are off the trees. So little to no cover, but whatev. I pressed on.
Started out strong and then hit the biggest hill on the trail about .75 miles in. I ended up having to walk about 5 steps (it's a pretty darn good incline), but then picked it right back up. I was feeling good until I hit the part of the trail that runs right next to a busy road. It's mostly dirt and grass, but this time of year it's mud. So I spent about a mile slowly dodging mud puddles and tall wet weeds. My feet were soaking by the time I hit the road again. And now my shoes weighed 3x as much as usual. But I pressed on.
Up the second big hill that is really rutted out. Ran the whole thing. I was at around 5 miles at this point, which is where you get to the part of the trail that is more maintained. Nice open trail that has rolling hills. Ahhh, I felt like I could breathe. Walked to refuel at around 50 minutes. I'm really liking the Chomps and Shot Blocks instead of the GU. They are going to be my new go to for long runs.
I was really enjoying miles 4.5-6.5. Then around mile 7 things got a little shakey. The inside of my right ankle was killing me already. The left one started to hurt, and then my hip flexor started aching. It has been doing that around 6ish miles lately, so I need to figure out what the heck is going on. So the last 4 miles were a bit painful, but I came in with around a 9:52/mile pace! I was so surprised. With all the dodging mud puddles and aches I was having I was sure I was going to end up around the 11:00/mile mark. And I was actually feeling pretty good (ached and pains and all), like I could have pressed on for another mile or 2, so that made me feel good.
You can't tell by the picture but I was soaked. I was pretty happy with this outfit as well, so it may be what I end up wearing for race day.
I'm going to do 12 miles this weekend then take it easy next week to prep for the race.
Injury update on Huebie: He's been resting while in India and his knee is finally starting to feel a little better. But I don't know if that's because he's been popping Ibuprofen and not putting too much pressure on it, or if it's really starting to heal. He's back tomorrow afternoon, so we'll see how he's feeling, but at this point I'm not going to count on him being able to run. 🙁
I'm hoping maybe he can ride his bike when I do my 12 miles on Saturday to help push me, and then during the race I'll just have to push myself. But, I will say, after seeing how well I did on Friday I'm feeling optimistic that I'll be ready to go on race day.