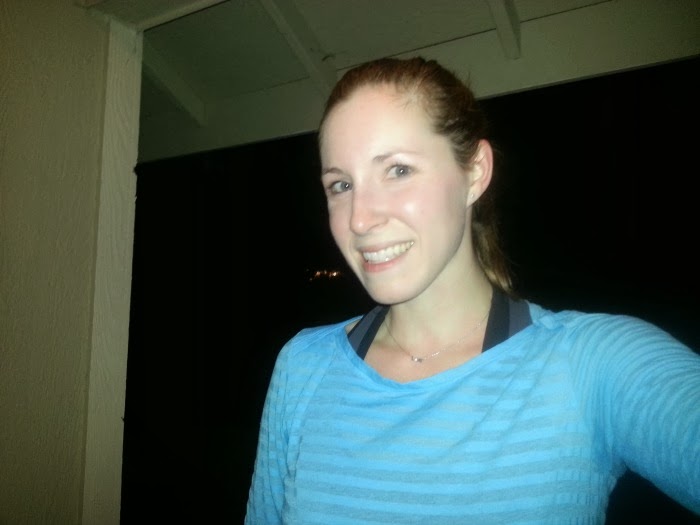 I cannot believe that race day is only 5 days away! I'm kind of already freaking out inside. Just a little….ok, maybe a lot.
I'm planning on taking it pretty easy this week. 3 miles tomorrow, 2 Wednesday and 2 Thursday, then rest Friday and Saturday in preparation for Sunday. At some point on Friday, probably the afternoon, we'll head to the Expo to pick up my race bib and chip…and pray to sweet baby Jesus that the Black Friday shoppers have all cleared out of the city by that point. I really don't want to fight that battle if I'm not doing any shopping.
Last week in quick review:
Monday it was pouring down rain when I got home, but Little A and I did a quick 2ish mile run. My goal was to run as fast as I could for the 2ish miles to see how I would do. I'm so glad we got one of those covers for her stroller because it was crazy raining. Hence why I have no picture; I was just trying to get us inside as quickly as I could. The whole time she kept saying, "I'm all done! I'm all done!" Yeah, not her favorite run.
I skipped Tuesday and instead did 5 miles on Wednesday when Huebie was back.
My goal: Quick pace again. As you can see it was dark by the time I got done. I'm so glad this is race week. I really do not like running in the dark.
Thursday I ran to Costco and met Huebie and Little A there. It's about 3ish miles from our house to Costco. Again, I ran for time.
It was pretty darn cold out, so he brought me a scarf to warm up with.
He asked that I give my best gangsta pose so here you go:
Yes, I'm so gangsta, I know.
Friday was my long, 12 mile run. My plan was to get up and get out there early while our nanny was watching Little A. Problem with that: it was 23 degrees when I woke up. Yeah, no thanks. So I waited until Huebie got home around 1:30 to do my run. It had warmed up to around 40 degrees at that point. Still not ideal.
I went to run my least favorite trail again. I did pretty good last week so I figured I'd give it a try again this week. Bad choice. I'm really not used to running in really cold temps. My lungs aren't that is. I've been hearing that you should try to breathe in through your nose when you're running in the cold. That helps warm up the air before it gets to your lungs, so your body spends less energy warming up the air and more energy on moving your body.
Well, I haven't really been practicing nose breathing until this week. And for me, it takes a good amount of concentration/effort to focus on that. I would try it for a bit, then feel like I wasn't getting enough oxygen, so I'd go back to open mouth breathing (that just sounds weird…but it's the truth right?!), but then I'd think "My body is wasting effort on warming up this air, I must breathe through my nose!" It was a constant battle during the run, and really threw me off mentally. In the end I continued to work on the nose breathing, but I'm really just praying that race day it will be a bit warmer so I don't have to worry about it and can breathe through my mouth, for my lungs' sake, and my mind's sake. Because we know that running is 50% physical, 50% mental. If you aren't in it mentally it can be a struggle to keep up your pace and keep focused.
My ankles did better on this run, but that dang hip flexor was acting up again. I really need to do some more research today and tomorrow so I'm prepared with some good stretches (and drugs, let's be honest here) for Sunday.
I really did like my new headband/ear cover up thing for my run. My ears stayed toasty warm.
The weather has been cold, but clear and beautiful since Friday. It's supposed to continue through Saturday…..then do this:
I know. I'm getting heart palpitations just thinking about it. But, I did have a really good 11 mile run in the rain, so maybe it will work to my advantage? Pray for me people!
In other news, Huebie is definitely out for race day 🙁 I know, super sad face. His knee is just not back to 100%, and he hasn't been able to completely do his recovery workouts, so he'll be cheering me on from a few locations along the race course. Hopefully he can capture some photos for me to share next week.
So, we're here…….3 months, 83 days, 202 miles of training all culminate in this weekend:
I feel like this song is in order right about now:
I'll have a full race update for you next week. Wish me luck!