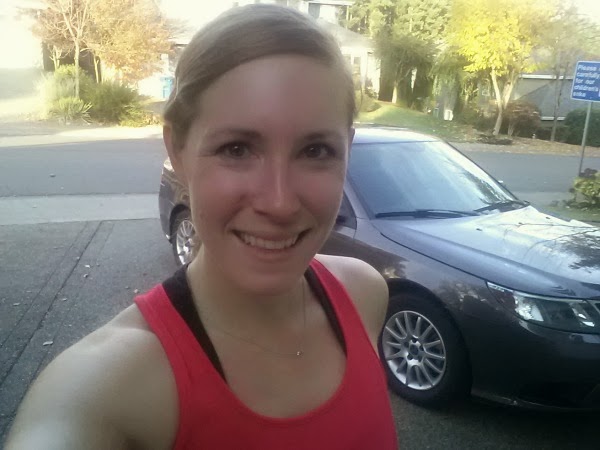 Ok, so last week was not a good week for me running wise. I was just out of it the whole week. Each run was a struggle and I just didn't want to be there. This is the first time I've felt like this during our training. I guess that's ok right? To not want to run one day?
The week started with an easy 3 miler. No biggie right? Since Huebie was out of town (yes, again, and he's gone this week too) I got home early to run before our nanny had to leave. About 1/4 mile in I witnessed a dog getting hit by a car. In my neighborhood. Sweet little guy was just running all over the place and seemed like he was so happy to be free. He jetted out right in front of an oncoming car. The lady had no chance of missing him. He wimpered and was bleeding pretty badly, but seemed alright.
I stayed a while, did about another 3/4 of a mile, but my heart was hurting for the poor guy (and the lady too) so I went back to see how he was. He was starting to look tired and a little out of it (I'm fighting back tears at this point), but the dad to the little boy who'd accidentally let him out came and they got him in the car to take to the vet. After that, I just couldn't get into it anymore.
Next day it was another struggle to do 4 miles. I just did not want to be out in the cold running. I did it, but I didn't enjoy it.
Yes I know I look happy in this picture, but I can't help but smile for pictures most of the time. I was more smiling because I was done.
This was also my first day trying out my new kicks:
Skipped Thursday for the chiropractor and did my run Friday morning instead. I tried to conserve my legs a bit for our 5k on Saturday so it was a slow pace. I've also now determined that I am not a morning runner. This is pretty unforunate due to the fact that most races are in the morning, so I probably should try to get some more early runs in. Blah.
So Saturday. I mentioned last week that I was hoping for a sub 30 minute 5k. We had to push Little A with us since there was no one to watch her, which could have turned out disasterously, but luckily the hubby does all the hard work when it comes to pushing her (when he's home at least) so I was able to just focus on the run. I've learned one thing from this. 5ks are hard! It's short so you want to go at a good pace, but you get burnt out quickly! My first 2 miles I rocked it. I was going at about a 8:15 pace; awesome for me. Last mile I died. Like I literally wanted to stop and lay down in the road and just rest. It was SO hard! I pushed it out and just kept my breathing in check and finished in 28:30! Woohoo! I think that's the fastest I've ever ran a 5k. I totally thought it would be my usual 32:00 minute time, but I kicked that time's behind.
Throwing my Asian tourist signs around like it ain't no thang. And yes, I was exhausted (obviously, look at that face, it's like I'm trying to smile but I'm just too tired).
I'm so glad I have this guy to run with. He keeps me motivated. Especially with his awesome Tough Mudder sweat band that he wears almost every run. Must find new sweat bands.
Side note on the shoes: I wore them for this race as well as my new insoles. With about 3/4 of a mile left to go my left foot started to go numb. I'm going to try to run without the insoles in them this week to see if it's any better, but if not these puppies are going back to the pound. I do still heart Mizuno's though and will probably just find a different pair of Miz's to wear.
Sunday was cross training day so we headed to the gym. They just did a grand re-opening at the mall where our gym is and they got a new toy area. Since Huebie and I take turns letting Little A play here while the other works out I was thinking she was going to be so stoked. But it was cray cray! Way too many kids for her, so after I got tired of just sitting there watching her watch the kids, we went shopping (duh).
I'm in the market for some light weight long sleeved running shirts with thumb holes so if you know where I can find one let me know. Sports Authority didn't have any I was thrilled about. But they do have dumbbells and this girl was all about lifing the weights. "Puuuush!" as she pressed the weight over her head. That's my girl!
Hoping for a better week this week and a good long run on Saturday.