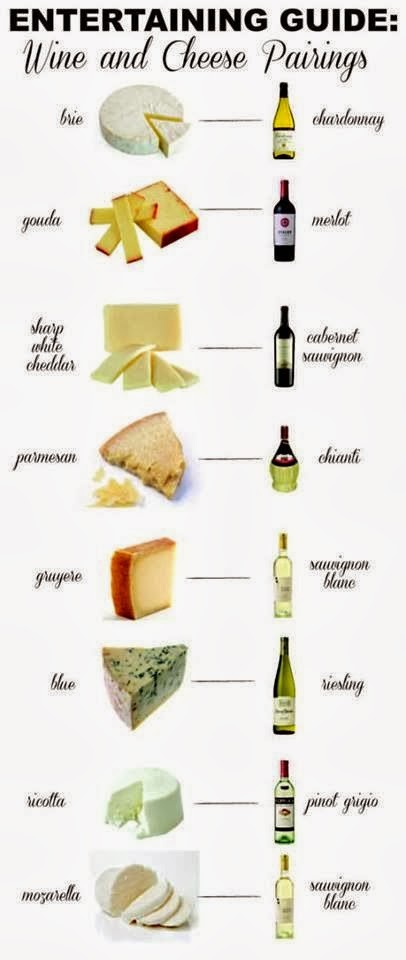 Now that Little A's birthday is over, I'm looking for another party to host.  I love having people over to the house and I especially love parties with some sort of theme.  Years ago I threw a wine pairing party for my boyfriend's birthday.  It was huge hit (except for the part when I dropped his amazing birhday cake on the floor as we were singing happy birthday to him.  And, no it's not weird to talk about him because we're still friends).
I love wine and I love cheese.  They go so well together.  Throw in a little fruit and some dessert and you have a party!
I found this fabulous list of wine and cheese pairings that I think I'll use for my next schindig (yes, I said shindig).
Gouda is my favorite cheese.  Specifically smoked gouda.  But I also love gruyere and smoked cheddar.  I pretty much love anything smoked.  I'm not a huge fan of blue cheese or anything that falls into that category, so I'll have to come up with another option for the Reisling.
I love this cheese clock!  It gives you wine and cheese pairings, but it also tells you which to try first, second, third and so on.  Perfect for newbies to wine and cheese pairing.
This is a super thorough list of wine and cheese pairings.  It gives specific cheeses to pair with very specific wines.  Ok now this is definitely my favorite.
If you're looking for wine to pair with dinner, this is a great list.
It even has raosted veggies and starches on the list.  I usually think of different meats but completely blank on other food options when pairing.
This list gives so many food pairing options to go with each type of wine.  It makes wine and food pairing so easy!  Anything to make my life easier these days is a plus in my book!
So tell me, what's your favorite wine and cheese or food pairing?  Do you love wine as much as I do?  What's your all time favorite brand of wine?