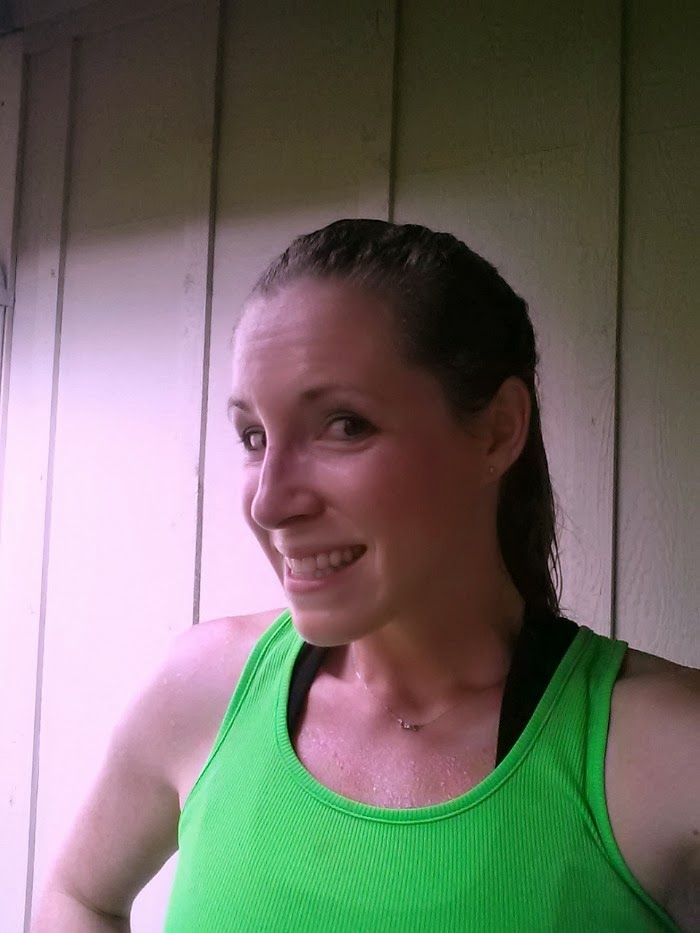 3 weeks down baby! That's like 1/4 of the way complete! Ok, so when I say it like that it doesn't sound so awesome. But, I am really enjoying the training and I can tell my times have been improving. Not that I'm going for a super fast time, but just the progression of our runs seem to be faster. Could be because it was pouring down rain a few times last week, so I was running as fast as I could to get out of the rain. No, I'm sure that has nothing to do with it…..
Huebie had to work late Tuesday, so I hurried home to get my run in before the nanny left. That was not such a great idea…
Not sure if you can tell from the picture, but that wetness on my chest and neck is not sweat. It's water. And you may be able to see my mascara on my eye lids as well. The minute I walked out the door for my run it started raining. And then it started raining harder, and harder. I ended up having to stop a few times under a tree to wipe the water and mascara out of my eyes. But it was a good run and I finished my 3 miles in 23 minutes. Not too bad. I picked myself up a hat over the weekend for future runs in the rain.
Wednesday was a nice day for a run. Little photo bomber. Wilson anyone?
Thursday was another nice afternoon. Huh, maybe it didn't rain as much as I thought it did last week.
I showed this picture yesterday, but I had to show it again here. She's just too cute when she runs!
Saturday was another rainy day, but luckily Grandma Huebie was over so we were able to go to the gym and run on the treadmill. Like I said yesterday, I hate running on the treadmill. This was the furthest I've had to run on a treadmill ever. But I'm sure it won't be the last time I meet the treadmill for a long run.
Three observations from my long run on Saturday:
#1: I hate running on the treadmill. I think I've made that pretty clear.
#2: I need to start putting my hair in a braid for these long runs (especially inside where it's hot). My hair started sticking to me and getting everywhere. It was annoying and I couldn't focus b/c I was so busy messing with my hair.
#3: I was able to maintain and enjoy a quicker pace, between 8:45 and 9:00 minute miles toward the end of the run. Maybe I'll try a quicker pace this week and see how I do. I'm sure we'll end up on the treadmill again.
After run snack of champions.
I think my goal for this week is to really track my time and see what my true pace is (with my new foot pod courtesy of my sweet hubby. Thanks babe!). We've been running around a 10:00 minute mile (including time for a few stops for dropped animals and books out of the stroller), which is what my goal is for the half. If I can maintain that or better for our long runs I think I should be prepared come race day.