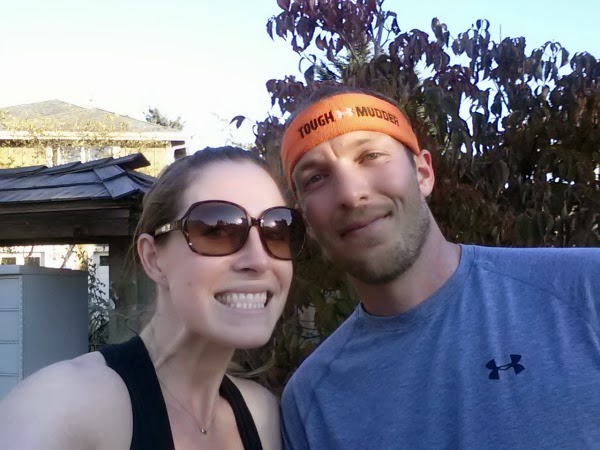 Yeah buddy! We basically have 3 big running weeks left until the race! Race week is a few easy runs leading up to race day (December 1st) so I don't really count that week.
Really nothing too exciting about this week. Tuesday was 3 miles. About a 9:00 minute mile pace. Totally forgot to take a picture that day.
Wednesday was 5 miles at race pace. In Hal's Program, he identifies each run as either run or pace. For days labeled as run days, you want to go a bit slower than your race pace. They say you should be able to keep a casual conversation (ha!). For pace runs you want to run at your race pace speed.
Now let's get one thing clear here, there really is almost zero difference between my run and my race pace. I mean, yes, if I really want to, for the short runs I can push myself a bit harder and move my behind quicker, a little, but anything over say 5 miles….it's all about the same. Even our long run Saturdays. What I run there will be darn close to what I run on race day. Minus the numerous stops we seem to make for stretching or energy replenishment.
Wednesday we did 3 of the 5 miles sans baby (we got off early and took advantage of having our nanny around still), then grabbed Little A and did the last 2 with her in the stroller.

I love this picture. Love. She is actually looking at the camera and smiling. So rare these days. Oh and this was Thursday, just another easy 3 miles. I don't even think I took my running watch.
Now Saturday. Oh Saturday you cold, heartless…..you know.
Saturday my parents came over to watch Little A for us while we put in our 10 miles. 10 miles. I haven't run this far since Cross Country in high school. There was a wind advisory in the area but I wasn't about to go run 10 miles on a treadmill at the gym. Oh heck no. That's my idea of torture. So I convinced Huebie to do my favorite trail and just start at a different point so we could run one direction 5 miles, then the other direction 5 miles. Not as much backtracking.
Well, it turns out the trail only goes for about 1.5 miles and ends the direction we'd never gone before. Woops! Not wanting to run back and forth on the trail a few times, we decided to run around the neighborhoods in the area. It was SO windy you guys. So windy. Like a constant 10-15 mph headwind, with gusts up to like 30 mph. At one point I thought I was going to get blown over. We ran around that area for about 3 more miles, than headed back down the trail in the other direction. Still in a headwind. I swear it was mocking me and just switching directions each time we rounded another corner just to make me work harder.
We had a headwind for approximately 7.6 miles of the 10 miles. Then we finally turned around to head back to the car and got a bit of a tailwind. By that point the wind was starting to die down (figures) so it wasn't as strong as the headwinds, but it definitely helped.

Are you not loving my sweet outfit?! I know, I look awesome. Got my new PRO Compression socks in lime green (who would have thought…compression socks). I was actually testing the shorts, socks and shoes out for race day. Hence the awesome color combo of lime green, light blue and orange. The shirt is new and will work until I can get one without a hood or collar. And thumb holes of course.
I am starting to get a bit concerned for race day. I've been doing all our long runs in shorts because I prefer to run longer distances in them. I stay cooler. But it has been cold here, and I know it's probably going to be in the 30s (and possibly 20s) on race day, so I may try to run in capris. I don't know, I need to figure out what's going to work.
Oh and an update on the shoes. They didn't bother me as much last week, so I decided to give them a shot on Saturday and my feet actually felt pretty good. I think I'll keep them!
We have a 10k race coming up on Sunday. I'm a little nervous but it's on 6 miles so I should be able to handle that no problem. Wish me luck!