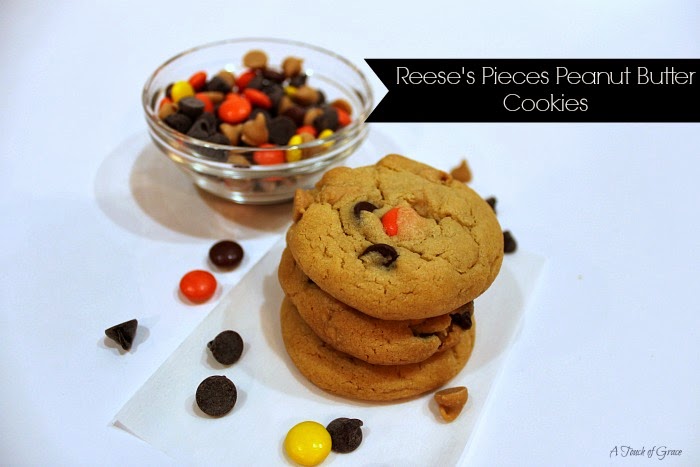 These may be my new favorite cookie. Maybe. I think I need to make them again, and possibly do a side by side comparison with my favorite chocolate chip cookie to decide, but they just may be.
My parents watched Little A on Sunday so we could go to the football game. In return, my dad asked for a 6-pack of Mountain Dew (that guy, I tell ya) and some cookies. He loves my cookies and let's be honest, I got most of my baking skills from him. 🙂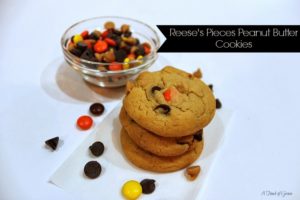 I mean you're combining chocolate, peanut butter and Reese's Pieces. It's an all around win.
Ingredients:
* 2 1/4 cups flour
* 1 tsp baking soda
* 1/4 tsp salt
* 1 (3.4 oz) box vanilla instant pudding
* 3/4 cup unsalted butter, softened
* 1/2 cup creamy peanut butter
* 1/2 cup sugar
* 1/2 cup brown sugar
* 2 eggs
* 1 tsp vanilla
* 1 tbsp honey
* 1/2 cup chocolate chips
* 1/2 cup Reese's Pieces
* 1/2 cup peanut butter chips
Directions:
* Preheat oven to 350 degrees.
* In a medium bowl combine flour, baking soda, salt and pudding mix.
* Using your stand mixer with paddle attachment (if you don't have a stand mixer you can use a hand mixer as well), beat butter, peanut butter and both sugars until smooth.
* Add in eggs one at a time, scraping down sides of the bowl as needed.
* Add vanilla and honey and beat until combined.
* With mixer on low, slowly add the flour mixture to the wet ingredients.
* Beat until just combined.
* Add chocolate chips, Reese's and peanut butter chips and mix until incorporated.
* Line baking sheet with parchment paper.
* Roll a heaping tablespoon of dough into a 1½-inch ball between your palms and then place it on the prepared baking sheet, spacing balls about 2 inches apart.
* Gently flatten the dough balls with your palm until they are about ¾ inch thick.
* Bake 10-11 minutes.
* Let cookies cool on sheets for 2 minutes before transferring cookies to wire racks to cool completely.
The pudding makes them thick and gooey. Yum!
Enjoy!