I've been wanting to do a blog for quite some time. I mean, it's seems to be the thing to do these days for women my age (my age..ha! Like I'm some old maid or something). So I thought "Why not give it a try." But what would I talk about and who would want to read the ramblings of an over-tired, part time Mom of 1/part time working professional? Well, hopefully my love of family, health, DIY projects and baking, and a semi-like for general cooking will win over a few hearts.
In keeping with my love for baking, I thought my first post should be a recipe that I bake on an almost weekly basis in our household. My husband and I work out about as much as we can with a highly demanding 16 month old. In order to try to eat as healthy as possible, I make these really yummy protein bars. They are great for a quick snack or breakfast on the go.
Oatmeal Peanut Butter Protein Bars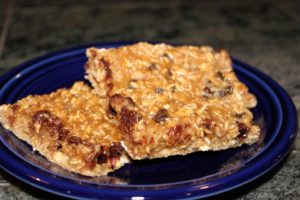 Oatmeal Peanut Butter Protein Bars
This recipe makes a double batch (~12 3″x4″ bars), which for us lasts about a week. You can of course cut them smaller to get 16 bars, but I like the larger bars.
Preheat oven to 350 degrees.
Grease 9×13 baking pan.
Ingredients:
* 3 1/3 cup quick cooking oats
* 2 scoops vanilla protein powder (I usually use whatever we have on hand at the time.)
* 4 tbsp flax meal or seed
* 2 small bananas, well smashed (You want them to be almost runny so they mix in well.)
* 1 cup smooth peanut butter
* 4 tbsp applesauce
* 1/2 cup egg whites or 2 eggs
* 4 tsp agave (honey will work for this as well)
* 1-2 tsp vanilla
* Whatever add-ins you like (chocolate chips, dried cranberries, dried blueberries, etc.)
Directions:
* In a large bowl, combine first 3 ingredients.
* Next, add banana and peanut butter. Mix until the peanut butter and banana are combined into the dry ingredients.
* Mix in applesauce and egg whites.
* Add agave and vanilla and mix well.
* Fold in your add-ins (I almost always do chocolate chips, case in point the pic below).
* Spread the mixture evenly in the baking pan. Bake for 10 minutes.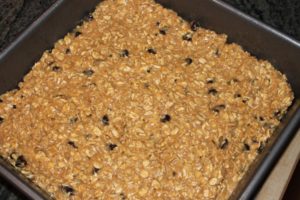 * Remove from oven and cut into bars immediately. Let cool completely in pan and enjoy!