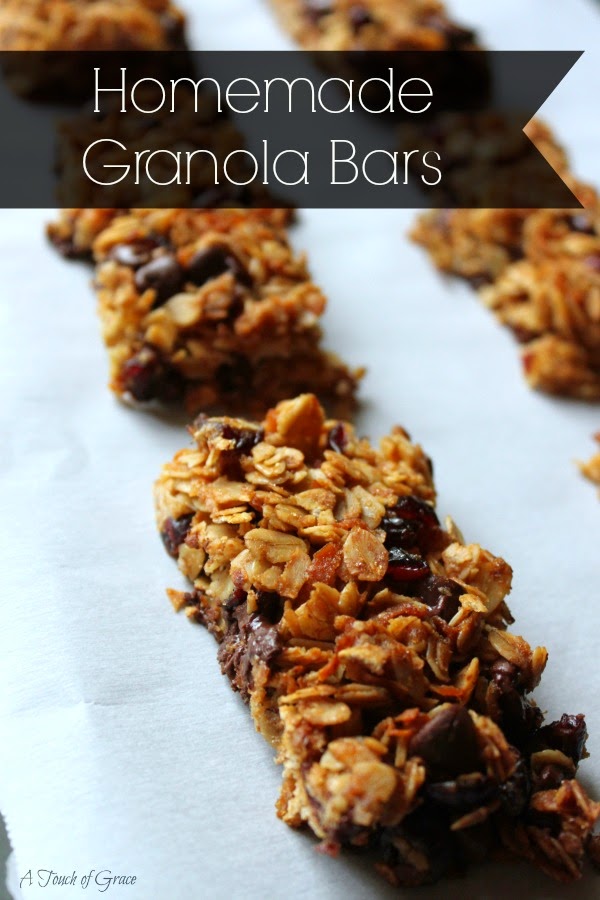 Have you read the ingredients label of some store bought granola bars? It is insane! I can't even pronounce some of the things in there. But let's be honest, that's the case with a lot of packaged foods.
My goal as a mom is to give my daughter as many whole foods as possible. These granola bars have ingredients that we all know and love. And they are a hit with my daughter.
I love a lot of "stuff" in my bars. So I added chocolate chips and dried cranberries to the mix. I was surprised by how much I loved the chocolate and fruity flavor combination in one bar.
Ingredients:
* 4 cups old fashioned oats
* 1/4 cup whole wheat flour
* 1/2 cup shredded coconut
* 1/3 cup packed brown sugar
* 1 cup chocolate chips
* 1 cup dried cranberries or cherries
* Pinch of Kosher salt
* 1/2 cup grapeseed oil (you can sub canola or another alternative for grapeseed oil)
* 2 teaspoons vanilla
* 1/2 cup honey
Directions:
* Preheat oven to 325 degrees and line a baking sheet with parchment paper.
* In a large bowl combine oats, flour, coconut, brown sugar, chocolate chips, dried fruit and salt.
* In a smaller bowl, whisk oil, vanilla and honey until combined. Mixture should be smooth.
* Pour the wet ingredients into the dry mixture. Toss until all the dry ingredients have been coated.
* Place the mixture onto the lined baking sheet and shape into a large rectangle. It should be around 9×13 inches and an inch thick.
* Bake for about 35-40 minutes, until the granola starts to brown.
* Cool on the baking sheet for about 10 minutes, then cut into small bars using a sharp knife.
Little A had to get in on the action too.
Enjoy!