These chocolate chip muffins are so easy to make and taste so yummy!
Happy Valentine's Day love bugs! We aren't big V. Day people but I have a little something up my sleeve for baby girl and Huebie. And because the weather has been so mild we're heading out on a hike this morning. Gotta take advantage of the rain-free weather while we can.
I don't know if I've mentioned this before, but our family loves muffins. Oh, I'm sure I've mentioned it on multiple occasions. I post muffin recipes more than anything else food-wise on this blog. I'd been tossing around the idea of doing a muffin recipe series for months. I thought I would, then decided against it. Then I'd go back and say yes, and then life would get in the way.
Years ago I had started a muffin recipe series. I was on a HUGE muffin kick. These chocolate chip muffins were my very first recipe in that series. Well, somewhere around muffin number 15 I fell off the wagon. I think I was getting tired of muffins ha! But I was able to create some really great recipes, including this one. Chocolate chip muffins are some of my kids' favorites. We make them often, and try to change the ingredients every so often, to give them a healthy kick.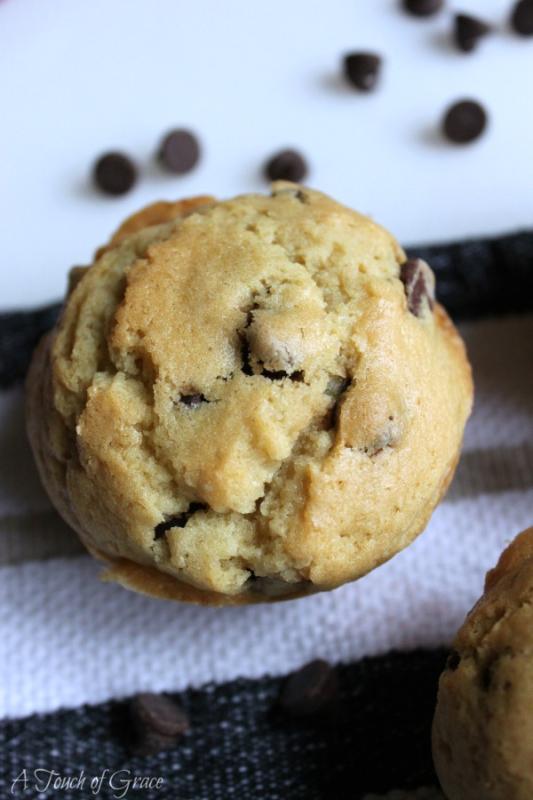 So to kick this series off, I'm sharing a simple, delicious recipe that easily pleases everyone. These chocolate chip muffins are a bakery style muffin with big tops and are oh so soft on the inside. When you were a kid did you ever just eat the tops off the muffins? My mom would always get upset because that's the only part we liked. She said we were wasting the rest of the muffin. I mean I understand she was right, but the tops are the best part!
The key to a good chocolate chip muffin is a large amount of chocolate chips. You could also use mini chocolate chips to spread the chocolate-y goodness around a bit more throughout the batter.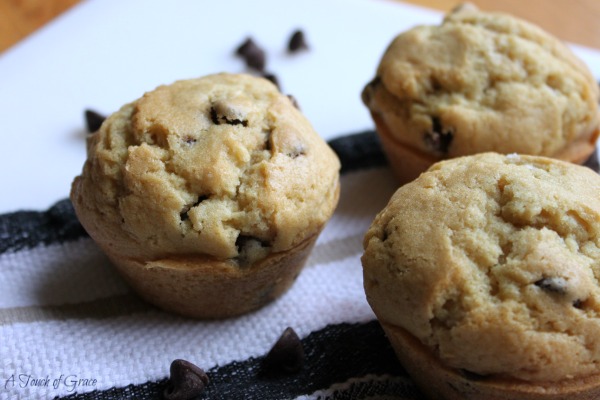 To me, chocolate chip muffins are the next best thing to a chocolate chip cookie.
Chocolate chip muffins

Print recipe
| | |
| --- | --- |
| Serves | 12 |
| Prep time | 10 minutes |
| Cook time | 15 minutes |
| Total time | 25 minutes |
| Meal type | Bread, Breakfast, Snack |
| Misc | Child Friendly |
Slightly crunchy on the outside at the top and soft in the middle.
Ingredients
2 1/2 Cups all-purpose flour
1 tablespoon baking powder
1 teaspoon baking soda
1/2 teaspoon salt
1/2 cup unsalted butter, softened
1 cup sugar
1 cup milk (I use almond milk but you can use regular 2% or whole)
2 eggs
1 tablespoon vanilla
1 1/2 Cups chocolate chips (you can use mini chocolate chips as well)
Directions
Preheat oven to 425°F (220 degrees C) and spray a 12 cup muffin tray with non-stick cooking spray.
In a large bowl, combine the flour, baking powder, baking soda, and salt. Set aside.
In a medium bowl, whisk together the butter, sugar, eggs, milk and vanilla. Slowly add the dry ingredients. Mix until just combined. Fold in the chocolate chips.
Divide the batter into the 12 muffin cups and bake at 425°F for 5 minutes, then turn the oven heat down to 375°F and bake for another 13-15 minutes. Let cool for about 5-10 minutes.
Enjoying these muffins warm is my favorite way to eat them. You can also store in an air-tight container at room temperature.
Enjoy!