This simple paleo granola recipe is easy to make and will have you reaching for seconds. And thirds, it's so good.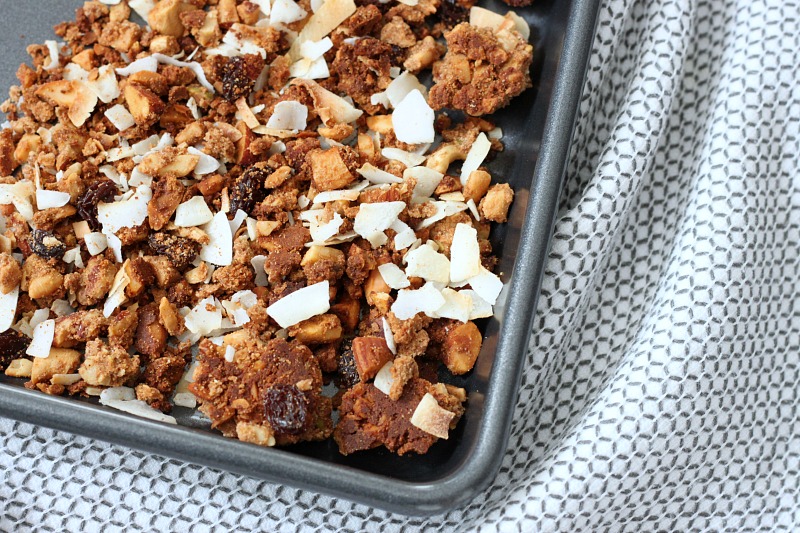 When we decided to cut out grains and dairy from our nutrition, the two things I missed the most were Greek yogurt, and my homemade granola. My favorite snack is a cup of Greek yogurt, a few teaspoons of honey and coconut chocolate chip granola. Mix that all together and I'm a happy girl. And while I do eat dairy on occasion (I love me some nice cheese), Greek yogurt and granola is a slippery slope back into dairy land for me. So I avoid it.
I'd been having a craving for granola the last few weeks and it peaked when I scrolled by a few granola recipes on Pinterest. I knew I had to figure out how to make a paleo granola to satisfy my craving.
There are no fancy ingredients for this paleo granola recipe. And it only requires minimal instructions, which I love.
I like to give options when it comes to my recipes, and I usually do that with the add-ins. I love mixing up what I put in my granola; be it raisins, dried cranberries or blueberries, or dark chocolate chips.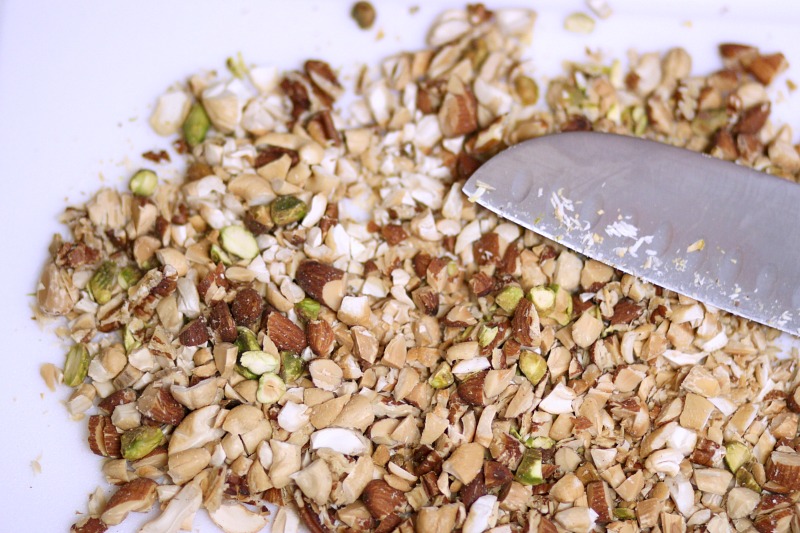 I also hand chop the nuts. I like the variety in size this provides, and it ensures that the nuts don't get chopped too small, like they could in a food processor. It adds to the texture and granola is a huge texture thing for me. I love the crunchiness!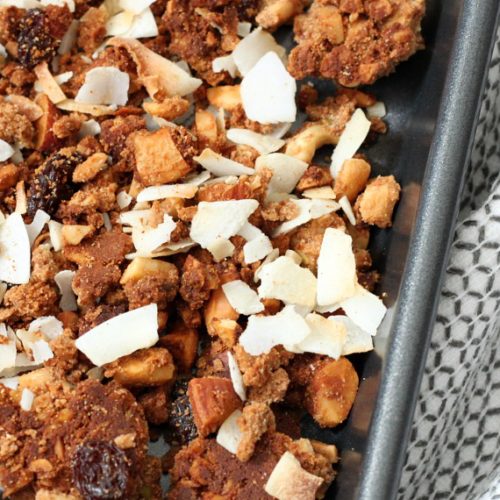 Simple Paleo Granola
Ingredients
1 1/2

cups

mixed nuts

I do cashews, almonds, pecans and pistachios

1

tbps ground cinnamon

1/4

cup

coconut flour

1 1/2

tbsp

coconut oil

2

tbsp

raw

local honey (for vegan, substitute agave)

1 1/2

tsp

vanilla

3

tbsp

cashew butter

2

tbsp

almond milk

1/2

cup

coconut flakes

preferably unsweetened

1/4

cup

add-ins

I did raisins, but you can do dried cranberries, dried blueberries or dairy free chocolate chips
Instructions
Preheat oven to 325 degrees. Grease baking sheet with coconut oil or line with parchment paper.

Roughly chop nuts by hand until you have a variety of large and small pieces. If you're in a hurry you can use a food processor and pulse a few times.

Add to large bowl.

Add coconut flour and cinnamon to the nut mixture.

In a glass dish, melt coconut oil and honey together in microwave.

Drizzle over the nut mixture and stir well.

Add vanilla, cashew butter and almond milk. Mix well to combine. The mixture should be coming together. If it's not, add more honey or cashew butter, 1 teaspoon at a time.

Spread mixture onto prepared baking sheet.

Bake 15-18 minutes.

After the 15-18 minutes is up, add in coconut flakes and your add-ins (unless your doing chocolate chips; you'll add those once the granola has cooled).

Bake another 5-7 minutes.

Let granola cool completely on baking sheet.
Notes
It may not seem done when you take it out of the oven, but it will harden and become crunchy once it cools.
Store in air tight container for up to a week.
LIKE IT? PIN IT!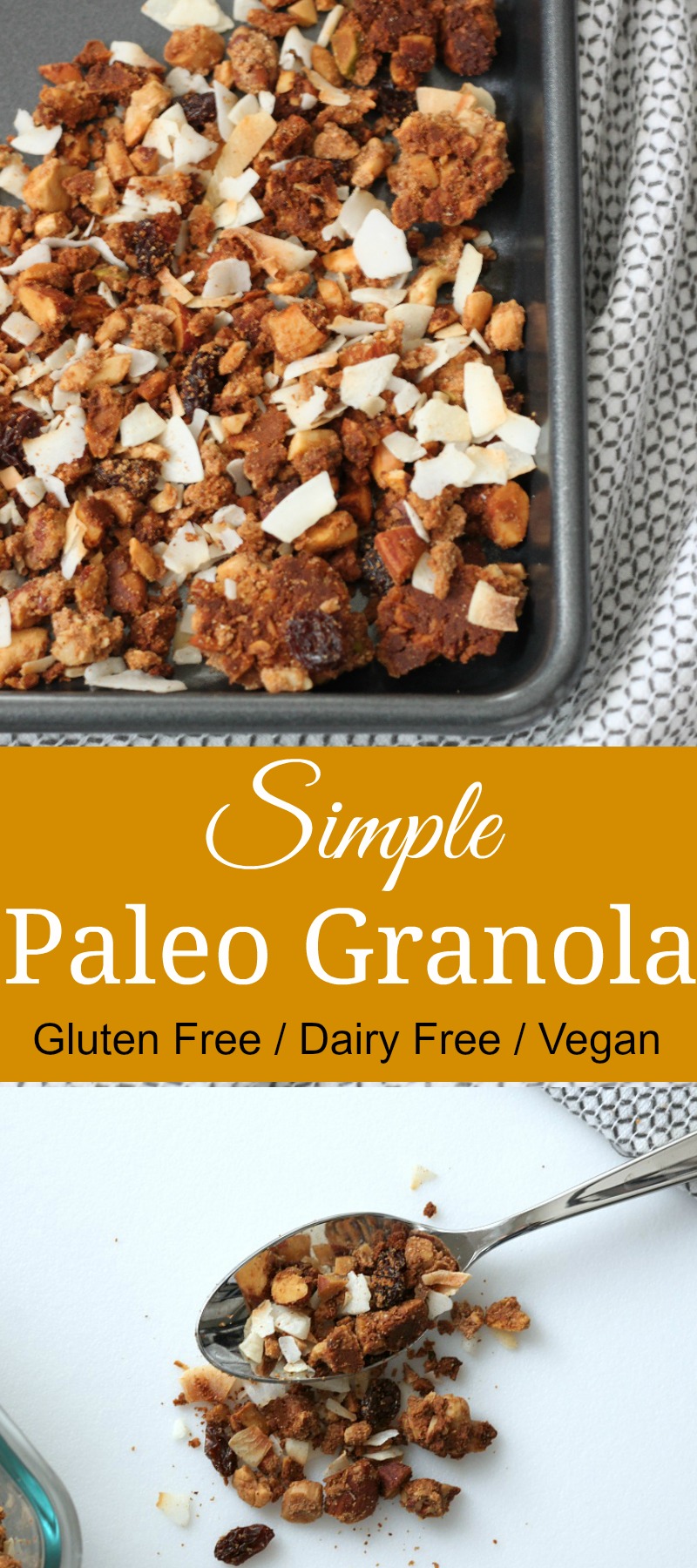 Enjoy!