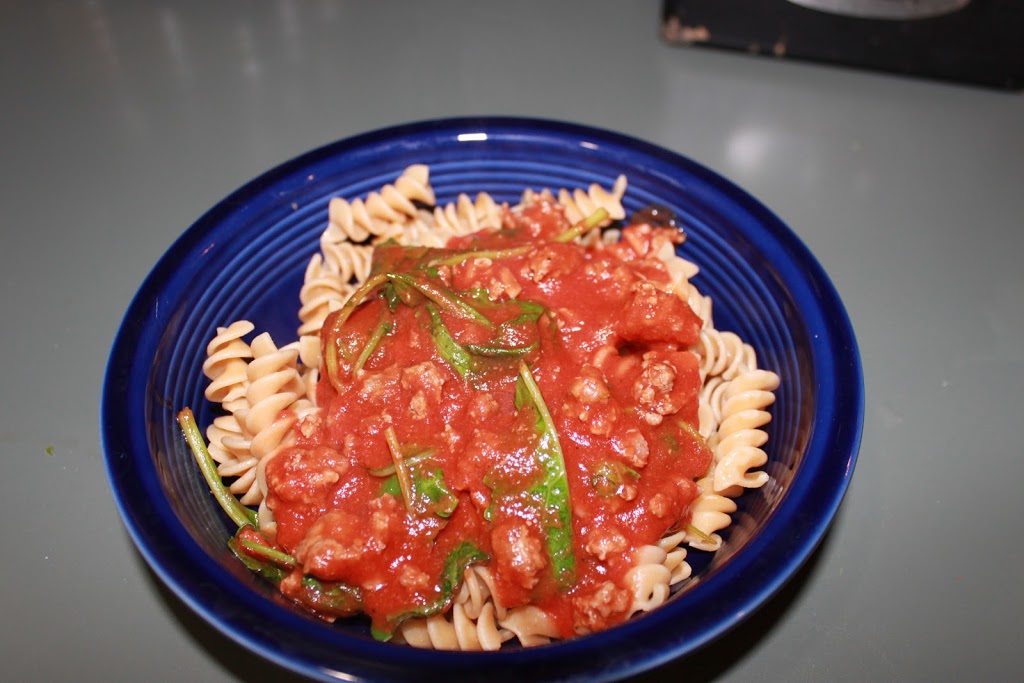 Most nights at Casa de Huebner are jam packed with gym time/run, playing with baby A, and getting ready for work the next day. Dinner becomes an afterthought and we're usually scrambling to come up with something easy and healthy to make.
Enter the kale (or spinach) pasta sauce recipe! All the credit for this one goes to my husband. I was at the gym one night and come home and he's created this super easy, super yummy pasta sauce! And bonus! It's healthy too!
Kale/Spinach Pasta Sauce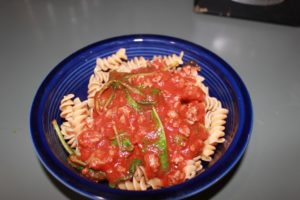 Ingredients:
* Approximately 10 oz rotini Protein Plus or whole wheat pasta
* 2 cans tomato paste
* 2 cans tomato sauce
* 2 2/3 cups water
* 1-2 lbs ground beef or turkey (just depends on how meaty you like your pasta sauce)
* Large handful of kale or spinach
* 1 tsp italian seasoning
* 1/2 tsp onion powder
* 1/2 tsp garlic powder
* 1/2 tsp salt
* 1/2 tsp pepper
Directions:
* In large pot, cook pasta until al dente. Set aside.
* In a bowl, combine tomato paste, sauce and water. Mix until water is combined into the sauces.
* In large skillet, cook hamburger/turkey until brown.
* Add spinach to hamburger/turkey and stir.
* Add tomato sauce, and all spices.
* Stir until well combined.
* Pour over desired amount of pasta and serve!
It really is that easy! Enjoy!