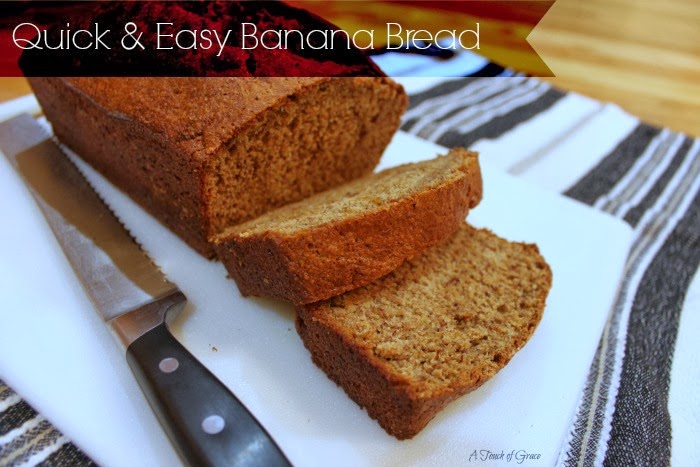 I love banana bread. Besides my yummy protein bars and chocolate chip cookies, it's my go to for a quick treat. I've been making this recipe for 10+ years and I very rarely make any changes to it. It's just so good!
This time, though, I added a little vanilla to see if it gave the bread a little different flavor, but I really didn't notice a difference. I also tried whole wheat flour since I have quite a bit on hand, and actually really liked it! I think the outside crisped up a bit more, which I love. I think I'll use the whole wheat flour more often.
Ingredients:
* 3 bananas, smashed
* 2 cups white or whole wheat flour
* 1 cup sugar
* 3 tablespoons buttermilk
* 1 heaping teaspoon baking soda
* 1 egg, unbeaten
* 1 tablespoon butter, room temperature, or oil (I prefer butter)
* 1 teaspoon vanilla (optional)
* 1/2 cup chopped walnuts (optional, I never put them in)
*Hint: If you don't have any buttermilk on hand, you can mix 3 tablespoons of regular milk with about1 teaspoon of vinegar in a separate bowl, then add it to the bread mixture.
Directions:
* Preheat oven to 325 degrees.
* Lightly grease bread pan.
* Mix dry ingredients together in a large bowl.
* Add bananas, sugar, egg, buttermilk, vanilla to the dry ingredients and mix until just incorporated.
* Pour mixture into bread pan. Don't tap or smooth, it will naturally settle on it's own.
* Bake for 1 hour to 1 hour 15 minutes, or until toothpick comes out clean.
* Cool in pan on wire rack.
I love this recipe because the outside is just a little crisp, but the inside is super soft.
Enjoy!