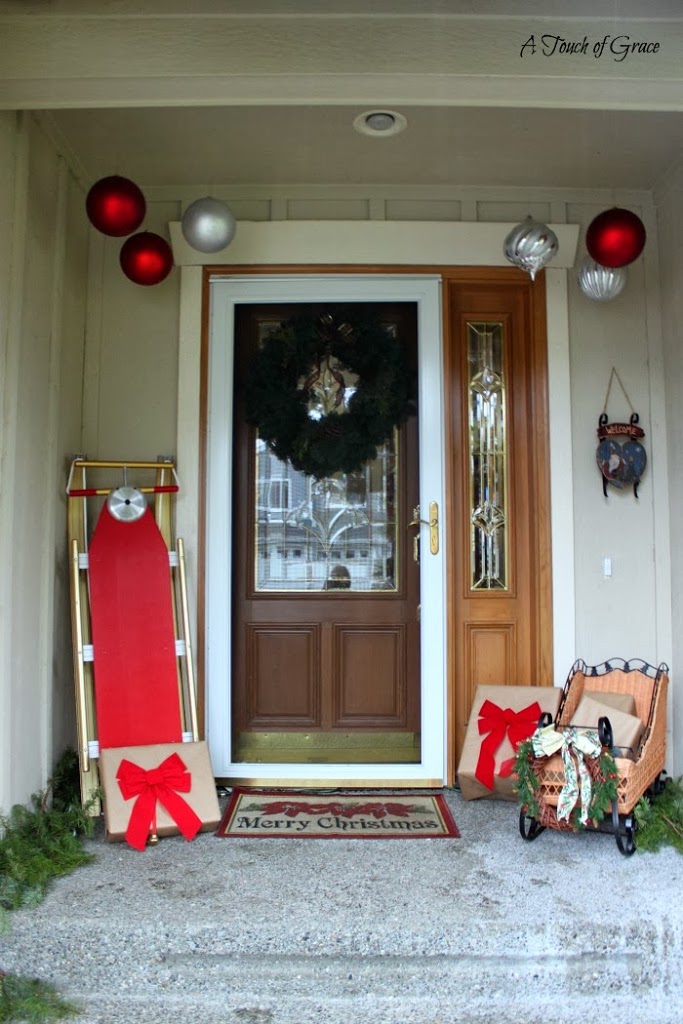 I love decorating for Christmas. The tree, the garland, the wreaths and mantels. I love it all. But I especially love decorating our front porch. It's what everyone sees; whether they are just driving by or walking up to visit.
I'm pretty traditional when it comes to Christmas decor. I love the reds and greens, with a touch of silver and gold. I just added the sled this year and love it! The red adds so much color!
This is the second year I've done the sleigh and gifts on our porch:
It's probably my favorite thing on it. My mom gave me the sleigh a few years ago, and we used it for photos with Little A for her first Christmas. I just wrapped up some boxes in brown paper and added bows to a few for some more color.
If you didn't know already, we're sled people (hello, bright red sled on the porch). So when I saw this welcome sign last year I had to pick it up. I love the Santa Claus on it.
I also picked up these large silver and red ornaments last year. I love how they add some height to the decor and bring your eye up a bit. They're super fun to have out there.
I had originally planned on doing some sort of fancy wreath for our porch, with red sparkly poinsettias and balls (and other red sparkly things), but then the little girl across the street came by selling wreaths to raise money for her basketball program. I couldn't say no. And I'm glad I didn't. I love just a simple, classic wreath.
The branches lining the porch are there for more than just decoration. They help hide the extension cords that plug in our lights on the house. They wrap all the way from the right side of the porch to the left, where the outlet is. I love the color the brances add, and their functionality!
Coming home everyday puts a smile on my face when I see our porch.
Psst: If you're looking for a sled for your little one (or yourself for that matter) you can find ours HERE.

I hope everyone has a fantastic weekend!