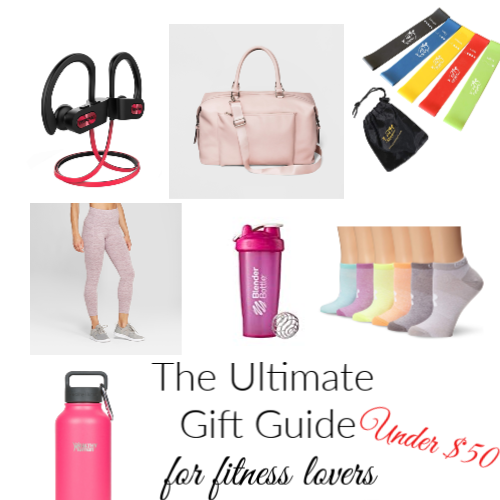 Gifts for the fitness lover all under $50, with most items under $25! If you know someone who is really into health and fitness, this gift guide is perfect, and won't break the bank!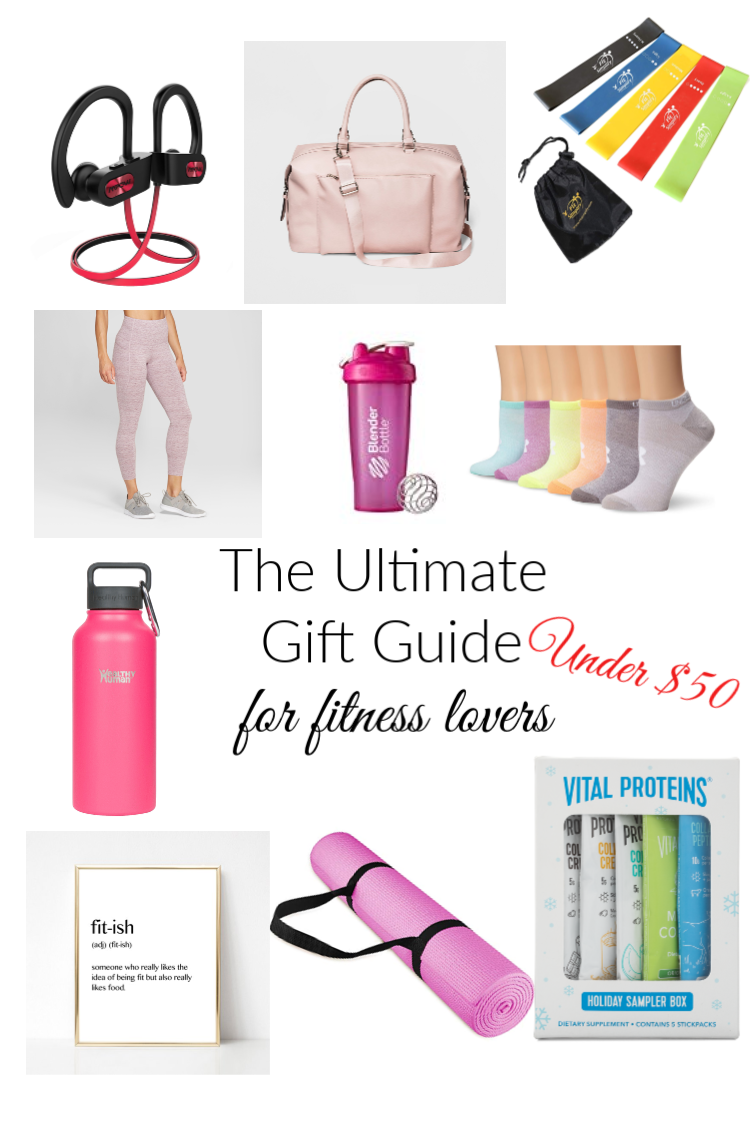 I'm passionate about health and fitness, and thus receiving a gift related to my passion is something I truly appreciate. I love when people take the time to find a gift that suits me. All of the items listed here are under $50, and most are under $25. Any fitness lover would enjoy receiving any of these items.
Exercise Bands
I've shared the Fit Simply Bands a few times but they are my absolute favorite piece of exercise equipment. I take them with me everywhere and they are perfect for traveling with. And they are only $11!
Collagen
I LOVE my Vital Proteins collagen peptides and collagen creamer.
Their collagen creamers are also $25 and under (the coconut is $29). I love the mocha and vanilla!
A good water bottle
Water is a must for us all, and especially those who are exercising. We lose a lot of water through sweat, so replenishing our water is extra important during and after a workout.
I have a few favorite water bottles, but my new favorite is the Healthy Human stein. I have the 32 oz stein (aka insulated water bottle) and it is awesome! It keeps drinks cold for 24 hours and hot for 12 hours!
Now through December 31, 2018 you can get 10% off on Amazon using the code THUEBN10!
I also really love my Hydro Flask. It keeps drinks cold for 24 hours and hot for 8 hours. It is very durable as well (I can attest to that…I've dropped mine a few hundred times).
Socks
Good socks are key for runners and gym lovers alike; and they make the perfect stocking stuffer! I swear by my Under Armour seamless socks. I also have the Puma no show socks and really like them as well.
Foam Roller
It may be difficult to wrap, but a foam roller is a must have piece of equipment and the perfect gift for a fitness lover. We have 2 foam rollers and a Tiger Tail (I loooove the Tiger Tail!). We have a regular foam roller like this LuxFit Foam Roller, as well as a deep tissue foam roller.
Yoga Mat
There are hundreds of options for yoga mats these days. But I swear by this simple BalanceFrom Go Yoga mat. It's $10.99 and comes with a carrying strap.
Gaiam is a popular brand of yoga mat, and they have some great patterns.
Blender Bottle
Another great stocking stuffer, blender bottles are perfect for protein shakes, BCAAs and pre workout, a blender bottle (or two or three) is a kitchen necessity for any gym goer.
Leggings
If you're looking for good quality at a good price, Target's C9 line has come leaps and bounds over the last year. I love these 7/8 high waist leggings, as well as these full length leggings. Both pairs are under $30!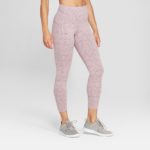 Dry Shampoo
Dry shampoo is life for fitness lovers! Washing your hair every day can damage it, so a good dry shampoo is a must. I have tried dozens of dry shampoos over the last few years to find the best one.
My favorites are OGX Refresh & Restore and Batiste Clean & Light Bare.
Gym Bag
I adore this weekender bag and this black yoga bag.
Headphones
I swear by my Beats, but for a less expensive option, the Mpow Flame Bluetooth wireless earbuds are under $20 and are noise canceling as well.
This fit-ish print is perfection! And this one.
All of these items are perfect for the fitness lover. A gift basket with a few of these items would make a great gift for anyone who enjoys a good sweat session.