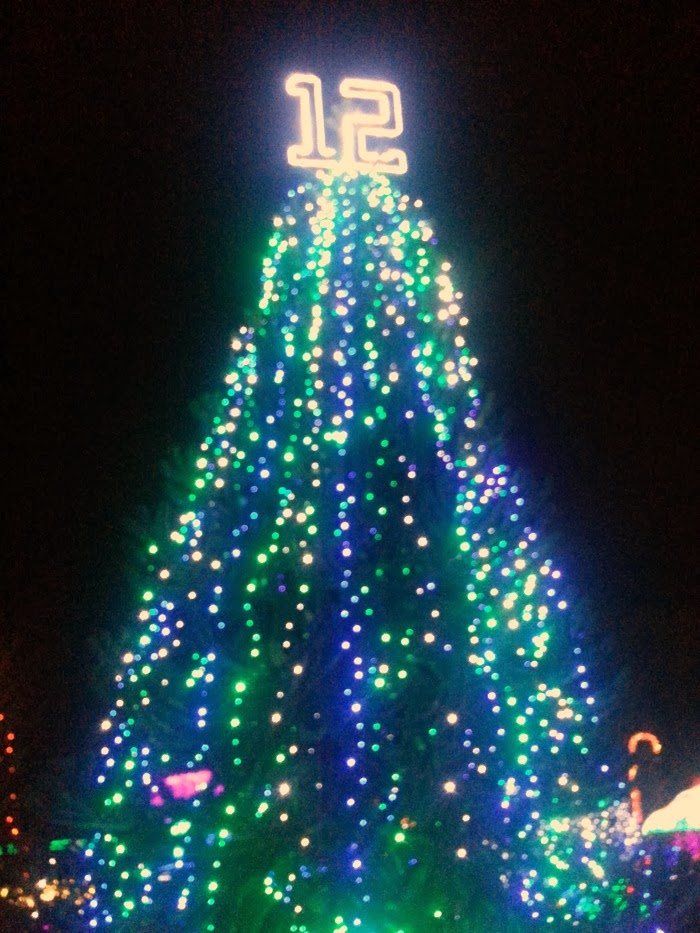 Another eventful weekend here in Seattle. It's been so cold these last few weeks, and now it's warming up a bit. Unfortunately with that brings the rain (why can't there be any precipitation in the air when it's 25 degrees?!)
Earlier in the week we went to Zoolights! This is our first year to this zoo and I'm so glad we went. It was much better than the other zoo in our area.
They had a 12th Man tree:
And Mt. Rainier:
And some polar bears. This was Little A's favorite. She loves polar bears.
And she and I rode a camel!:
She was so excited! Pure joy on that girl's face. This was my first time on a camel as well and let me tell ya, not so comfortable (I had to sit on the hump, ahem).
Thursday evening we went to see Santa!
Success!!!! I was so worried she was going to cry again this year, but she was so excited to see Santa. It helped that he had a stuffed reindeer for her to pet, and a teddy bear for her to hold. So proud of her!
Friday her and I spent some time at Hobby Lobby, then we went to sush for dinner. So yummy!
I spent pretty much every night wrapping gifts:
I'm such a perfectionist when it comes to gift wrapping. I think I spent approximately 8+ hours wrapping this weekend.
Saturday we had Little Gym in the morning, then my parents came over to watch Little A so Huebie and I could go to the gym and see a movie. I'd originally wanted to go to one of those theaters where you can have drinks (they have about 2 or 3 in our area) but then I thought going to the gym would be a better idea.
So we were able to get a good workout in, hit a few stores at the mall, then make Catching Fire with plenty of time to spare. Such a good movie! It was so much better than the first one. If you haven't yet, go see it!
Sunday morning we spent some time riding in our wagon:
She made me pull her around the house in the Radio Flyer.
Then we watched the Seahawks kick some Giant behind!
The Giants haven't been shutout at home in 18 years, but we left there with a 23-0 win!
Then spent the afternoon running some errands.
We went to Costco after nap time, and Little A had her first taste of Costco pizza:
But she was more excited about sitting by herself at the table. Huebie and I weren't allowed to sit on her side. She was having so much fun she didn't want to leave.
So there was a bit of a meltdown. She didn't want to go home, she wanted to stay at Costco. I don't blame her, I really love Costco too.
Sunday night was our annual Jammy Light Night. Here's how Jammy Light Night goes:
1) Get into your favorite jammies. Which consisted of Audrey getting into hers because mine ripped last year and were tossed (hoping for some new ones from Santa).
2) Make your favorite hot drink. Mine was cocoa (possibly with a little Bailey's). Huebie & Little A had hot cider.
3) Grab a sweet treat.
4) And drive around to look at Christmas lights.
Super fun, family tradition. I think we'll probably go to a few other neighborhoods this year before Christmas. We had so much fun.
How was your weekend? Did you have any holiday celebrations happening? Any fun family traditions you have?