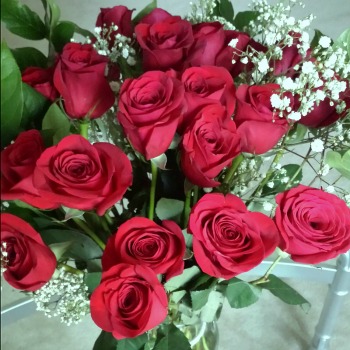 Happy President's Day to my American friends! Some of you probably have the day off work and are still enjoying your extended weekend. I also have the day off from mom duties, as the hubs and Little A are still at the cabin! Yep, I've had 4 WHOLE DAYS to myself!
So you're probably wondering what the heck I did with 4 whole days to myself. Well let me just tell ya, I got a lot of sh*t done. I don't have a ton of photos for you because quite a bit of my time was spent on the computer doing some behind the scenes blog work. I edited some old posts and updated photos to be more "Pinterest worthy," I completed an online blogging course I'd signed up for in January and looking into possibly getting a new logo, and even a new theme! I can't decide, but am feeling like I need a change. The course I took required a lot of work with each assignment so that took up quite a bit of my time. I also created my first printable for my newsletter subscribers!
Besides blog work, I got a massage on Friday which was glorious. My sweet friend Kelli from A Deeper Joy got me a gift card and it just made my day. Am I the only person who gets super sleepy during a relaxing massage? I'm just so relaxed, but I hate falling asleep because I want to enjoy every minute of it. I'm sure I'm not alone in that area. After my massage I treated myself to a latte because why not. I also spent some time de-cluttering a few more areas of our home, and organizing baby boy's closet. Does anyone else get joy from getting rid of stuff? I honestly just love throwing things away or donating them. Especially when they've sat in a drawer for years.
We have a baby shower coming up this weekend and one next weekend so I'm trying not to get anything until after those, but it's so hard when I just want to order every adorable outfit from every cute little boutique shop!
On a different note, I'm still struggling with sleep, and last night was particularly difficult. So I was up bright and early for church yesterday.
I treated myself to a Valentine's drink and almond croissant. Those croissants are evil I swear; so stinking good but so not good for you. And then……I walked around IKEA by myself. I know, it was glorious. I've never felt so calm heading into that store. Having no kid begging to leave and no husband cursing at the crappy cart drivers was amazing. We're looking for a dresser for baby's room and I think I have it narrowed down to like 4.
I then headed to The Container Store, which I should never do because that place is the devil. I just want all the closets and all the cute storage containers. I'm thinking of getting these rugby bins for our Expedit case in the bonus room or even just 1 for baby's room to store stuffed animals in. I just love the navy and cream stripes! What do you think?
I also spent a decent amount of time watching "Orange is the New Black" (I'm on the last season) and "Call the Midwife," another Netflix show. It's set in the 50s in East London, which back then was basically the slums (not sure what it's like today). It's pretty good so if you like period pieces and babies I say give it a shot. It's amazing to see how far technology has come.
Today is my 34 week appointment where I'm hoping my doc is going to tell me that baby is no longer breech, but we'll see. Then back home for some more quiet time before these 2 crazies get home tonight.
I mean you can't not love that little face. She so gangsta. He's not too bad either. 🙂
Have a great week love bugs!