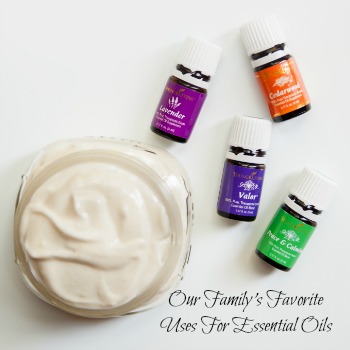 Our family's favorite uses for essential oils and how we incorporate them into our daily lives.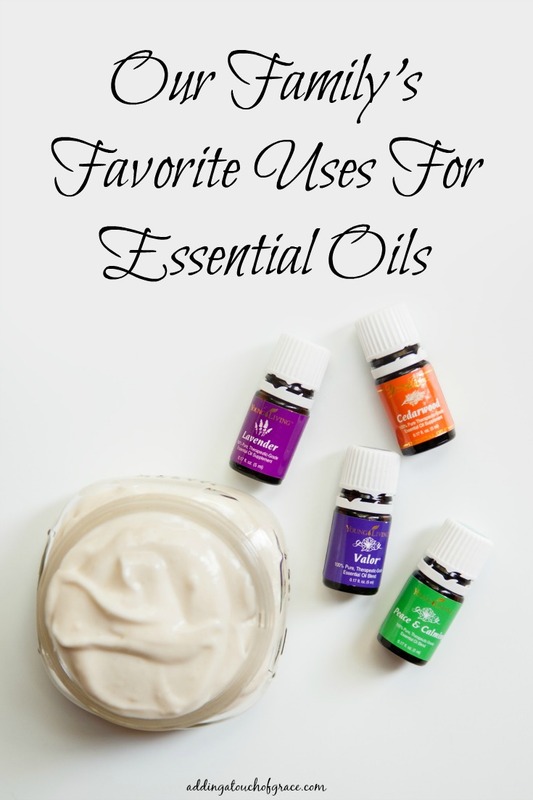 I could probably spend a good 2 hours talking about all the ways our family uses essential oils. There are literally dozens of ways we use just a few oils, not to mention the oils we use for very specific things. So I'm going to try to keep this as general as possible but please understand that there are way more uses for essential oils than I could cover in just one post; even for our family. We humans have so many areas of the body that keep us going each and every day, and at any given time any number of those areas could require extra support to keep us in a healthy state. That's what essential oils do; they support our body's natural function.
Here's our family's favorite uses for essential oils.
Immune Support: I think we can all agree that when the fall and winter months hit, out come the sickies. Kids especially are little germ factories. We diffuse Thieves, R.C. (stands for respiratory comfort), Raven and many other essential oils throughout the winter months to support our immune systems and keep us healthy. We also apply the oils to the bottoms of our feet, roll them on our spines and ingest them.
Fitness: We are a very active family. We hike, bike, wakeboard and ski. We also workout 5-6 days a week doing everything from running and heavy lifting, to HIIT workouts. Even Little A works out with us. We use multiple oils during and after each workout to keep muscle fatigue down and to help support our muscular system post workout. Deep Relief is my favorite oil for overworked muscles. You just roll it right on the needed area and it works it's magic. Panaway is another favorite that we use often on our back and leg muscles. Being able to prevent soreness after working out helps us stay active and pain free.
Cleaning: We have been able to toss all of the toxins from our home! I feel so proud saying that. You will not find any toxic cleaners or other household products in our house. I've shared with you how I make my own foaming hand soap, and that's basically all we use in our home, along with baking soda and vinegar. I'm able to use the all purpose cleaner for everything from windows to our oven. I use lemon oil to get sticky residue off everything and to make our kitchen smell amazing, not like a chemical factory. Knowing that my babies aren't being exposed to any potentially harmful and dangerous chemicals makes me feel at ease.
Sleep: Sleep is a glorious thing. And it's something that both my hubby and Little A have struggled with in the past. But thanks to Cedarwood they are both able to get a good night sleep. I diffuse Cedarwood and Lavender in Little A's room each evening to unwind and calm her before bed. I'll also apply a roller called Tranquil on her spine as well. The hubs applies Cedarwood to his scalp and feet every night, and I diffuse it in our room often as well. I alternate between Cedarwood, and Peace & Calming and Stress Away. I can always tell when I haven't diffused before bed because we are all restless.
Calming & Relaxation: Peace & Calming is a blend we diffuse late in the afternoons to keep our home peaceful and calm prior to bed time, and just to unwind after a long day. My all time favorite blend, though, is Stress Away. I used to use it every day after my hour long drive into the office, or when someone was getting on my nerves at work. And I still use it when I know it's going to be a stressful day, or when Little A and I are having a rough go and I need to keep my stress level in check. Lavender is another great oil that especially helps Little A be calm. She has her own roller bottle of it.
[Tweet "Here are a few great uses for essential oils that you can incorporate into your everyday life."]
Those are just a few of the ways our family uses essential oils in our every day lives. I use oils for some specific things (adrenal support and keeping my estrogen levels in check), and so does the hubby (brain support). Even Little A uses essential oils for specific things, like focusing throughout the day. But those are oils for a whole 'nother post.
If you're looking for more information on how you can use essential oils in your daily life, I highly recommend this You Tube video by Dr. Jim Bob Haggerton, as well as this video that explains why essential oils and supplements are not medications. So much great information! The guy is so funny and just a total goofball. Love having him as part of our Young Living family.
*As usual, I am not a doctor and cannot treat, diagnose or cure. The information I provide is for informational purposes only.
What are some of your favorite uses for essential oils?