Essential Oil Gift Ideas: If you have someone (or a few people) in your life who live the oily lifestyle, or if you are looking to get someone into essential oils, here are some fabulous gift ideas to brighten their holiday (or birthday or just because).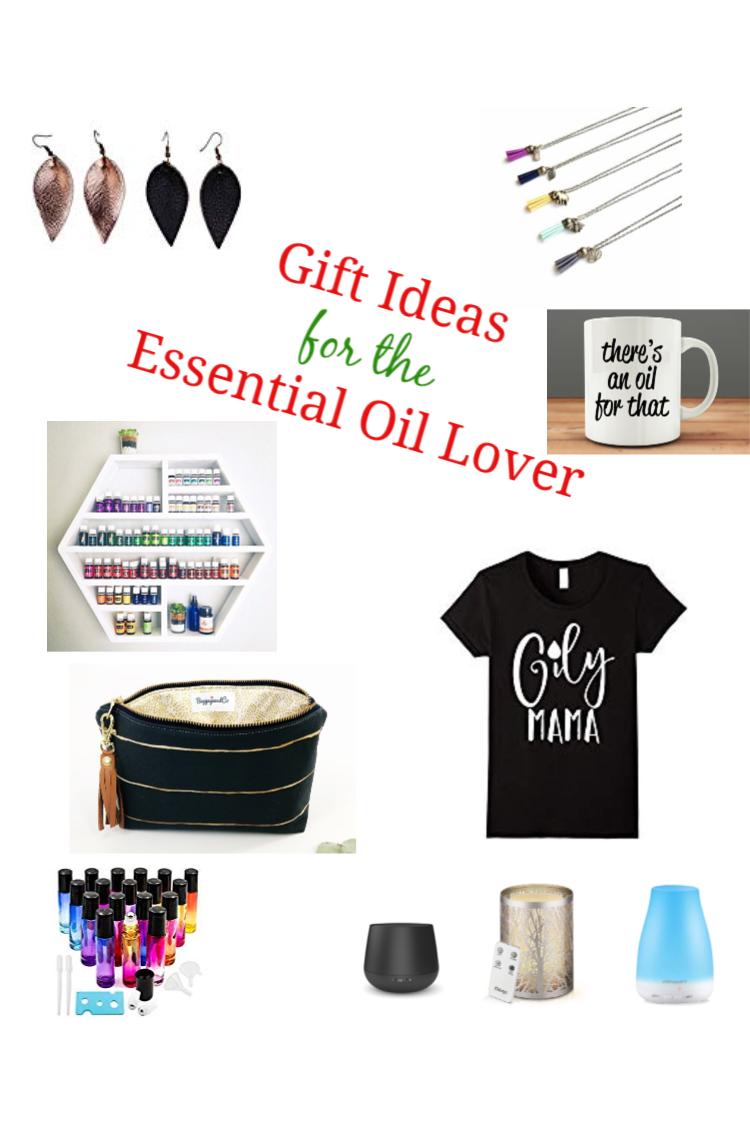 *Affiliate links included. See my full disclosure here.
I've been using essential oils on and off for over 10 years. Just a few oils here and there. But it wasn't until about 4 years ago that I started to really delve into the amazing world of essential oils and natural living. Our family has seen tremendous benefit from essential oils and we have found many ways to use them.
This gift guide will give you some simple ideas that will put a smile on any essential oil lovers face; or anyone who wants to start their oily journey!
Here are some gift ideas for the essential oil lover.
A pretty diffuser
Diffusers are the easiest way to use essential oils. You just add water, a few drops of essential oil, and your home smells amazing. But diffusing oils also has so many benefits including purifying the air and helping you breathe in any health benefits of those oils. Plus, they replace toxic candles and plugins, and ain't nobody got time to deal with all those toxins floating around in their home. You want to make sure the diffuser you buy is ultrasonic and cool mist.
I love Stadler Form diffusers. We have 2 Jasmine diffusers (for the bedrooms) and a Julia diffuser (in our kitchen). They have a more modern design and are relatively small, so they blend in nicely with home decor (and they have a few different colors). You can also check the Stadler Form website, as they usually do a discount around the holidays.
I also am loving this Odoga diffuser. The silver cover is beautiful and would look good in any home. And it comes with a remote so that's pretty cool.
If you're looking for a smaller, inexpensive option the URPOWER diffuser is a great room size diffuser and has 7 color settings.
Diffuser Jewelry
Diffuser jewelry makes a beautiful gift for the ladies who love essential oils. There are so many options from necklaces to bracelets to earrings! And in those categories there are multiple different styles and price points. I love to use diffuser jewelry for emotional support: courage, hormones, stress, etc. I love to put oils on my jewelry to support an array of emotions.
Diffuser Necklace
I adore diffuser necklaces. My daughter and I both have necklaces that are completely different styles, but both are beautiful. I love the silver teardrop necklaces with the felt balls or lava beads inside. They are perfect for a little girl or someone who loves delicate, feminine jewelry. Pendant-style diffuser necklaces are also very popular, and there are so many designs!
I also really love the leather tassel diffuser necklaces. I have given these as gifts many times, and women love them. I love these longer tassels as well!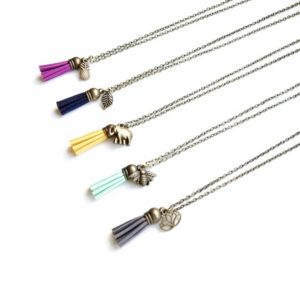 Lava bead diffuser necklaces are simple and classic. There are single bead necklaces, bar style necklaces, and even triangle lava bead necklaces.
Diffuser Bracelets
I have a few friends who aren't necklace fans, but prefer bracelets. Lava rock diffuser bracelets are the most popular diffuser bracelets. You just apply a drop or two of essential oil to the lava beads and the scent lingers all day. Braided leather bracelets are fun and a bit more edgy, while locket bracelets are more feminine.
Diffuser Earrings
A fun statement piece, diffuser earrings make another great gift for the jewelry lover in your life. I love these teardrop leather earrings, as well as these leather petal earrings.
Oily Tees
There are so many cute tees out there! I love a good essential oil t-shirt. "Oily Mama" is my absolute favorite. Also this tee, and this tee.
Essential Oil Bag
A bag for holding and carrying oils is a must. I travel with my oils all the time, and having a nice way to pack and carry them ensures they aren't broken. I love the simplicity of this navy and gold bag. This floral bag is cute and a smaller option.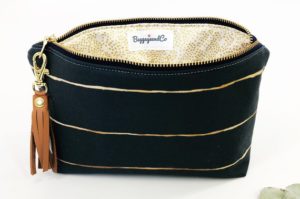 Essential Oil Shelf
Having a place to display your oils is not only a nice way to house them, but it makes it easy to see all the essential oils. I adore this shelf so much! The shape is unique and it is great quality. This shelf is made of reclaimed wood and can house a large amount of oils. I like the simplicity of this shelf; and the price point.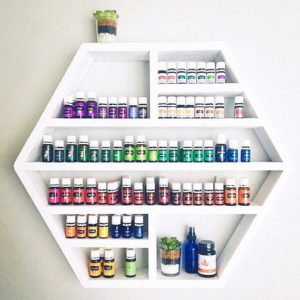 Coffee Mug
Who couldn't use a good coffee mug? There are some super cute mugs out there. I love the simplicity of this mug. This mug is my life, haha! This one is super cute as well.
Roller Bottles
People who love essential oils love to make their own roller bottles. I love the colors of these roller bottles, and they are a great value. I also really like these roller bottles with gold hanging caps. You can hook them on a backpack, so they are perfect for kids to take to school.
A Premium Starter Kit
If you want to give an amazing gift to your loved one, a Young Living Premium Starter Kit is the way to go. It's on the higher end for this gift guide, but it is worth every penny!
The premium starter kit includes a diffuser, 11 essential oils, a Young Living membership, samples and other goodies. It retails for over $300, but you can purchase it for $160. You can learn more about Young Living HERE, and purchase a kit HERE.
There are many great gift ideas for the essential oil lover on this list. I'm sure your friend or loved one would enjoy any of these gifts.