Happy Tuesday friends! I had planned to have a post up Friday, then I planned to have a post up yesterday. I totally failed at both obviously, but for good reason.
The hubs and I had a long weekend in Boise, Idaho for a friend's wedding. Now let me be honest here. I wasn't expecting much from Boise. I mean, it's Idaho. Their largest city is Boise with a population of around 215,000 people, so I really thought it was just going to be a medium sized suburban-type town. And I will now apologize to all the residents of Boise because it is actually a pretty awesome little place to visit! I was pleasantly surprised by all there is to do, the amount of restaurants and even the good nightlife.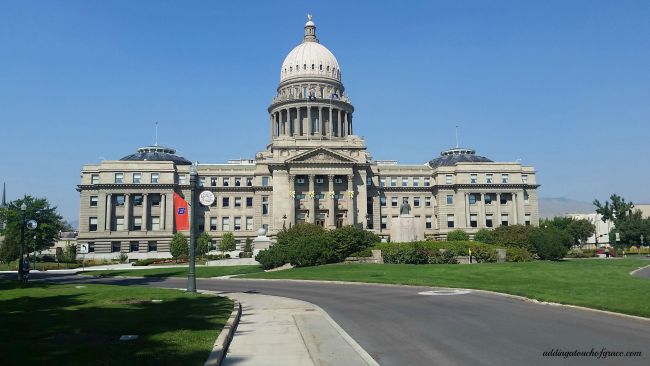 Boise is the city of trees and it really was the city of trees. The whole downtown is easily walkable and you can even walk around the capital building, which was gorgeous with beautiful landscaping.
We flew in Thursday evening after a flight delay due to all the fires in Washington and went out to a fun German bar, Prost. They were full on German, serving liters and the best German food around!
Everyone recommended Goldy's as the best place to get breakfast and they were so right. Even on a Friday at 10:00 there was a wait for breakfast.
I had the stuffed French toast and K had some sort of Benedict breakfast and holy cow. So freaking good. I didn't even need the syrup on my french toast. It was perfection.
The rest of Friday was taken up by the wedding rehearsal and rehearsal dinner. K was in the wedding so we were able to partake in all the festivities.
Saturday morning K grabbed a quick breakfast for us while I stayed in bed for a bit. Little A stayed home with the grandparents so we were able to sleep in. And sleep we did! Until about 9:00-9:30 each day! I honestly cannot even remember the last time I slept past 7:00. It was glorious!
Boise has the cutest farmer's market downtown on Saturday's so we strolled through there a bit. I wish I'd gotten pictures because it was fantastic and it seemed like the whole town came out for it.
After the farmer's market we got ready for the wedding. K had to be there early, so I took a bit more time getting ready then caught a ride with friend's to the amazing St. John's Cathedral where they were married.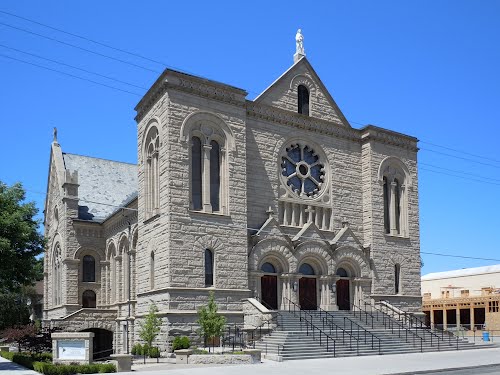 There was a break between the wedding and reception while the wedding party took photos. I hadn't had lunch yet, so I headed to the Boise Fry Company.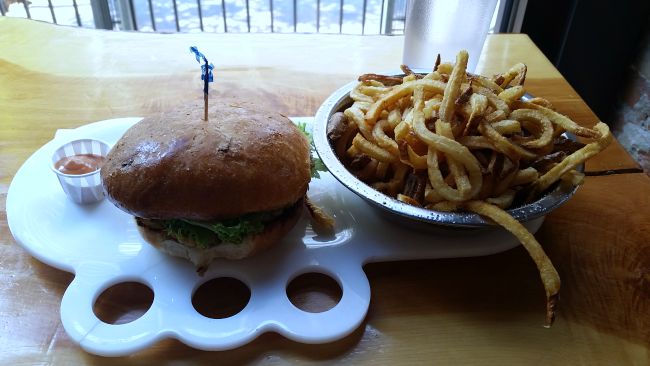 You guys. I have never seen a fry menu like that in my life. I mean Idaho is the potato capital of the world and it was very apparent going to the BFC. They had 8 or 9 different potato varieties you could choose from for your fries. I didn't even know purple potatoes existed!! They also had 3 different style of fries you could choose. You order your fries first, then if you want a burger on the side. They also had like 10 different sauces and seasonings for your fries. The best fries and even one of the best burgers I've ever had. And that's a small fry in the photo by the way.
The reception was at the Boise Depot, the old train depot in town which has a ton of history.
We were able to go up in the bell tower to take in the view of downtown Boise. That haze is actually smoke from the fires in Washington and Oregon.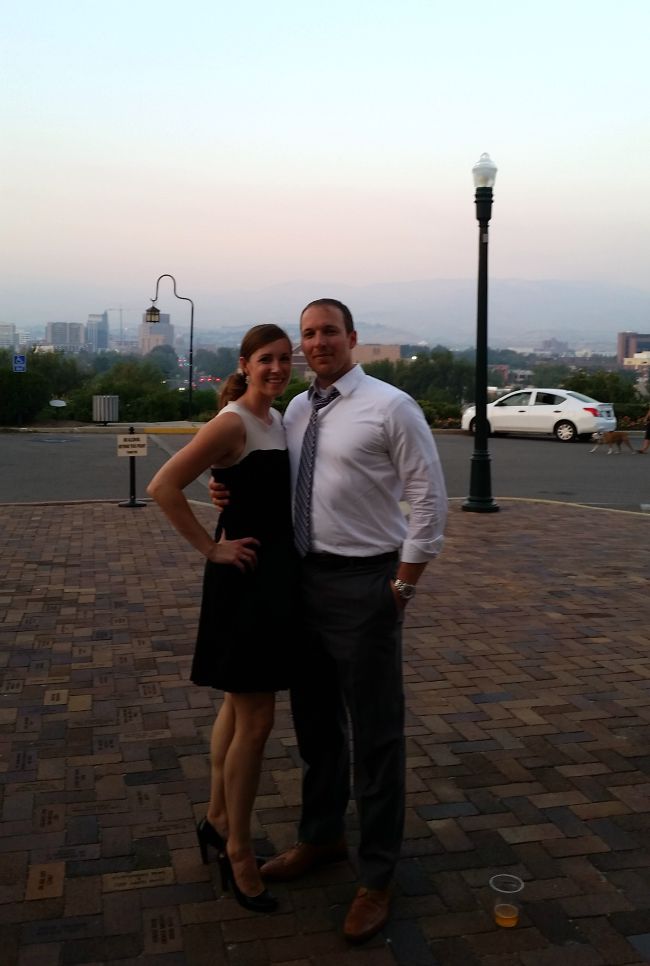 The reception was awesome and everyone had a blast dancing the whole night.
Sunday they had a get together for everyone at one of the local parks, which was great, but I was just so tired and ready to go home.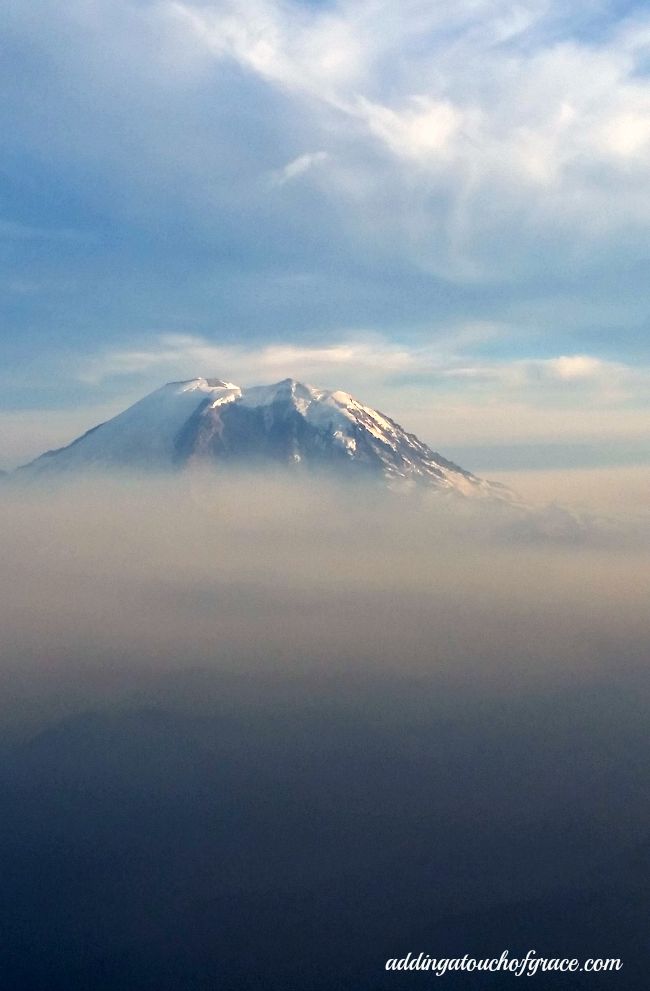 The view on the flight home of our beautiful Mt. Rainier. 2 things in this photo. First, I have never in my life seen Mt. Rainier with so little snow as it has this year and second, those are not clouds encircling the mountain; it's smoke. You guys, the fires in Eastern Washington are so bad! The smoke even made it's way across the mountains to Western Washington and it was smoky when we landed on Sunday. Please keep the thousands of firefighters, residents and animals in your prayers. One of the fires still burning is now the largest fire in state history. It's all so sad.
But on a happy note, if you've never thought about visiting Idaho I'd think again. Boise is a fun, quaint little town with tons of activities and a great place to visit for outdoor fun that won't break the bank. I highly recommend.
Yesterday was my first official "stay at home mom" day, so we're just starting to figure out what our routine is going to be. I'll try to post when I can over the next few weeks but it may be slim as Little A and I get used to being around each other 24 hours a day. 🙂
Happy Tuesday love bugs!