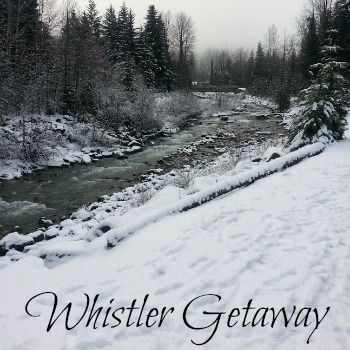 Oh it's hard to be back today you guys. I could have used another day of vacation. Plus 3 nights in Whistler is just not enough. You really only get 2 full days with check in not until 4:00 pm the first day and check out 10:00 am the last day. We could definitely do 4 days or a week there.
Linking up with Biana today.
If you've never been to Whistler it's a place I highly recommend for a little getaway. It's one of our favorite vacation spots and just so magical at Christmas time. Even in the summer there's a ton to do and beautiful scenery. But winters in Whistler are our jam. And this was Little A's first time on skis!
Sorry for the blurry action shot. Baby girl was super nervous at first but by the end of the weekend she was asking to go up the lift again.
We went with some of our best friends who have 2 boys; 1 who is just a few months older than Little A. We always have a blast with them whatever we do. They are also the family we go to our condo in Chelan with often. Little A loves playing with the boys and they were 3 peas in a pod this trip.
Each morning the big boys got first tracks on the hill and the girls took the kids sledding. They had a blast!
Ugh. I can't get over how damn cute she is! She loved having snow ball fights. This was her big snow ball she was bringing back to the condo for daddy. (I don't know if you can tell but she insisted on wearing her leopard scarf under her snow suit. Must be fashionable at all times.)
Our last evening in Whistler the boys took the kids sledding and the girls did a little shopping in the village. It was dumping snow and just so magical with the Christmas lights. The village is just one of those places you want to be. There's a ton going on, everyone is out walking around (the ski hills close at 4:00) and it's just full of energy. One thing I love about Whistler is you hear so many different languages being spoken and tons of different accents. People come from all over the world to work and play during the winter. We met quite a few people from Australia this trip.
My favorite store in the village is Roots. Every time I go to Whistler I try to get something from there. When I was pregnant with Little A we went to Whistler and I got her a little Whistler onesie, so I had to get something for baby #2 this trip as well. I just couldn't resist! I can't wait for him to fit into this outfit!
On the way home yesterday we stopped at Tim Horton's. Many of my Canadian friends rave about Tim Horton's so I figured I'd give it a shot. Sorry Canadian friends, it was not good. Strike 1, they were soooo sllooooowwwww. All K was ordering was 2 drinks and he was in there for a good 15+ minutes. Strike 2, they don't have decaf espresso. I'm still drinking decaf so no decaf latte for me (he got me a hot cocoa instead). The drip coffee K got was just….fine. Nothing great, nothing outstanding about it. It was just okay. I'd compare Tim Horton's to McDonald's; they have food like McD's and a minimal coffee selection. I liked their festive and winter-y cups. But sorry Tim Horton's, I'll go across the street to my Starbucks next time I'm visiting Canada.
We have a busy week getting ready for Little A's dance recital this weekend, celebrating Christmas with K's parents and getting ready for our next ski trip!