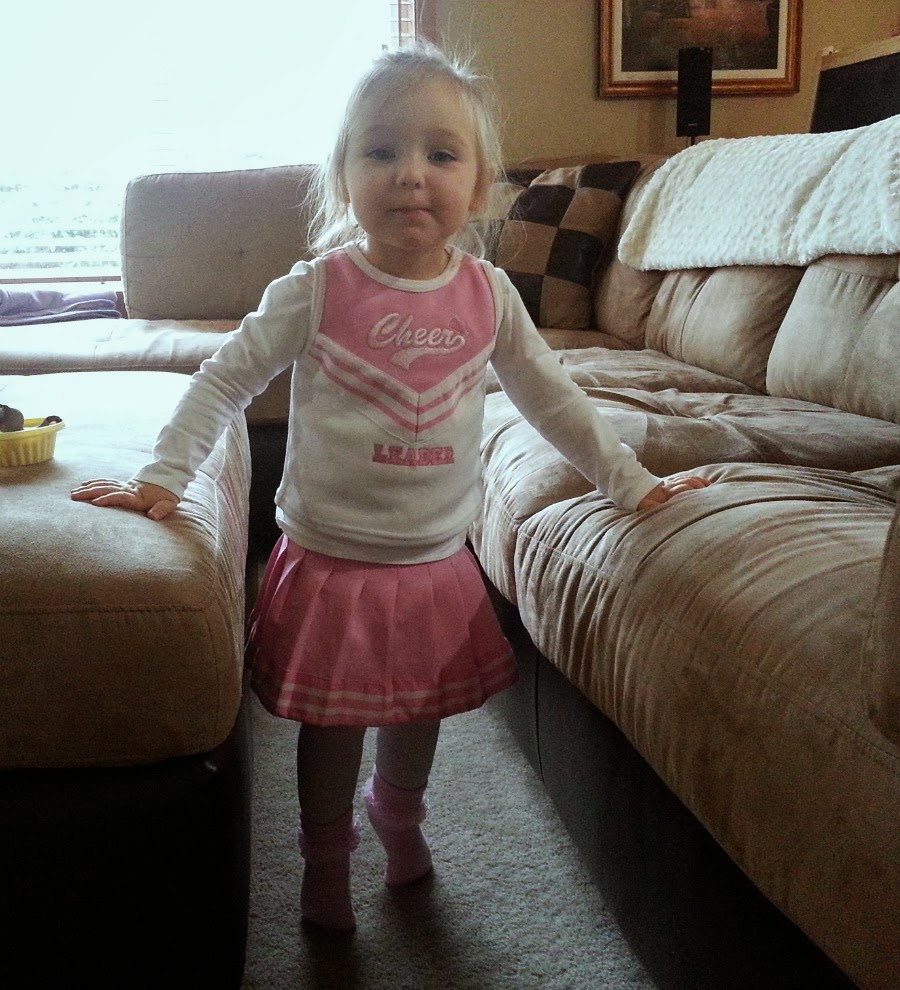 Lots going on around here in the next week or so to get ready for Huebie to go on travel again; this time back to India. So we're busy trying to get projects done (still trying to finish the deck up….months later…ahem) and get motivated to get them done. I'm really lacking in motivation these days. Must get my act together for the holidays!
I didn't share any pictures from Halloween on Friday, so here are a few of our sweet cheerleader.
This was honestly the best picture I could get of her. She hates having mommy take her picture these days. This was 1 of approximately 543 tries to get a decent picture.
She had a blast trick-or-treating. But I think she had more fun handing out candy to the kids at our house.
Our weekend started off with a bang when Huebie found out he was accepted to this fantastic leadership rotation program at work! There were 1,038 applicants, narrowed down to 20 1st round interviews, 10 2nd round interviews, and he was their #1 choice for 5 positions! To say I'm a proud wife is an understatement.
We started the celebration with my favorite start to the holiday season:
So excited for the red cups and holiday drinks to be out! I love eggnog lattes and Huebie loves peppermint mochas. It was a great way to start our Friday!
I told him we could go wherever he wanted for dinner to celebrate and all he wanted was pizza, wine and a movie at home. He's a simple man.
The kids all wore their costumes to Little Gym on Saturday. Dalmation puppy was our back up costume so it got some use Thursday night (for handing out candy) and Saturday.
My parents came over after Little Gym to watch Little A while Huebie and I did our 10 miles. More on that tomorrow. But let's just say it was a blustery day. Here's my favorite picture from our week of running:
Yesterday while Huebie and I were getting ready for the Hawks game, Little A wanted to wear her rain boots like mommy. She even got them on the right feet.
Grandma and Grandpa brought over a rocking chair for Little A. The chair was my mom's when she was little, then mine, and now sissy's. I'm so glad my parents held on to some great family heirlooms like this.
The game was so stressful yesterday, but we came out with a win. And we celebrated the 1983 Hawks division championship team, which I loved because those were the guys I watched with my dad growing up. Go Hawks!
————-
Did you get anything big accomplished this weekend?
Watch any football? Who's your team?