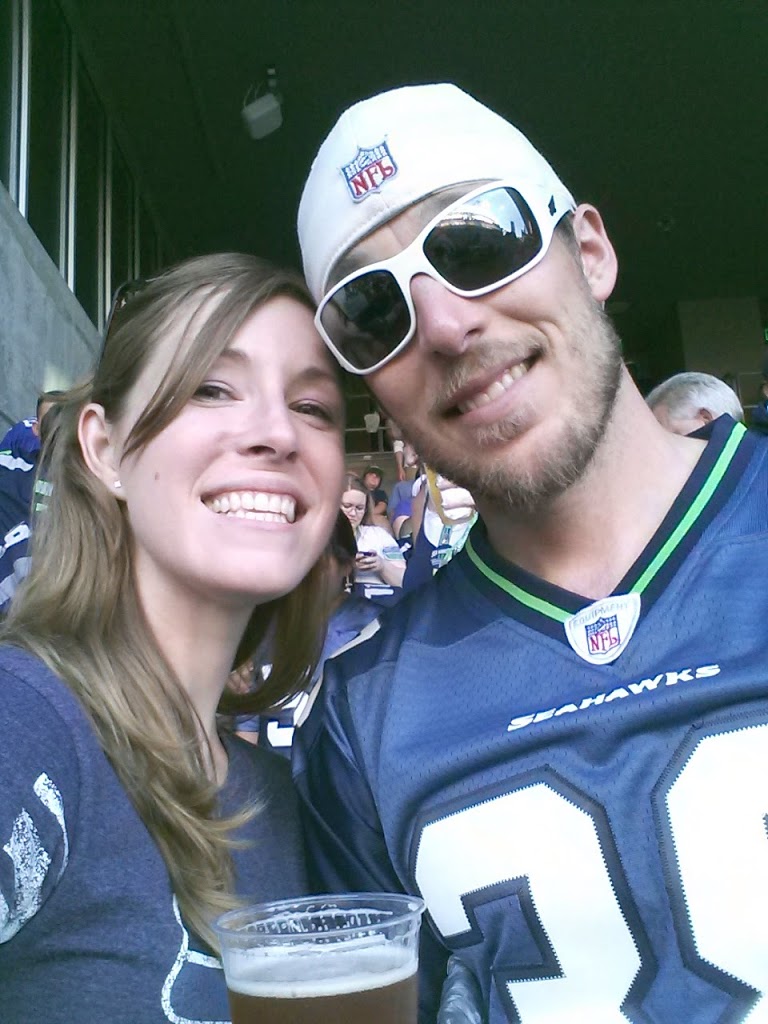 Welcome back to Monday! We had a very busy extended weekend around here.
We spent all day Thursday and Friday working on the deck. Well, ok, Huebie spent all day both days. I helped when Baby A was napping or after she went to bed at night. If you missed my Part 1 about our deck remodel click HERE. We started laying the new boards down Friday night and Saturday, but Huebie left on business (again) yesterday morning so our project is being delayed until the weekend. I have a feeling this is going to turn into a 3 part series as now we're thinking about removing the railing, which wasn't part of the plan, but would open up the yard so much. We'll see how we feel on Saturday when we start work again.
Saturday afternoon we went to a 1st birthday party for some good friends' sweet boy. We also found out he's going to be a big brother in March! We're so excited and happy for the Jenkins family! They make some cute babies!
Then, came the BEST part of the weekend….SEAHAWKS!!!!!!
Such a good game! It didn't feel like pre-season AT ALL! It was a full stadium and everyone was way more into the game than usual pre-season! We have season tickets and most of the time we sell our pre-season tickets, but I'm so glad we didn't this time. I'm a HUGE Peyton Manning fan so it was a tough game for me watch at times, but I'm a true Hawks fan and would never chose him over my team. Sorry Peyton. I also got to see my sweet cousin I haven't seen in over a year. She's as cute as ever and I'm so glad they moved back to Seattle so our girls can play together.
Baby A was ready for the game too!
No, she didn't come to the game with us, but she loves her team. Her nanny let her watch the beginning of the game before bed time. She's a super fan already.
Seriously. SUCH A GOOD GAME!
The team was on fire and I'm so pumped for regular season. It's going to be a good Fall.
Then of course Huebie left on business yesterday. Sad face 🙁 It's always a long week when he's gone. Baby A misses him so much. But her and I will have some good girl time and we'll get to Skype with him every night. She gets so excited to Skype with him, then when he's on the screen she loses interest. "Hi Daddy," then she's off playing again.
We also got to spend the afternoon with a good friend who was here for a visit from South Carolina. So great to see her and her little baby bump!
Come back tomorrow for a yummy cookie recipe!