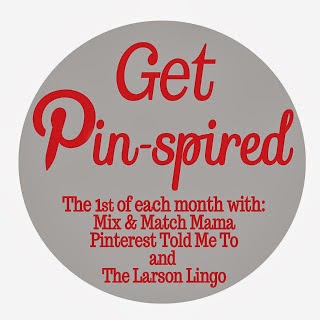 Yay! Friday is here! It has been a slow week around here so I am SO glad it's finally Friday.
Today we're getting Pin-spired with Sheaffer, Shay and Mel!
So my inspiration for my Pinterest inspired outfit one that I'm sure we've all seen out in Pinterest land.
I wanted something super warm and cozy this month. It's been in the 30s in the mornings here this past week so I needed some layers.
This outfit looks super cute, super easy and super comfy. I love how she has the sweater over the denim (or chambray, whichever you prefer) shirt so it covers her bum a bit more. Love the socks peeking out of the boots. Love it all. The outfit is well put together but looks so effortless.
And here's my take:
I can confirm for you that yes, this outfit is super cozy and warm. And I was able to wear it to work which is always a plus for me.
A closer (sort of) look at the boots:
Not the best picture but they are these boots. I got them during the Anniversary sale and I love them. They are what I call an investment piece. They will last me years so even though they are a bit on the high end, they were worth the money for me. But I'd only get them during the sale, otherwise they are WAY to expensive for me (even for an investment piece).
Details:
Boots: Frye Melissa Harness, Nordstrom
Socks: I've had these for years and they're just tall cream socks
Leggings: Honestly, these are maternity leggings from when I was pregnant (oh, yes, yes they are), but I have these on the way as we speak.
White tank top: Probably like 6+ years old from NY Company. THIS one looks like it might be extra long.
Chambray shirt: Rubbish, Nordstrom. Similar option HERE.
Sweater: Super old Nordstrom. THIS is a great option.
Infinity Scarf: Tasha, Nordstrom (I wear this scarf all the time. And it's under $20 now!)
I hope everyone has a fabulous weekend! We're in for 10 miles tomorrow (yikes!) then the Hawks game on Sunday!