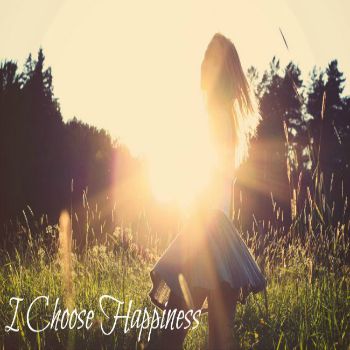 Everything begins and ends in our minds, doesn't it? All the decisions we make, actions we take, every step we take each day is guided by our brains. So it only makes sense that our brains govern how happy we are. You're probably thinking "Well duh Tiffany. What are you trying to get at here?" Well, what I'm trying to say is that we make a conscious choice each day, whether or not we are going to be happy.
Think about that for a moment. We choose whether or not we are happy every single day. It's that simple.
When we're pissed off at that coworker for not sending a follow up email we asked them to, or our kids for acting out in public again, we make a choice on how we react to that situation. Our brains decide if we are going to let their actions ruin our day, or if we're going to choose to rise above it and take the high road.
External circumstances have a way of dictating how we're going to feel at any given moment. "So and so has a brand new Mercedes and I can't afford anything better than a Kia and I'm so poor and oh my life is so terrible because I have no money and can't buy xzy..blah blah blah"…and on and on. When we're constantly surrounded by falsified reference points that are showing us what we don't have, vs all the great things that we do have, we tend to get down on ourselves and then comes the pity party and the miserable mood. We start comparing our life to others, even Hollywood. What we fail to realize is that we are only seeing the tip of the iceberg, what they want us to see, not all the crap that's lurking under the water. We are comparing our under the water, to their tip of the iceberg.
What I've come to learn is that happiness is only derived from within. It doesn't come from material possessions, or my husband, or my child, or honestly even God. It's a state of mind. I create my own happiness. "Stuff" happens to all of us. It's how you choose to deal with that stuff that will determine how you view life. Your life is your doing. It either sucks because of something you did or did not do, or because you choose to wallow in the sucky things that happen to you. OR even better, your life is awesome because you celebrate the great things that happen and learn from the bad. Your past may have influenced who you are up to this point, but you are responsible for who you are from this point on. I've said it before in this post, you can choose to own it or not. Whatever you choose to do is probably a good indicator of what your outlook on life is. We are all self made. Do you want to be the self made negative person, or the self made positive person who has an awesome outlook on life and is just genuinely happy.
[Tweet "we make a conscious choice each day, whether or not we are going to be happy. I choose happines. What do you choose?"]
Letting go of the past can be hard for some, and it's a big part of why many people are unhappy. They are stuck in the past and can't get over how they were wronged by this person, or how this bad thing happened that ruined their whole life. There are so many examples of people out there who could be very unhappy people, and we would totally understand because of the unfortunate circumstances they have been faced with. But usually those are some of the happiest people. They've set their mind to overcome the past and focus on the future and they understand that life has so much to offer, so why just sit around having a pity party for years upon years.
I challenge you to keep a daily journal. Journaling has helped me have a more positive outlook on my life, and it's shown me that only I have control over how I view things. Yes there are factors that weigh into my life and how I live it (my husband, daughter, job situations, income, etc.), but I am the one who controls how those things affect my happiness. I can be unhappy that we don't live in the exact city I want to, or I can be happy that our mortgage payment is less than most people's rent in this area. I can get down that we can't afford to take a lot of trips this year, or I can be excited that we're paying down our debt and are so close to the end of our debt free journey!
It's all about your outlook. And the state of mind you live in.
I choose happiness. What do you choose?