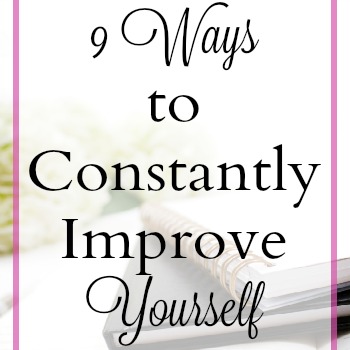 It's a new year and with it comes new year's resolutions. I'm not big on new year's resolutions, but I do believe in new goals for the year. I think that goal setting is paramount to continuous self improvement. We are an evolving species. Always changing, always learning. And I think we all should embrace this and focus on ways to constantly improve ourselves.
Have goals you're working toward
I know I sound like a broken record, but goal setting is just something we all should do. Even before I started blogging and just worked in corporate America, I had lots of goals. I think setting goals can be done at any stage of life. I'm not talking just broad goals like have kids, or get a new job. I'm talking specific goals related to those larger goals. If you want to get a new job, first one of your goals should be to write or update your resume. Another goal should be to make a list of companies you'd like to work for. And so on. Really try to think about something you want to accomplish this year. Maybe it's running a 5k. Maybe it's deep cleaning your carpets. It could be anything. But write it down. Not sure where to start with goal setting? Make sure you read this post on how to achieve your goals.
Write in a journal
Another thing I am super passionate about is journaling. I'll be honest, I've been slacking on my journal writing for a few months. And I can tell that my attitude is different. I've struggled to see the good through the bad and I contribute a lot of that to the fact that I haven't been journaling. Writing in a gratitude journal really did make me a more positive person. There are so many different types of journals to keep so if a gratitude journal isn't your thing, make sure you read my post on other types of journals to keep.
Take a course
Taking courses is a great way to gain new knowledge and broaden your skills. I have taken a few blogging courses, and really enjoy learning new ways to help me grow this space. You can also take a course at a community college. Enjoy painting? Take an art class. Hey, even taking a dance class would be a great way to improve yourself and broaden your knowledge.
Read personal development books
Sort of like taking a course, books are a great way to broaden your knowledge and grow as a person. I love personal development books. I can't get enough of them. I've been working on reading more for pleasure over the last few months, but it just doesn't excite me like inspirational reading does. Want to know the books that have changed my life the most? I share 8 of them in this post.
Exercise
Oh exercise how I love thee. I feel like this is a "duh" way to improve yourself, but so many of us just don't do it! I implore you to start exercising. Go for a walk, ride a bike, just get moving. Yes it will be hard at first but slowly, the compound effect will kick in and you'll be seeing changes. Soon it will get easier and you'll make it a priority in your life. I really don't know why everyone doesn't exercise. It's just so good for the mind and body and is another great way to constantly improve yourself.
Check out these ways to be constantly improving yourself
Click To Tweet
Be open to change
"The only thing constant in life is change." (Francois de la Rochefoucauld) How true is that? Change is just part of life. Sometimes change is great and you welcome it with open arms. And sometimes change is the complete opposite and you try to resist but, unfortunately, it's change and it doesn't wait. Being open to change, as hard as that may be at times, will seriously make you a happier person. People that are able to roll with the punches, so to speak, always tend to be happier in life. Those that resist change, well, they are usually the people who are unhappy and negative. Try not to resist change when it presents itself. Think about all the possibilities that could unfold before you!
Surround yourself with positive people
This is probably one of the hardest ones. We all have those people in our life that have been somewhat of a drain. They are the ones that are never happy, like to gossip constantly and are always complaining. Those people are sucking the life out of you. Surrounding yourself with positive, inspiring people will not only make you happier, it will make you want to be a better person. People feed off one another, and I don't know about you but I'd much rather feed off someone's awesomeness than someone's negativity.
Spend time in self-reflection
This could sort of go hand in hand with journaling, but spending time reflecting on your day before bed is a great way to think about parts of your day that were a success, as well as parts of your day that could be improved upon.
Leave the past in the past
Soooo many people live in the past. I have some of them in my family. People that live in the past can't move on with their lives. They live in fear of forgetting, or fear of being wronged again, or fear that the future won't be as good as the past was. That's no way to live! The future is unknown and opportunities are endless! I, for one, want to be a part of that! I want to experience life; I want to travel, have fun with my kids, learn new skills. I don't want to be constantly thinking about things that were done to me 20 years ago. Those great times that I had before are now memories that I hold dear, but they don't hold me back. The past is behind you for a reason. Don't look back.
This is just a small list of ways to constantly improve oneself. But within this list are thousands of ideas that could take hold and really change your life. Don't be afraid of change! Think about all the things you could do if you took one step in the direction of personal development. It may be scary at first, but I know that you'll never regret making any one of these changes toward continuous self improvement.
What is one way you try to improve upon your life?