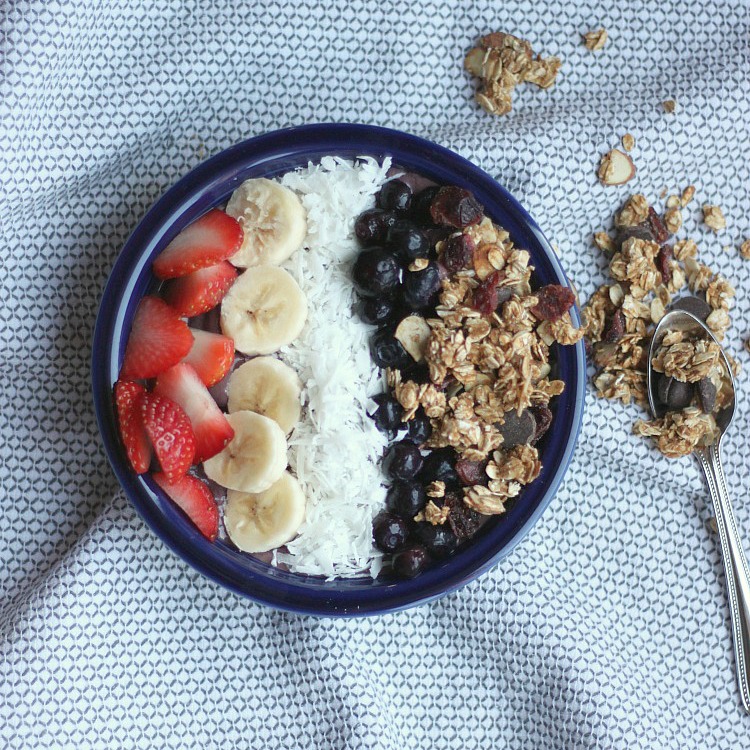 Tips for how to make an acai bowl for cheap, plus some delicious toppings that will have your mouth watering.
Acai bowls have been all the rage over the last few years. They are everywhere in Hawaii and other tropical-like locations, but we don't have many smoothie bowl restaurants here in the Seattle area. I tried my hand at making one about a year or so ago, but it didn't turn out that great. It wasn't until one of my girlfriends mentioned that there was a somewhat new smoothie bowl restaurant in our area that I was finally able to try the real deal. It was like heaven. I seriously could have eaten an acai bowl twice the size of the one I got because it was so good!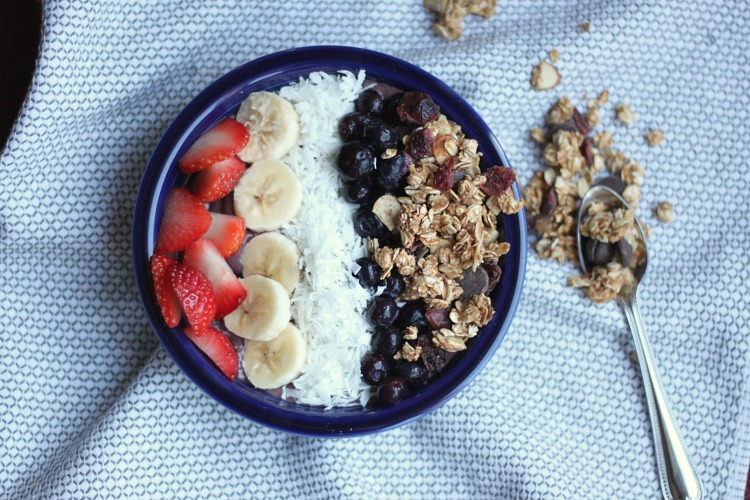 And now I'm hooked. I seriously want an acai bowl everyday. And give me all the toppings!
I feel like I've perfected my recipe, so if you're into smoothies, superfoods and all things delicious, I highly recommend you try this quick and easy acai bowl recipe.
How to make an acai bowl.
Here's what you need to make the perfect acai bowl:
-Acai smoothie pack (don't use the powder)
-Dairy-free milk or Greek yogurt
-Frozen banana
-Fresh fruit
-Coconut
-Something crunchy
With those few ingredients you can make the most delicious acai bowl at half of what it costs at a smoothie bar.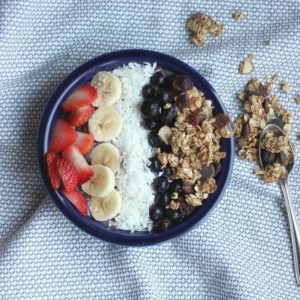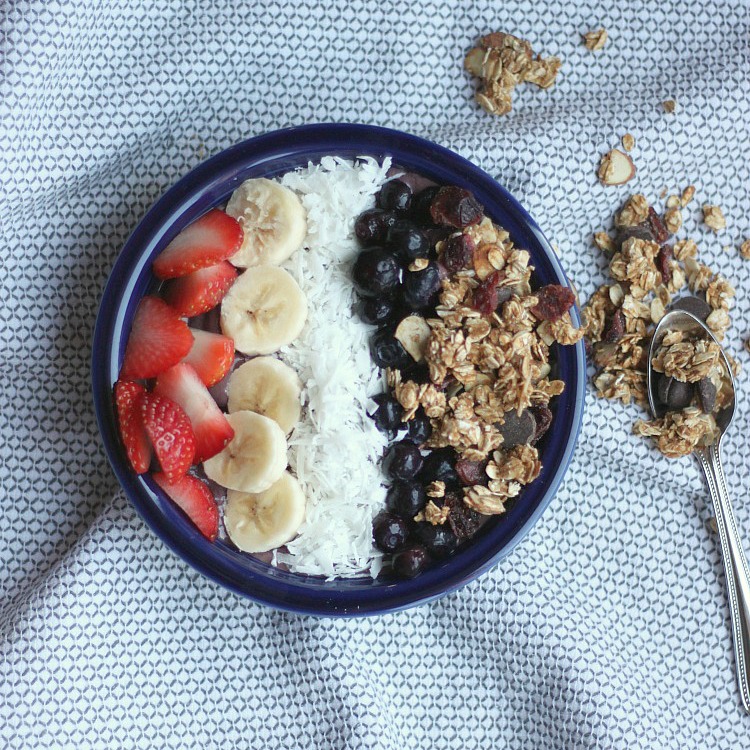 Acai Bowl
A delicious acai bowl recipe that will keep your taste buds and appetite satisfied.
Ingredients
1

packet frozen acai berry blend

I use the Trader Joe's packets, but you can find them at most grocery stores and Costco

1

frozen banana

1/4

cup

non-dairy milk or Greek yogurt

Fresh fruit

coconut and/or granola for topping
Instructions
Run smoothie packet under warm water for a few seconds to break it apart.

Place smoothie, banana and milk or yogurt in blender.

Blend until smooth.

Pour into bowl and top with fresh fruit, coconut and granola.
Notes
Other toppings can be substituted for the coconut and granola.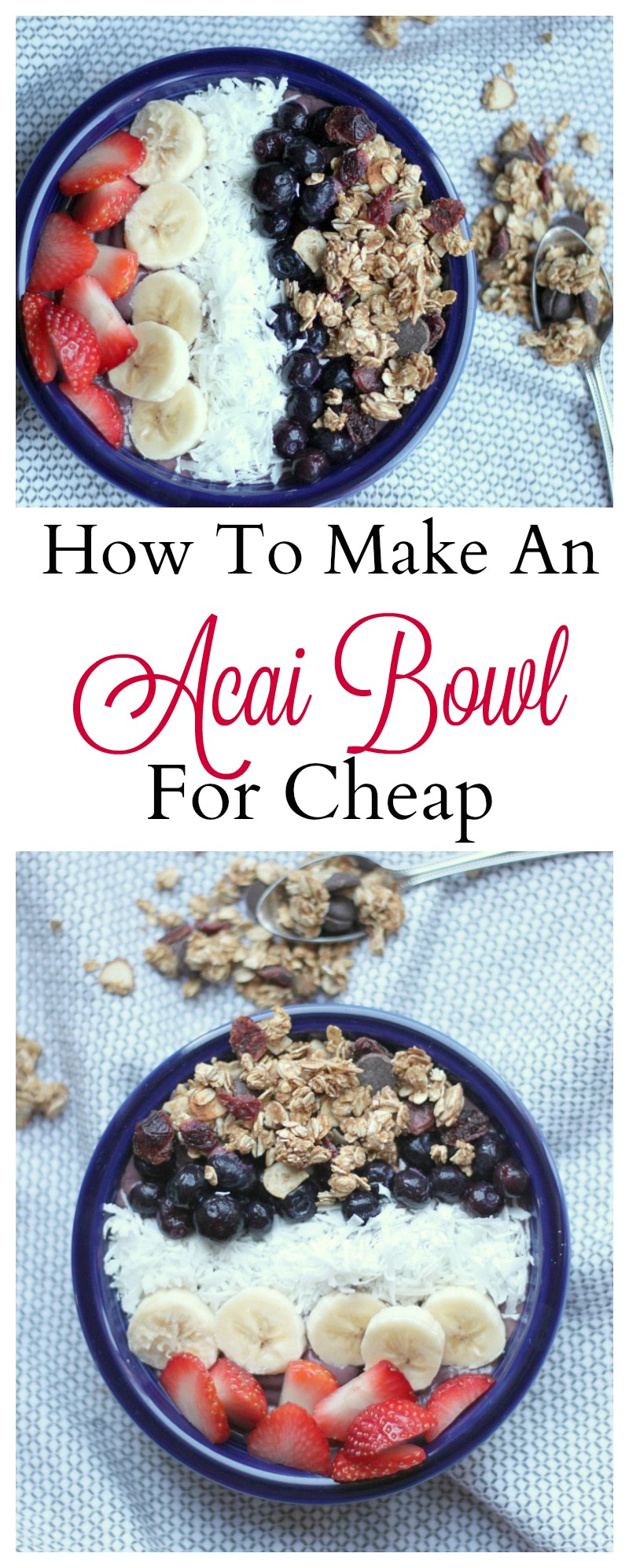 A few of my favorite acai bowl toppings and add-ins
The fun thing about an acai bowl is that you can customize it to your liking. I personally love strawberries, blueberries, banana, coconut and granola, but I've also found a few other fun ingredients to take a plain bowl up a notch.
Peanut butter or almond butter drizzle: Heat up a tablespoon of natural peanut or almond butter for 15 seconds in the microwave and drizzle it over the top.
Dark chocolate drizzle or chocolate chips: If I'm feeling really fancy I'll add a dark chocolate drizzle, or some dark chocolate chips.
Homemade granola: I make my own granola, and love adding a good amount to my bowl. I just love the crunch factor.
Kiwi: More exotic fruits are a fun way to change up a acai bowl. I love kiwi in mine!
Mango and pineapple: Take your bowl tropical!
Chia seed and hemp hearts: Add some crunch and superfood power with either of these healthy toppings.
Honey: Like your bowl a little sweeter? Add a teaspoon of honey for additional sweetness.
Avocado and spinach: Blend either of these in to your smoothie for a nutrition boost.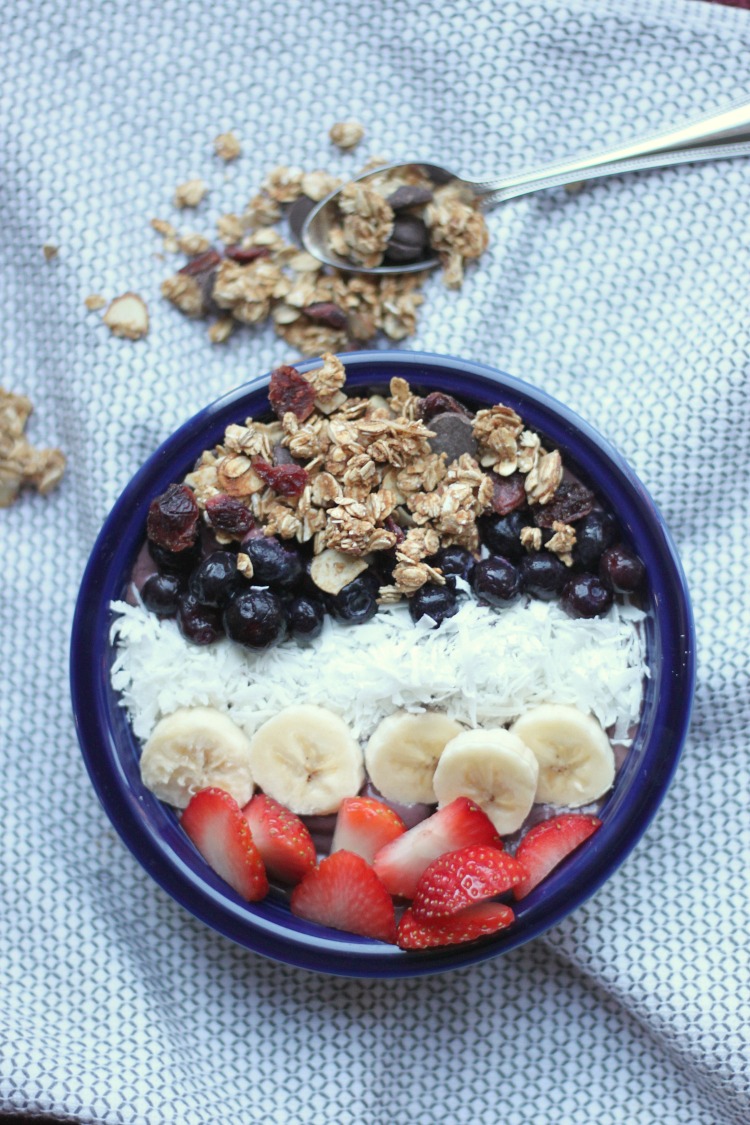 This is making me hungry so I'm off to make myself another acai bowl.
Have you had an acai bowl? What are your favorite toppings?